About CMU
Fast Facts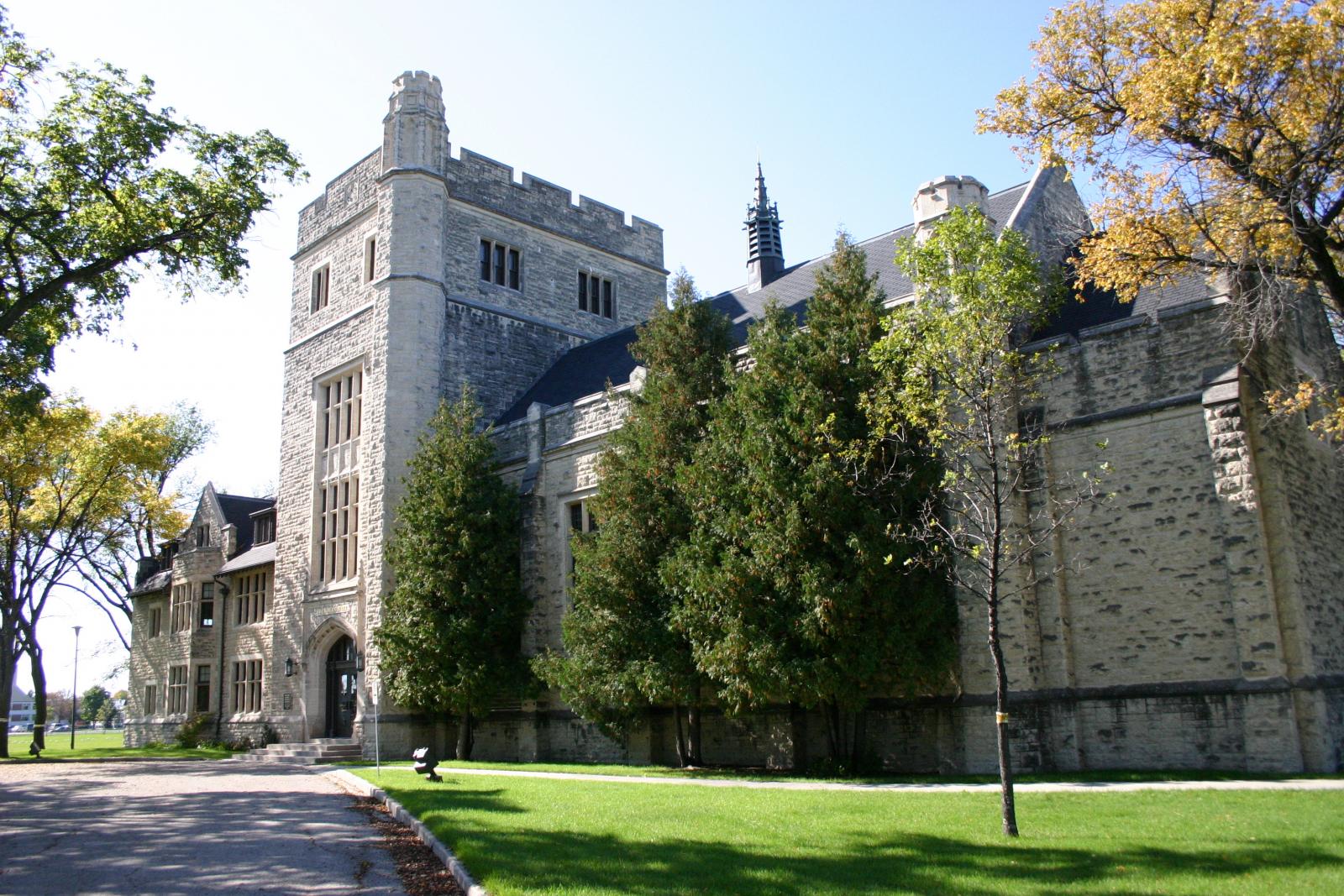 F​ounded: 2000
Location: Winnipeg, Manitoba (population approximately 663,000)
Type: Comprehensive University programming offering accredited 3 and 4 year Bachelor and Graduate degrees
President: Dr. Cheryl Pauls, appointed 2012
Accreditation: Universities Canada
Religious Affiliation: CMU is formally supported by Mennonite Church Canada and the Mennonite Brethren Church of Manitoba. See Mennonites and CMU.
Admissions: CMU is a university where students from many backgrounds and denominations find their place.

42% of students are from diverse Ecumenical traditions (Pentecostal, Baptist, Alliance, Non-Denominational, Roman Catholic, Orthodox, Anglican, Lutheran, Presbyterian, Reformed...), while
46% of students come to CMU from Mennonite or Anabaptist related backgrounds (Mennonite Brethren, Mennonite Church Canada, Evangelical Mennonite Church, Evangelical Mennonite Mission Church, Hutterite Brethren, International Mennonite...).
12% of students disclose no faith or church background.

Undergraduate Degrees: 16 BA majors include Biblical and Theological Studies, Communications and Media, English, History, International Development Studies, Mathematics, Music, Peace and Conflict Transformation Studies, Philosophy, Political Studies, Psychology, Social Sciences, Environmental Studies, Arts and Science, as well as Bachelor of Business Administration, Bachelor of Music, and Bachelor of Music Therapy degrees. Concentrations and minors within these degrees, along with pre-professional studies, vary within programs of study.
Graduate Degrees: MA degrees in Theological Studies and in Christian Ministry; a collaborative MBA; an MA in Peacebuilding and Collaborative Development. Click here to learn more.
Outtatown: An eight-month Outtatown Discipleship School provides experiential, cross-cultural, off-campus learning in Canada, South Africa and Guatemala; and a four-month Burkina Faso, French language program.
Practica: A practicum component extends learning through community and work engagement, providing links to careers, and is a graduation requirement within all degree programs.
Faculty: 40 faculty and 50 part-time instructors.
Student/Faculty Ratio: 1:18 including 1st and 2nd year courses
Enrolment in 2016–17: 1,890 students (890 full-time equivalent) across all programs:

Undergraduate students at Shaftesbury Campus: 864 FTE
Graduate Students: 28 FTE
Outtatown Students: 46 FTE
Undergraduate students at Menno Simons College: 304 FTE. Approximately 10% of University of Winnipeg students took one or more courses in Conflict Resolution or International Development.

Geographical Representation:

70% of students from Manitoba (approximately 50% urban and 50% rural)
30% of students from other parts of Canada (in 2016–17 this includes 78 International students from 25 countries)

Undergraduates Living on Campus: Approximately 200 students each year live in on-campus dormitory and apartments.
Cost (2016–17 tuition):

Undergraduate Studies: $728 per 3 credit hour course (or $5,824 for 24 credit hours).
Graduate Studies: $756 per 3 credit hour course.

Athletics: CMU competes in the Manitoba College Athletic Conference (MCAC) in Men's and Women's Soccer, and Volleyball. MCAC includes seven universities and colleges in Manitoba: Assiniboine Community College Cougars, Canadian Mennonite University Blazers, University of St-Boniface Voyageurs, Oak Hills Christian College Wolf Pack, Providence College Freemen, Red River College Rebels, and University of Winnipeg College Wesmen.

Beginning in 2016

–

17, CMU's men's and women's basketball squads will compete in the Northern Intercollegiate Athletic Conference (NIAC) among teams from Minnesota and North Dakota including Association Free Lutheran Bible School & Seminary Conquerors, Cankdeska Cikana Community College C4, Leech Lake Tribal College Lakers, Red Lake Nation College Migizi, Oak Hills Christian College Wolfpack, Trinity Bible College Lions, and Turtle Mountain Community College Mighty Mikonocks.
Menno Simons College: Canadian Mennonite University offers two programs located on the campus of the University of Winnipeg. Menno Simons College offers undergraduate degree degrees through the University of Winnipeg in Conflict Resolution Studies and in International Development Studies.

Print This Page