About CMU
CMU PAX Award
The CMU PAX Award, initiated in 2015, was created to acknowledge and honour people who lead exemplary lives of service, leadership, and reconciliation in church and society.
Past CMU Pax Award Recipients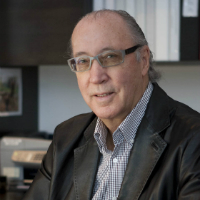 In the 1970s, DeFehr worked with Mennonite Central Committee to lead a massive agricultural redevelopment project in Bangladesh after its civil war. From 1981–82, he worked in Somalia as the United Nations High Commissioner for Refugees.
DeFehr also started a university in Lithuania in the dying days of the former Soviet Union, and he helped organize, host, and fund a conflict resolution conference in Myanmar in 2013.
Closer to home, DeFehr has headed refugee programs in Canada and helped spearhead Manitoba's immigration program, which has brought thousands of immigrants to the province since the late 1990s.
DeFehr has been active with Habitat for Humanity since its inception, and he was the founding chairperson of the board of Canadian Foodgrains Bank.
After graduating from Harvard in 1967, DeFehr joined his family's furniture business and remains involved to this day.
"Art DeFehr has brought a formidable depth of imagination and commitment to many of the world's most complex humanitarian concerns."
– CMU President Cheryl Pauls
[ NEWS RELEASE ]
[ VIDEO presentation ]
​After leaving academia in the 1960s, Vanier established the first L'Arche community in France after befriending two men with intellectual disabilities and inviting them to live with him in a small house he purchased.
Vanier had become distressed by the institutionalization, isolation, and loneliness of people with intellectual disabilities, and envisioned a place where they could live alongside those who come to assist them, and share life and daytime activities together in family-like settings.
Vanier called the house "L'Arche," a French word for "the ark" in the biblical story of Noah and the flood. Within a couple of years, other homes were born.
Today, L'Arche is made up of 147 communities spread over five continents. There are more than 5,000 members. There are always new projects being started in response to the needs of people with intellectual disabilities, people so often vulnerable, and too often rejected, in spite of the important lessons about friendship and becoming human that they have to offer us.
"Jean Vanier turned a minimalist sense of caregiving and turned it into a movement that recognizes and appreciates the gifts of people with developmental disabilities."
– CMU President Cheryl Pauls
[ news release ]
[ video acceptance ]

Print This Page