Public Events
Public Lectures
Canadian Mennonite University presents a number of annual lecture series, including:
Rev. Dr. David Widdicombe Lecture
To Sow the Wind: An Argument Against the War on Terror and Other Bad Ideas
Just War theory has received a lot of attention in recent times but the results have been mixed. It is no longer a tradition of thought designed to place strict restraints upon the use of force in the necessary use of force in restraint of evil. Under the pressure of humanitarian interventionism, theories that democracies do not fight wars against each other, American (and Western) exceptionalism, supposed states of emergency, and other ideological adventures upon the turbulent seas of the international order, the tradition has lost its profound Augustinian political skepticism and moral realism. This lecture will ask whether the restraint of force wasn't always a better (foundational) idea than the pursuit of justice in the just war tradition, a tradition that once thought war tragically endemic and sometimes justified, but never simply unambiguously just.
Rev. Dr. Widdicombe is the Rector of Saint Margaret's Anglican Church in Winnipeg.
Date: Thursday, February 26, 7:00 PM–8:30 PM
Location: Marpeck Commons, 2299 Grant Ave.
The J.J. Thiessen Lectures
Founded in 1978 by Canadian Mennonite Bible College, the J. J. Thiessen Lectures are named in honour of a founder and long-time chairperson of the CMBC Board. The lectures seek to bring to the Canadian Mennonite University community something of his breadth of vision for the church.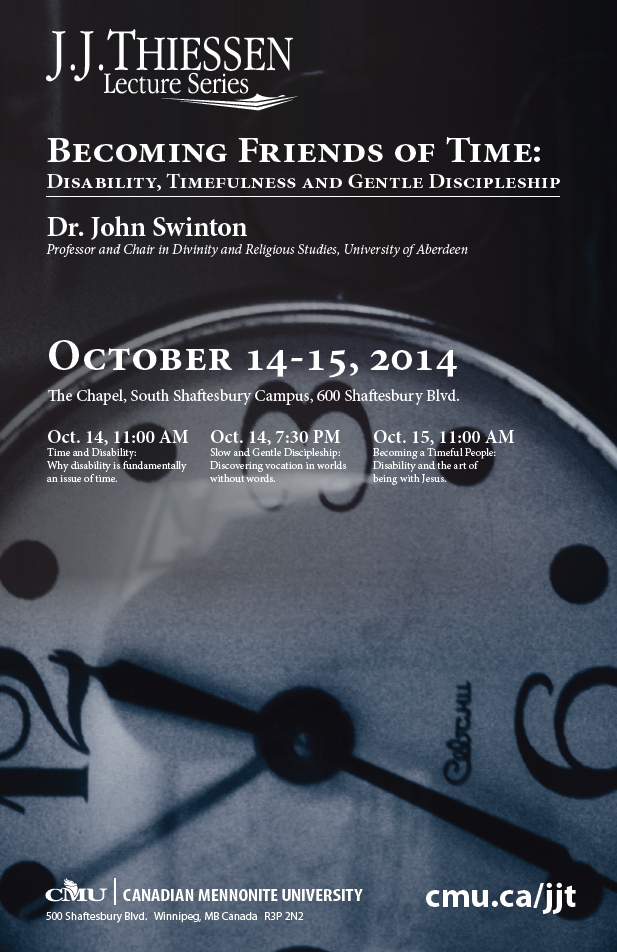 October 14-15, 2014
​Becoming Friends of Time: Disability, Timefulness and Gentle Discipleship
Dr. John Swinton, Professor and Chair in Divinity and Religious Studies, University of Aberdeen
Dr. Swinton's lectures will focus on the theology of disability and how the experience of profoundly disabled people impacts upon our understandings of God, creation and the meaning of humanness. The primary focus will be on the nature and purpose of time and the ways in which certain forms of disability draw attention to forgotten aspects of time and timefulness and in so doing call all of us, together, to engage in a more faithful discipleship.
The lectures will focus particularly on people with profound intellectual disabilities and people with cognitive disabilities such as advanced dementia. People with such life experiences perceive and live out time in ways that are quite different from the expectations of our speed driven culture. To move quickly and to be swift in thought is often assumed to be a marker of successful humanness. Its easy to forget that Jesus would have walked slowly; partly because of the heat, but partly because he understood the meaning of time. He had all the time in the world to do what God wanted him to do. People with profound disabilities draw attention to the significance of time and point towards the fact that true knowledge of God and faithful discipleship is slow and gentle; not bound by the assumptions of speed, worldly success, and the quickness of one's intellect. The timefulness of such people's lives reveals new dimensions of discipleship and the nature of Christian vocation.
If those with profound intellectual disabilities and people with advanced dementia are disciples with a God-given vocation, then learning to join with people in slow and gentle discipleship may be a revelation of our humanness and, perhaps, the "salvation" of the church.
​Lecture One – Tuesday, October 14 at 11:00 AM
Time and Disability: Why disability is fundamentally an issue of time
Time is the mysterious underpinning to everything we do, and yet despite its power and influence over us, we rarely reflect on its implications for the ways in which we understand and structure our lives. This lecture will examine St. Augustine's idea that time is fallen and needs redemption. It will explore ways in which "clock time" is measured by productivity and has been made into "real time" in ways that are deeply problematic for everyone, particularly for those deemed unable "keep up." Time and disability are intimately connected, not only because disability challenges the idea of time but because certain key assumptions that comprise the category 'disability' are premised on mistaken and dangerous understandings of time. In these ways time has fallen and has become the oppressor of all who fail to meet the criteria for living well in a world ruled by clocks. Time needs to be redeemed.
audio


video
Lecture Two – Tuesday, October 14 at 7:30 PM
​Slow and Gentle Discipleship: Discovering vocation in worlds without words
What does it mean to redeem time? This lecture will examine a theological understanding of time through a critical reflection on the ideas of Sabbath, providence, slowness and gentleness. Furthermore it will develop a model of discipleship which reclaims the power of timefulness and the significance of inactivity. It is through the recognition of the gentle, slowness of God that the prophetic witness of disability can be understood.
audio


video
Lecture Three – Wednesday, October 15 at 11:00 AM
Becoming a Timeful People: Disability and the art of being with Jesus
What does discipleship and vocation mean for people living with profound intellectual disabilities and people living with advanced dementia? What does it mean to be a slow and gentle follower of Jesus and not to comprehend intellectually who Jesus is? This lecture will explore the idea of discipleship without words. Can the body of Christ be whole without the discipleship of all of God's people? What is the vocation of individuals with profound cognitive or intellectual disabilities within God's Kingdom? It is hoped that through examining these questions the debates around inclusion can be turned into a conversation around discipleship rather than identity politics.
audio

​
​video
Previous J.J. Thiessen Lectures
Past annual J.J. Thiessen Lectures published by CMU Press.
2013: Dr. P. Travis Kroeker, Professor of Religious Studies, McMaster University
Topic: Mennonites and Mammon: Economies of Desire in a Post-Christian World
AUDIO
2012: Dr. Beverly Roberts Gaventa, Helen H. P. Manson Professor of New Testament Literature and Exegesis, Princeton Theological Seminary
Topic: From Powerlessness to Praise in Paul's Letter to the Romans
2011: Dr. Peter Widdicombe, McMaster University
Topic: Scripture and the Christian Imagination: Text, Doctrine, and Artistic Representation in the Early Church and Beyond
2010: Dr. Belden Lane, Saint Louis University
Topic: From Desert Christians to Mountain Refugees: Fierce Landscapes and Counter-Cultural Spirituality
AUDIO
2009: Dr. Peter Ochs, Edgar Bronfman Professor of Modern Judaic Studies, University of Virginia
Topic: The Free Church and Israel's Covenant
2008: Dr. Mark Noll, Professor of History at the University of Notre Dame
Topic: A Yankee Looks North: Toward an Appreciation and Assessment of the History of Christianity in Canada.
2007: Dr. Ellen Davis, Professor of Bible and Practical Theology, Duke Divinity School
Topic: Live Long on the Land: Food and Farming from a Biblical Perspective.
2006: Dr. Joel J. Shuman, King's College, Wilkes-Barre, PA
Topic: To Live is to Worship: Bioethics and the Body of Christ
Published by CMU Press
2005: Dr. Paul J. Griffiths, Schmitt Professor of Catholic Studies at University of Illinois at Chicago
Topic: Curiosity: Towards a Theology of Intellectual Appetite
Published by CMU Press
Proclaiming the Claims of Christ Lecture Series
This lecture series has been offered at CMU since 2007. The series addresses the various dimensions of Christian apologetics (theory, evangelism, Gospel and society, singularity of Christ in a multi-cultural context, etc.).
Previous Lectures
Click to listen to audio recordings of past Proclaiming the Claims of Christ Lecture Series.

2012: The Unique Gift of Christ, Dr. Benne Jordan-Trexler Professor of Relgion Emeritus and Director of the Center for Religion and Society at Roanoke College, Salem, Virginia.
2011: Cancelled
2010: Proclaiming the Unique Claims of Christ; Negotiating the Christian-Muslim Interface
2009: Being a Christian in the public media, radio broadcaster, and media commentator Michael Coren
2008: Proclaiming Christ in a Post-Christian World, John Stackhouse, Regent College.
2007: Joe Boot, evangelist, apologist, author and the executive director of Ravi Zacharias Ministries in Canada.
John and Margaret Friesen Lectures
The John and Margaret Friesen Lectures in Anabaptist/Mennonite Studies are co-sponsored by Canadian Mennonite University, the Mennonite Heritage Centre, and the Centre for Mennonite Brethren Studies. The inaugural lectures in November 2002 were delivered by Dr. Abraham Friesen (Professor of History, University of California, Santa Barbara), the generous donor who initiated the lecture series.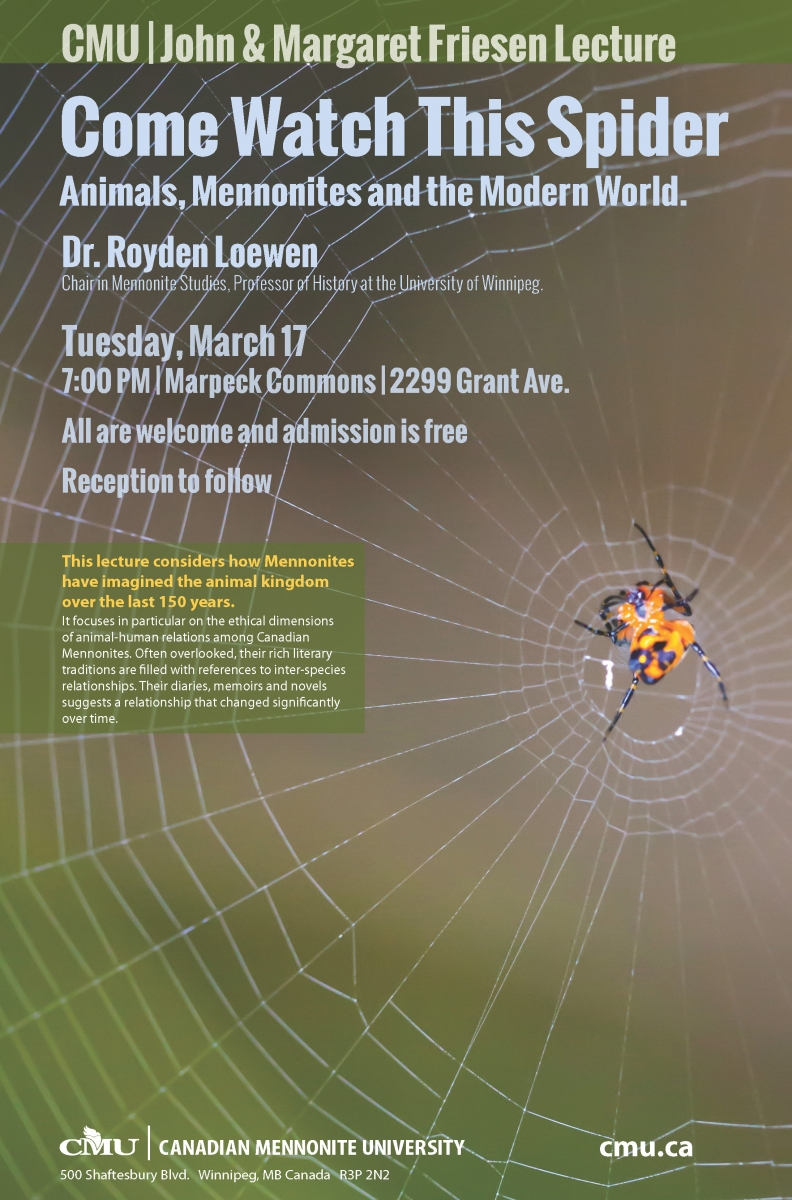 'Come Watch This Spider': Animals, Mennonites and the Modern World
Dr. Royden Loewen, Chair in Mennonite Studies and Professor of History at the University of Winnipeg
This lecture considers how Mennonites have imagined the animal kingdom over the last 150 years. It focuses in particular on the ethical dimensions of animal-human relations among Canadian Mennonites. Often overlooked, their rich literary traditions are filled with references to inter-species relationships. Their diaries, memoirs, and novels suggest a relationship that changed significantly over time. A fundamental respect for the animal during pre-industrial times of the late 19th and early 20th centuries was followed by an objectification and commodification of the animal during the mid to late 20th century as Mennonites embraced the 'modern' world. By the turn of the 20th century some writers from the edges of Mennonite society began to confront the very idea of animal subjugation. By writing the animal into the history of Canadian Mennonites, a fuller understanding of the nature of modern world can be achieved. To study animal-human relations is also to study human history more fully.
All are welcome and admission is free.
Reception to follow.
Date: Tuesday March 17, 7:00 PM
Location: Marpeck Commons (2299 Grant Ave.)
Previous Lectures
2009: Mennonite Women in Canadian History: Birth, Food, and War
Lecturer: Marlene Epp of Conrad Grebel University College.
2008: Church and ethnicity: The Mennonite Experience in Paraguay
Lecturer: Alfred Neufeld, Dean of the School of Theology of the Protestant University of Paraguay.
2007: Mennonite Identity in the 21st Century
Lecturer: John D. Roth.
2006: Sacred Spaces, Sacred Places: Mennonite Architecture in Russia and Canada
Presenters: Rudy Friesen, Harold Funk, Roland Sawatsky.
2005: Recovering A Heritage: The Mennonite Experience in Poland and Prussia
Peter Klassen, Professor Emeritus of History, California State University, Fresno.
Winter Lecture Series
The CMU Winter Lectures is an annual public lecture series that seeks to highlight the arts, science, humanities, and interdisciplinary studies at CMU and to foster dialogue between these disciplines and the Christian faith.
Previous Lectures
Click to listen to audio recordings of past Winter Lecture Series.
2012 and 2013: Cancelled
January 25-26, 2011: Dr. Romand Coles, McAllister Chair in Community, Culture, & Environment at Northern Arizona University. Resonance, Receptivity and Radical Reformation

January 26-27, 2010: Vern Redekop, Associate Professor of Conflict Studies at Saint Paul University in Ottawa. Topic: Paradoxes of Reconciliation

January 26-27, 2009: Dr. Norman Wirzba, Research Professor of Theology, Ecology and Rural Life, Duke Divinity School. Topic: Placing Our Faith in a Placeless World?

January 29-30, 2008: Erica Grimm Vance, Assistant Professor and Visual Arts Coordinator, Trinity Western University. Topic: Art, Beauty and Christian Theology.
2007: Robert Russell, Professor of Theology and Science, Graduate Theological Union, and Director for the Center for Theology and the Natural Sciences. Topic: Cosmology, Evolution and Resurrection Hope.
January 30-31 2006: Alvin Dueck, Evelyn and Frank Freed Professor of the Integration of Psychology and Theology, Fuller Theological Seminary—Topic: Psychology and Theology.