Faculty
David Balzer
Assistant Professor of Communications and Media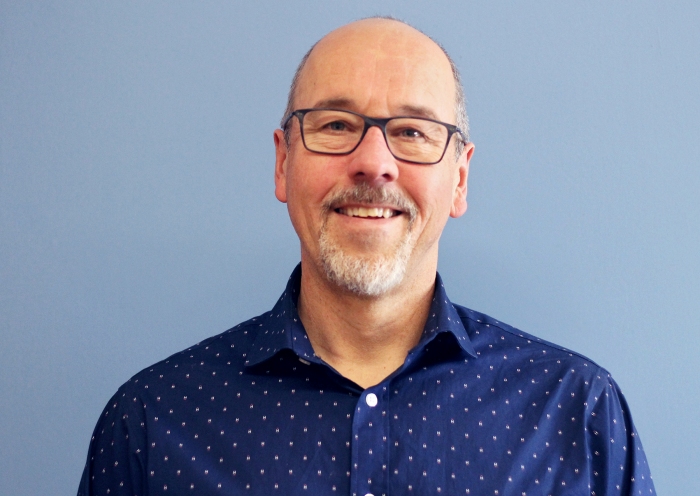 | | |
| --- | --- |
| | Communications and Media |
| | |
| | 204.487.3300 x322 |
| | C15 |
Recording studios and radio towers in Germany and Ecuador were part of David's childhood experience through his parents' mission broadcasting work. This has led to a natural lifelong intrigue with communications.
Undergraduate studies included a Bachelor of Religious Studies at MBBC (a founding college of CMU) and a BA in Administrative Studies at the University of Winnipeg. David completed an MA in Speech Communication at California State University – Fresno and significant work towards an MA in New Testament at Mennonite Brethren Biblical Seminary.
Prior to joining CMU, David spent over a decade in broadcast radio in Winnipeg with Family Life Network Inc. This included 11 years of weekly co-hosting of the GodTalk radio show on 680 CJOB, a Corus Entertainment company. David also spoke at 100's of live events across central and western Canada during these years. His passion has always been to creatively engage people in a dignifying conversation about the living God.
David joined the CMU faculty in 2009 and was appointed Assistant Professor of Communications and Media in July 2013. David was host and producer of the weekly Sunday@CMU radio program on Goldenwest Radio in Manitoba from 2009-2013.
David teaches in media and society, public speaking, new media, communication theory and topics such as Christianity and the mass media in Canada. David's current research is exploring the use and meaning of "Oh my God" in the everyday talk of Canadians. He released a short documentary film from this project in January 2015.
David and his wife, Kathryn, live in Winnipeg and have 3 young adult children. They are part of the North Kildonan Mennonite Brethren Church. David is very active in the community with speaking engagements, preaching and communications consulting and training.
Areas of Teaching
Media and Society, Public Speaking, Group Communication, Radio, Interviewing, New/Digital Media, Communication Theory and on topics such as Christianity and the Mass Media
Education
M.A., California State University-Fresno, 2000; B.A., University of Winnipeg, 1989; B.R.S, Mennonite Brethren Bible College, 1989
Work in Detail
Teaching
COMM-1000 Communications and Media
COMM-2000 New Media - understanding Web 2.0 and media convergence
COMM-2020 Oral Communication - public speaking and persuasion
COMM-2015/3015 Media Workshop - client-based production team experience
COMM-3950 Topics: Christianity and the Mass Media in Canada

Research
David has a long-standing interest in the convergence of Christian theology and communication practice. A current interest centers on the presence and function of religiously-informed language in everyday talk. The use of this kind of language appears to have grown over the past several years and has become a pervasive form of expression in North America.
One instance of this pervasiveness is evidenced in the phrase, "Oh my God." David is produced a short documentary film about the use of this phrase through a production partnership in 2014-2015 and is currently working on an audio documentary.

Publications
Balzer, David. "Reviews." Rev. of The Technological Imperative in Canada: An Intellectual History, by R. Douglas Francis. Manitoba History, the Journal of the Manitoba Historical Society 64 Fall 2010: 37-38. Print.
Applied
David was host and producer of CMU's weekly radio program, Sunday@CMU from 2009-2013. David currently harnesses his expertise in interview-based storytelling for a segment of the program each week with his students.

Magazine Publications
Balzer, David. "Chatting about God over the Airwaves: What I Learned about Interfaith Conversation." Mennonite Brethren Herald 50.11 (2011): 10-12. Print.
Balzer, David. "Now We're Talking." Quarterly Column. Christian Week April, June, August, October, December 2009, March 2010. Print.

Balzer, David. "What I'm Reading." Rev. of Culture Making: Recovering our Creative Calling by Andy Crouch. Mennonite Brethren Herald June 2009. Print.
Community
David is a frequent speaker at dinner events, churches and conferences. He extends his teaching skills into other spaces as a seminar leader and coach in public speaking for various Christian ministry teams and provides communication consulting.

Printed from: www.cmu.ca/about.php?s=faculty&id=464