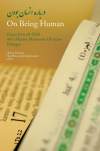 BUY NOW
On Being Human: Essays from the Fifth Shi'i Muslim Mennonite Christian Dialogue
Edited by Harry Huebner and Hajj Muhammad Legenhausen
A collection of dialogical essays around various topics pertaining to human nature and destiny from a theological perspective. The essays reflect the authors' ideas of how best to convey what they hold to be not only their personal beliefs, but also the beliefs of their communities, to an audience that is not expected to share these beliefs. Surprises abound as discussions reveal both astonishing similarities across denominational lines and differences in basic concepts where similarities were assumed.
Buy now
Mennonite Central Committee in Canada: A History
Esther Epp-Tiessen
A splendid and eloquent story of the work of MCC in Canada from its beginnings in the 1920s to the present.​