PLEASE NOTE: THIS EVENT HAS BEEN POSTPONED TO A LATER DATE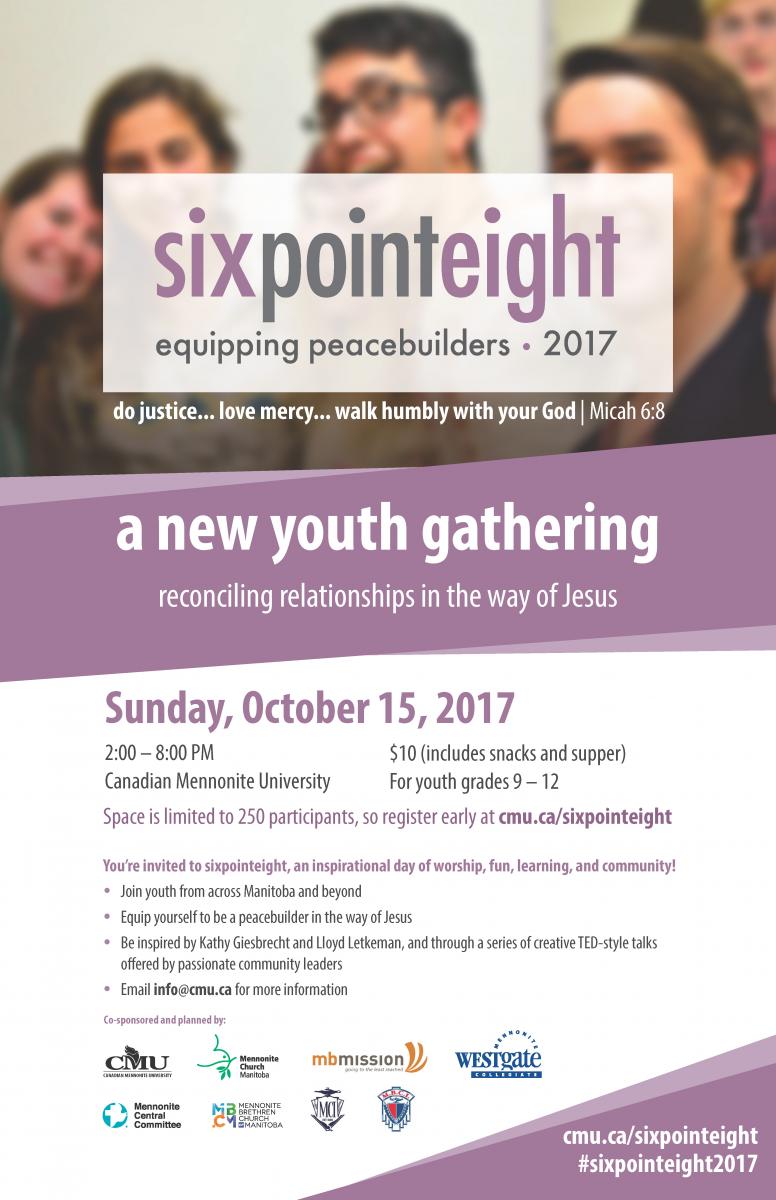 Save the date for a new youth gathering!
You're invited to sixpointeight, an inspirational day of worship, fun, learning, and community! Equip yourself to be a peacebuilder in the way of Jesus with youth from across Manitoba and beyond.
Be inspired by Kathy Giesbrecht and Lloyd Letkeman, and through a series of creative TED Talk-style presentations offered on the topics of Self, Neighbours, Creation, and God.
Who: Youth grades 9–12
When: Sunday, October 15, 2017 | 2:00–8:00 PM
Where: Canadian Mennonite University
Cost: $10 – includes snacks and supper; payable on arrival OR ahead of time by cheque to CMU
For more information or if you have any questions, email Cori at info:@:cmu.ca.
If you're attending, remember to bring your own water bottle.
Schedule
1:30–2:00 PM – On-site Registration and Check-in
2:00–3:00 PM – Gathering and Opening with Kathy Giesbrecht
3:00–5:00 PM – TED Talk-style presentations
(Click on each theme below to learn more about all of the inspiring, 15-minute presentations. When you register you will choose 4 of these.)
​5:00–5:20 PM – 'Contemplating what we have heard' – Kathy Giesbrecht
5:20–7:00 PM – Supper
Breakout Options:
Visit a Booth: Where can I get involved?
Circles of Conversation: What have I heard, learned, been challenged by?
Debrief with a Youth Pastor: With whom can I have a one-on-one conversation?
Express Yourself: How can I respond artistically to my experience?
7:00 – 8:00 PM – Gathering and Closing with Lloyd Letkeman
Speakers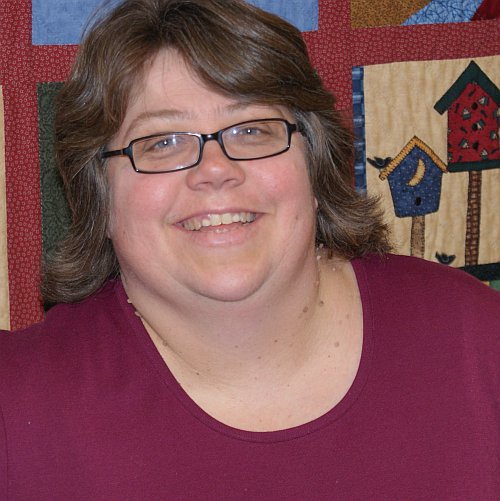 Kathy Giesbrecht
Presently, Kathy serves as the Associate Director of Leadership Ministries for Mennonite Church Manitoba, but before that she gave herself to youth ministry for over 3 decades. Serving in high schools, youth institutions, drop-ins, community centers, and congregations... she loved it all. Claiming to have consumed more pizza than anyone on the planet, the perks and thrills of her calling continue to fuel her passion.
"I just can't stop talking about how committed God is to us and how life giving the ways of Jesus are and what a super duper companion the Holy Spirit is."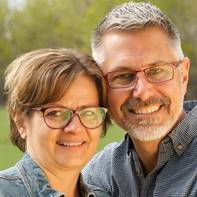 Lloyd Letkeman
Lloyd, together with his wife Carol & their team at MB Mission, provide a wide variety of discipleship on mission opportunities for church groups of all ages. Discipleship is life-on-life experiences of living, eating, and serving together with a purpose – unto "God's kingdom come on earth as it is in heaven." ​Lloyd is a teacher at heart who loves to invite others to experience the abundant life Jesus freely gives to all who seek him. Lloyd serves as a Regional Mobilizer for MB Mission in Manitoba, Saskatchewan, and Alberta.
Co-sponsored and planned by:

Printed from: www.cmu.ca/community.php?s=cfl&p=sixpointeight