Programs
Summer Music Academy
The Community School of Music and Art's Summer Academy is expanding! This year we are including both voice and piano. The Summer Academy is designed to give enthusiastic singers and pianists an opportunity to develop their skills in a supportive and stimulating environment. Located on beautiful CMU campus in Tuxedo, students will spend the week participating in activities and classes to develop them as musicians and interpreters.
Students between the ages of 12–19 will have the opportunity to work with professional musicians. Focusing on solo repertoire, students will all have opportunity to perform in masterclass settings, end of day mini performances, and in a public performance at the end of the program.
The program is aimed at the keen student interested in further developing their skills over the summer months. This program is ideal for those preparing for audition and exam repertoire.
Schedule will include: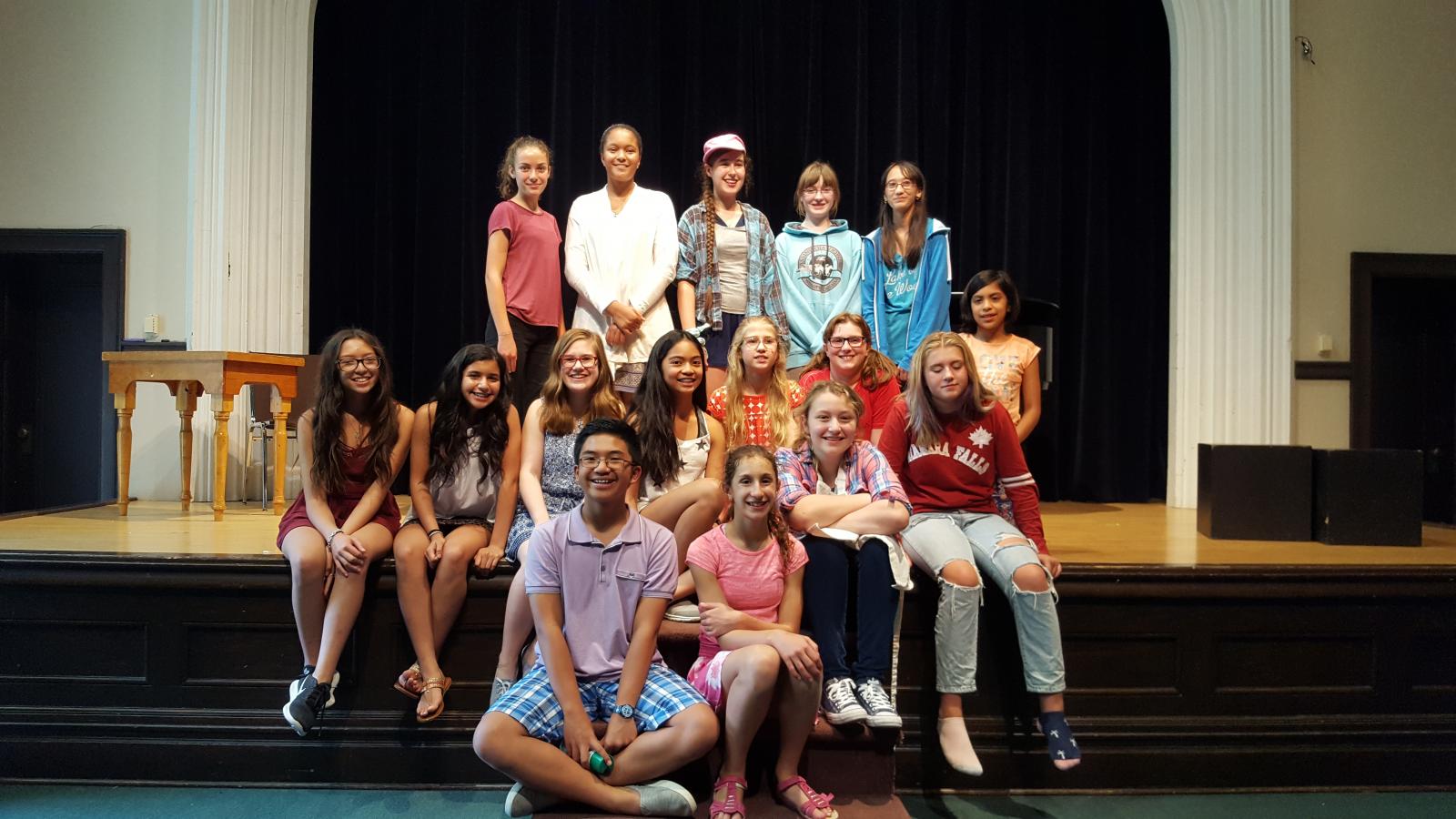 Creative process (get our of your comfort zone and respond in the moment)
Individual and group lessons
Art Expression
Group Music Class
Acting for singers
Movement and yoga classes
Diction work
Masterclasses (all participants may perform)
Ensemble rehearsals and coaching with professional pianists.
2017 Program dates: July 17-21 (voice and piano) July 24-28 (voice)
Times: 9:00 AM–4:00 PM
Location: Canadian Mennonite University, 500 Shaftesbury Blvd., Winnipeg, MB
Cost: Early bird $350.00 – deadline May 31, 2017
(*50.00 cancellation fee if canceling prior to July 15, 2017)
Class Descriptions
Movement – Each day participants will wake their minds and bodies up with some creative movement, which may include light stretching, yoga and breathing exercises.
Theory – Students will explore a new music theory concept in a creative and engaging way. Some topics will include:
Impressive Intervals!
Lit Landmarks! (reading notes on the staff)
Real-time Rhythm!
Creative Process – Students will participate in games and techniques to keep their creative minds growing. Many of the games and activities in this class are common in acting classes and provide a fun and active way to fuel creativity.
Group Music- Students will spend time in small groups creating music together Some examples are:
Bucket Drumming – Creating a song using rhythm, drum sticks and buckets
Song-writing – Using a given topic, the group will create and perform a short song together
Improvisation – Using a 12-bar blues structure, the students will improvise melodies and provide the accompaniment for a jazz song
Individual and Group lessons – all students will receive both individual and lessons to work on solo repertoire which they bring to the academy. Repertoire will be prepared in advance of the academy.
Active listening – Students will be encouraged to use critical listening skills as a practice and learning tool. Students will listen to their peers and recordings displaying different styles of music for their instrument. They will learn to recognizing how they differ and, in turn, how to achieve these styles.
Games/Free time – There will be time for fun. On the beautiful Canadian Mennonite University campus there is plenty of room to be outside, play and explore. Dedicated teachers will also lead students in games for a break.
Masterclass – Interested students will have the opportunity to perform in a masterclass with a guest teacher. Students who perform will perform, receive feedback and work with the teacher.
Art Expression – Students will have an opportunity to use art to express themselves, in an open class. Excellent art instructors will guide them to express and connect with the music they are working on at the Academy through visual art.
Mini Performances – Each day will end with a mini concert.
Diction – A group experience for singing language. Exploring French, German and Italian pronunciation.
Acting – Led by a professional actor, class may include improvisation, stage combat as well as other stage techniques.
Voice Faculty
Judith Oatway

Judith Oatway completed her Masters of Music in Voice from the University of Western Ontario in London, Ontario, Previously, Judith received her Bachelor of Music from Brandon University.

She has had the privilege of studying with several national and internationally renowned musicians including Tracy Dahl, Sophie Roland, and Valdine Anderson.

Judith has performed locally with Flipside Opera and with the Manitoba Opera Chorus. She has also performed with Kitchener Opera, University of Western Opera, and Opera Nuova. Judith is proud to be a part of the dynamic faculty at CSMA and is committed to sharing her knowledge of vocal technique and performance to her students.
Laurelle Jade Froese

Mezzo-soprano Laurelle Jade Froese is establishing herself as a young professional singer in Canada. She began her professional operatic debut in the spring of 2014 in Saskatoon Opera's Die Zauberflöte as second Lady and joined Vancouver Opera's Yulanda M. Faris Young Artist Program for the 2014/'15 season. Prior engagements and awards include being a 2013 and 2014 Jeune Ambassadeur Lyrique Laureate and representing Canada at the Minsk Opera House in Belarus.

Laurelle currently lives in Winnipeg and when not performing, she can be found teaching and singing with various communities throughout the city. Laurelle Froese is the founder of the Winnipeg Vocal Academy which seeks to promote classical music to under-served communities within Winnipeg. A passionate performer and teacher she absolutely loves to instill the love of music into students of all ages!

To find out more, please visit: laurellejade.com
Glenda Friesen

Glenda Friesen has completed an ARCT in Piano Performance and an ARCT in Piano Teaching. She also received a Diploma of Church Music and has studied Jazz Piano with Will Bonness from the University of Manitoba. She has studied Arts and Theology at Regent College (Vancouver, BC) and more recently at Wycliffe College (University of Toronto). She has collaborated with many musicians over the years in Winnipeg, Vancouver and the Greater Toronto Area. She has been a music teacher for over 20 years and inspires students of all ages to enjoy music and pursue excellence. She received two teaching awards at Merriam School of Music in Oakville, ON. With a warm, engaging personality and a high energy teaching style, Glenda has become known for her adaptive approach, using creative strategies to focus on core strengths of each student.
Rebecca Klassen-Wiebe

Rebecca Klassen-Wiebe is a recent graduate of CMU with her Bachelor of Music degree in Collaborative Piano Performance. She has studied with Dr. Cheryl Pauls, Darryl Friesen and Shirley Elias. Her many years of making music have also involved much collaborating with instrumentalists and choirs and playing for operas. She was the winner of the Verna Mae Janzen Award in 2014 and performed two credit recitals.

Rebecca has loved music from a young age as she participated in the Orff program and then began taking piano lessons. She enjoys collaborating with instrumentalists and choirs, something that began in high school and has continued to grow since then. Along with this passion for music, Rebecca loves working with children. The past many years Rebecca has spent her summers counseling and directing at camp.
Past masterclasses with:
Monica Huisman

​Dutch-Canadian Soprano, Monica Huisman has been hailed as possessing a soprano voice that 'embodies both flawless technique and dramatic impact' (Opera Canada). Monica has delighted audiences from Amsterdam's Concertgebouw to Guatemala City with the reputation of her 'silken' voice 'consistently crafting each note into a work of art' (Winnipeg Free Press).

She has soared on the stages of Vancouver Opera, Calgary Opera, Edmonton Opera, Pacific Opera Victoria, The Netherlands Opera, Manitoba Opera, Opera Ontario and Saskatoon Opera in productions of Carmen, Marriage of Figaro, Cosi Fan Tutte, Don Giovanni, Cunning Little Vixen, La Boheme, Magic Flute, Hansel and Gretel and Lakme. Many of these performances have been broadcasted by CBC Radio on Saturday Afternoon at the Opera.

Recent engagements included Villa Lobos' Bachianas Brasileiras with Rio International Cello Festival in Rio di Janeiro, Mahler's 4th with the WSO, broadcasted by the CBC, Mendelssohn's Lobegesang with the VSO, Four Songs for Cello and voice by Previn with the VSO, and Handel's Messiah with the WSO. Upcoming engagements include Beethoven's 9th Symphony with both the VSO and the RSO, Falstaff with MOA and the Elijah with the WSO.
Lara Ciekiewicz

Whether being hailed as "mesmerizing" (Classical Voice of North Carolina), "magnificently bell-toned" (Capital Critics Circle), or "a clear standout" (San Francisco Classical Voice), soprano Lara is making her mark as a dynamic singing-actress. This season, she made her Flipside Opera debut as the ferocious Helga in Gisela in her Bathtub, became Mrs. Nordstrom in Dry Cold Productions' A Little Night Music, and created the role of May in Opera on the Avalon's world première of Ours.

Recent collaborators include Manitoba Opera, the Winnipeg Symphony Orchestra, Opera Lyra Ottawa, Pacific Opera Victoria, Toronto Operetta Theatre, Opera in Concert, l'Opéra de Montréal, and l'Orchestre symphonique de Sherbrooke.

Lara holds a Master of Music in Opera from McGill University and a Bachelor of Arts, Honours in Voice from the University of Winnipeg. She is an alumna of l'Atelier lyrique de l'Opéra de Montréal, San Francisco Opera's Merola Opera Program, the Janiec Opera Company at the Brevard Music Center, the Banff Centre, Opera NUOVA and the Royal Winnipeg Ballet School (Ballet, Tap, Jazz, Musical Theatre).