Face2Face: On Campus – Community in Conversation
​CMU's Face2Face events are a series of conversations with CMU faculty and special guests designed to engage the community on a wide variety of current events and issues at the intersection of faith and life. Come out to listen, question, and discuss.
All Face2Face discussion take place from 7:00 to 8:30 PM in Marpeck Commons (2299 Grant Ave.) unless otherwise stated.
The 2017-18 Face2Face Discussion Series
⇒ Monday, February 5, 2018
The Bible Tells Me So... Doesn't It?
A Conversation with Young Adults on the Tensions of Taking Scripture Seriously
[ news release ]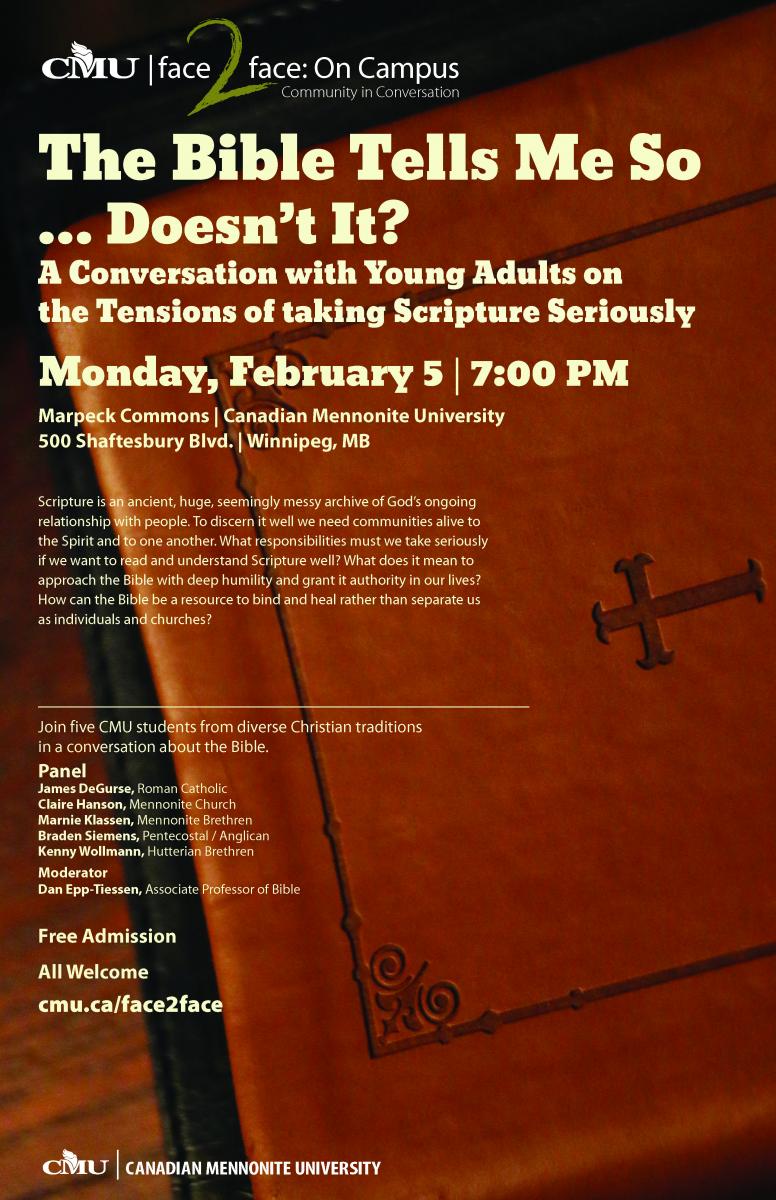 Questions for Conversation
Where have you come from? What assumptions and convictions has your church tradition given you to understand the role of the Bible in the life of faith? How have (or do) these assumptions and convictions shaped your faith experience?
Where are you now? What issues or challenges have your church's assumptions and convictions about Scripture opened for you? Where and how has it been hard for you to understand Scripture as the authority you thought it ought to be? What questions do you have about interpreting Scripture?
Where do you find hope? What keeps you committed to reading the Bible? Where do you find delight in your interaction with the Bible? What spiritual, intellectual and communal practices do you think are vital to healthy engagement with Scripture?
Context
Scripture is an ancient, huge, seemingly messy archive of God's ongoing relationship with people. To discern it well we need communities alive to the Spirit and to one another. What responsibilities must we take seriously if we want to read and understand Scripture well? What does it mean to approach the Bible with deep humility and grant it authority in our lives? How can the Bible be a resource to bind and heal rather than separate us as individuals and churches?
Join five CMU undergraduate students from diverse Christian traditions in a conversation about the Bible.
Panelists
Marnie Klassen – Mennonite Brethren, 2nd year, Undeclared
James DeGurse – Roman Catholic, 4th year, Biblical and Theological Studies (Honours)
Kenny Wollmann – Hutterian Brethren, 4th year, Biblical and Theological Studies
Claire Hanson – Mennonite Church, 2nd year, English
Braden Siemens – Pentecostal / Anglican, 4th year, Biblical and Theological Studies (Honours)
Moderator
⇒ Wednesday, November 15, 2017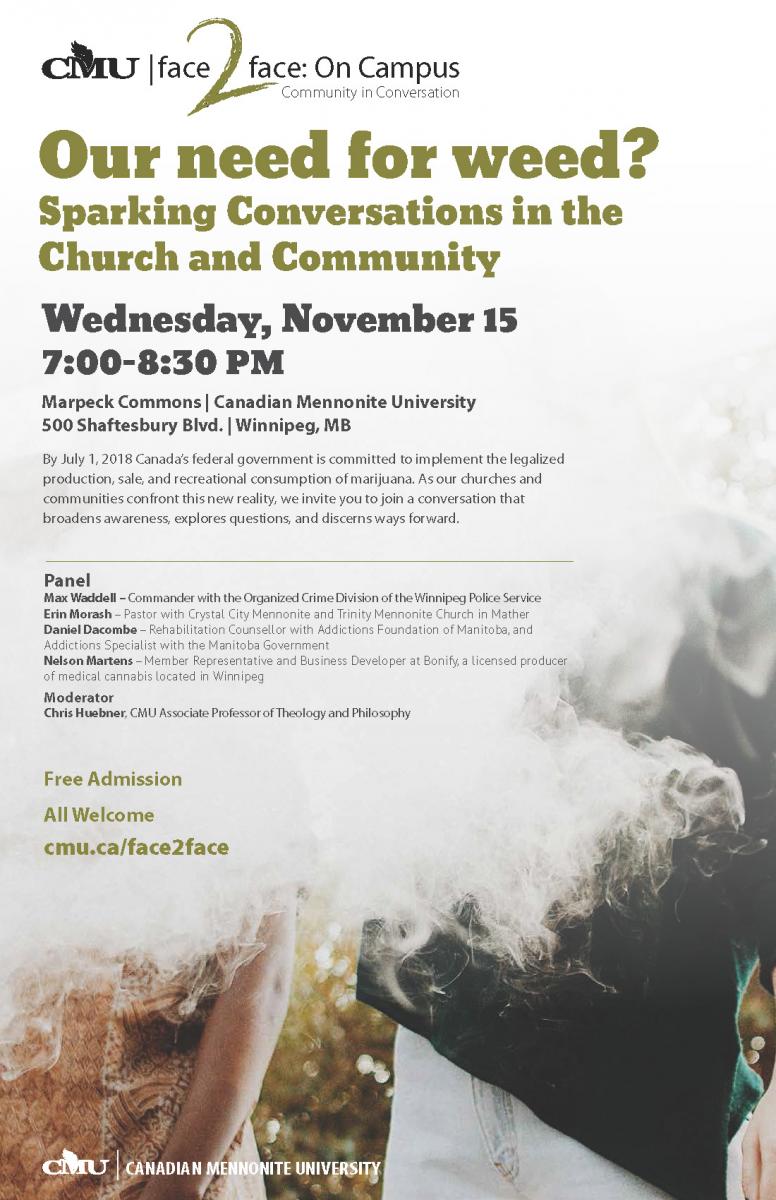 Our need for weed?
Sparking Conversations in the Church and Community
By July 1, 2018 Canada's federal government is committed to implement the legalized production, sale, and recreational consumption of marijuana. As our churches and communities confront this new reality, we invite you to join a conversation that broadens awareness, explores questions, and discerns ways forward.
[ news release ]
Questions for Conversation
Can we understand more clearly the government's full intention and the implications that arise with legalization vs decriminalization?

Does legalization speak helpfully to any present challenges faced by our communities? What present challenges does legalization 'solve'? Are there helpful possibilities that exist for the broader community in this move?
What legal / practical implications and challenges does legalization of marijuana open for individuals and families? How will this move impact policing?
What medical realities do we need to understand about cannabis use?

Many suggest that marijuana use is really not an issue. Is this in fact the case? Are alcohol and marijuana parallel?
Some consider distinctions between 'addiction' and 'dependence' to be significant. What are the differences and their implications? What about therapeutic / medical ends of using marijuana vs. recreational use?
Can the church be a place for real conversation about this issue? What are our fears? What questions—theological and otherwise—should Christians and the Church be asking?

Given a commitment to be Biblically faithful with all aspects of life, how ought the church to make sense of this reality that is coming at us? What questions ought we to be asking? For example...
Does legalizing marijuana mask broader issues sitting under the table?
In what sense might this issue cause us to reflect more intentionally on 'desire'? What is fuelling this desire (ie. everyone asks me about my drinking, but nobody asks me about my thirst)?
Panelists
Max Waddell – Commander with the Organized Crime Division of the Winnipeg Police Service
Erin Morash – Pastor with Crystal City Mennonite and Trinity Mennonite Church in Mather
Daniel Dacombe – Rehabilitation Counsellor with Addictions Foundation of Manitoba, and Addictions Specialist with the Manitoba Government
AFM Position Statement
Nelson Martens – Member Representative and Business Developer at Bonify, a licensed producer of medical cannabis located in Winnipeg
Moderator
Chris Huebner – CMU Associate Professor of Theology and Philosophy