Face2Face: On Campus – Community in Conversation
CMU's Face2Face events are a series of conversations with CMU faculty and special guests designed to engage the community on a wide variety of current events and issues at the intersection of faith and life. Come out to listen, question, and discuss.
All Face2Face discussion take place from 7:00 to 8:30 PM in Marpeck Commons (2299 Grant Ave.) unless otherwise stated.
2016-17's Upcoming Face2Face Discussions
► Friday, September 23, 2016
7:30-9:00 PM, Marpeck Commons (2299 Grant Ave.)
Join us for the ​Manitoba Screening of 'Reserve 107' with Brad Leitch (Director), followed by audience conversation with film participants.
Panelists:
Barb and Wilmer Froese of Laird, SK
Ray Funk of Prince Albert, SK
Chief George Kingfisher, hereditary chief of the Young Chippewayan First Nation
Brad Leitch
Indigenous rights and title to the land remain a taboo topic for many across Canada, but in the small town of Laird, SK, an old injustice is providing new opportunities for dialogue, friendship and a fierce determination to right the wrongs of the past. In 2006, 130 years after the signing of Treaty 6, Mennonites, Lutherans, and the Young Chippewayan First Nation gathered on the sacred hill of Stoney Knoll / Opwashemoe Chakatinaw located in Laird where, with goodwill and shared goals, they signed a memorandum of understanding. 'Reserve 107' captures the spirit of these renewed relationships.
At the closing ceremony of Vancouver's DOXA Documentary Film Festival the jury stated "'Reserve 107' spoke exceptionally well to our generation. We have grown up learning about indigenous affairs and the value of righting the foundation of our friendship. Through 32 minutes we are shown two groups of people speaking at solutions and actually acting on them together, capturing the raw passion for structural change in a respectful and educated manner is one of the many reasons as to why this film has earned honourable mention for the Nigel Moore Award."
Explore the meaning, relevance, and power Treaties signed over 100 years ago still have today. Consider more deeply, in a time of 'truth and reconciliation', how opportunities for renewed understanding, humility and respect might lead us to new covenants and mutual healing.
[related reading – Prince albert daily Herald]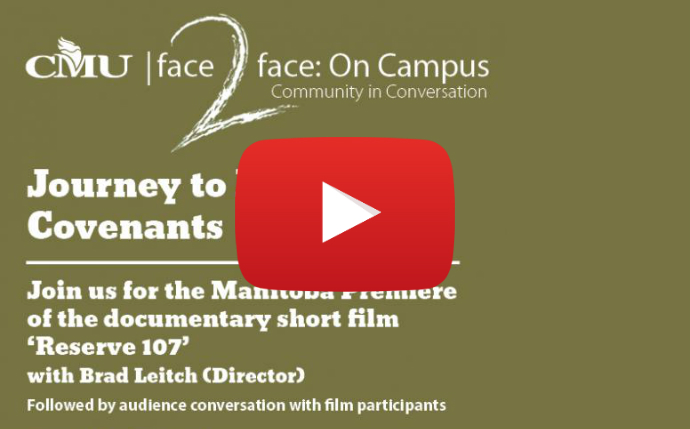 ► Wednesday, November 2, 2016
Why Beauty Matters: Radical Amazement, Spirituality, and the Ecological Crisis
with Dr. Tim Rogalsky
Nature has the power to draw us into her beauty, to inspire feelings of wonder and awe, to connect with our spirit. Sadly, our approach in this technological age is too often the opposite, seeing nature as a tool to be used, a resource to be consumed. In a time of ecological crisis what we may need, more than anything else, is a change of posture. From exploitation to amazement; from control to mystery. Seeing nature through new eyes, we may treat her in new ways.
Be prepared for an evening of radical amazement as mathematician Tim Rogalsky, biologist Rachel Krause, and engineer Randy Herrmann unveil the hidden beauty of flora, fauna, and land. Allow that unveiling to draw you deeper into Mystery.
► Tuesday, February 7, 2017
with Dr. Harry Huebner, Moderator
Too rarely do persons from Jewish, Muslim, and Christian traditions—those who, in spite of great present diversity also share faith roots within an ancient Abrahamic tent—sit with one another and speak with conviction out of their particular faith conviction and practice.
What lies at the core of each religious tradition? What challenges does each religious tradition face today and what contribution does each bring to its adherents and to our society? How can we live with difference between and among faith traditions that also hold much in common and what possibilities might we see for working together for peace and justice in the world?
► Wednesday, March 8, 2017
Details to be confirmed.