About CMU
Comprehensive University Education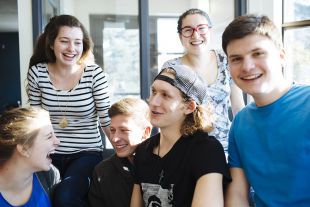 A comprehensive university education (often called the 'Liberal Arts') opens students to a thorough knowledge of the arts and sciences in order to develop well-rounded individuals with broad knowledge of a range of disciplines and with mastery of transferable skills.
Such a comprehensive education encompasses the Humanities (literature, music, languages, theology, Bible, philosophy, ethics...); Social Sciences (history, psychology, sociology, communications, economics, geography, business, peace and conflict transformation, international development...); Sciences (biology, chemistry, physics, geography, mathematics...) often pursued in inter-disciplinary ways to provide a broad spectrum of knowledge and skill.
The goal of such an education is to produce 'global citizens' with the capacity, inspiration, and faith to continue learning through their lives, and to contribute in valuable ways to their communities through a range of career options and volunteer possibilities.
How does CMU's theological rooting shape the experience of students?
"My four years at CMU allowed me to discover who I am—who I am as a follower of God and as a citizen of the world."
Adult Choices: CMU offers students a context for individual and collective discernment in which to explore choices and clarify life commitments and callings.
Discipleship: CMU colours all programs with a commitment to peace - justice and reconciliation as foundational to the life and teachings of Jesus.
Community: CMU nurtures a diverse and supportive community in which students, faculty and staff learn graceful interaction, understanding and humility and to value those whose convictions and backgrounds are different than their own.
Enriched Learning: CMU classes are rich with challenge and learning possibility as students hone their writing and oral communication skills significantly over their three or four years of study and benefit from mentoring relationships with faculty and dialogue with peers.
Inter-Disciplinary Commitment: Inter-disciplinary learning encourages students to explore and learn from a broad range of disciplines. In addition to a comprehensive Arts, Humanities, Social Science and Sciences programming, CMU offers Bachelor of Music degrees (including the only Bachelor of Music Therapy program in western Canada) and a Bachelor of Business Administration degree. Further, CMU's commitment to colour all programs with a commitment to 'peace-justice' flourishes particularly in the Canadian School of Peacebuilding, affiliated with our Peace and Conflict Transformation Studies program, attracting peace practitioners from around the world.
Faith Integration: CMU integrates Biblical and Theological Studies (BTS) within all programs (all CMU undergraduate degree programs require a minimum of 18 credit hours of BTS).
Practica: A Practicum opportunity (a supervised, learning opportunity structured over an entire year or within an intensive block of time) connects the classroom—the thinking and research work of students—with doing (ie. a lived experience in the community via diverse workplace settings). This is a graduation requirement for every student, regardless of program degree, enabling students to discern vocational and professional possibilities and connections.
Career Paths: CMU graduates leave not only having matured in personal character and commitments but equipped with versatile, marketable skills needed for success in many job and career sectors. They graduate having developed their aptitude to navigate changing job markets, with a strong work ethic, oral and written communication, and critical thinking skills, along with collaborative interpersonal capacities.
Leadership Opportunities: CMU opens students to many opportunities for leadership training (facilitated by Student Life); through corporate worship (Chapels are planned every Tuesday and Friday morning and each Wednesday evening); conversations about important life issues (Student Forums are offered every Monday morning); celebrating music and the arts (Student Music Recitals are scheduled every Thursday morning); and multiple, ongoing opportunities for service and leadership within the broader community.
How does CMU's comprehensive learning vision shape teaching and learning?
Since September of 2000, CMU has nurtured a particular vision of education, shaped within the embrace of the Christian church, an Anabaptist orientation and a unique trajectory of commitments. A broad spectrum of programs, with a focus on cross-disciplinary learning, opens students to engage the world and their place within it.
"CMU offered everything that I wanted from an academic program—Business and International Development Studies with a foundation in Christian theology at a smaller-sized university."
Faith: We present students with a reading of the world shaped by scripture and the Christian faith.
Dialogue: We affirm the importance of holding strong convictions and committing to dialogue across the many chasms which divide humanity.
Holistic: We teach students to question the artificial division between theoretical and practical knowledge so that their thinking and living are impacted.
Peace-Justice: We seek to colour all our programs with a commitment to peace-justice and the witness of Jesus.
Community: We nurture diverse communities in which students learn and experience the faith, hope and love that strengthens their compassion for others.
Life-Preparation: We provide students with foundational education for life and preparation for their careers.
How do CMU's students benefit from such comprehensive learning?
"I'm a full enthusiast in putting academic and experiential learning together. My practicum was important and it made a difference. It offered more energy to my education because I saw what it could do. It made me want to develop more—I've seen how my learning happens in the classroom and beyond."
Capacity for Analysis, Perspective, and Commitment: Students are grounded intellectually in ways that open critical thinking, deep analysis and broad perspective, and that strengthen faith commitments, dispositions and habits of love, peace and justice, and social responsibility.
Clear and Careful Thinking: Students learn to think clearly and carefully about the world in which we live as they receive the wisdom and knowledge of past generations, and participate in and contribute to a larger communal search for truth.
Learning for Life: Students learn to approach learning as an ongoing process that shapes all aspects of how they choose to live as they gain broad skills applicable to many different jobs and careers paths.
Active Engagement: Students are inspired to be actively engaged with the world around them, understanding their power and responsibilities to the common good as citizens, participants in the market, and members of local neighbourhoods, church, and global communities.
Skilled in Collaboration: Students hone their capacities for creative, integrated thinking and living as they learn by working collaboratively with others.
Agents of Change: Students' awareness of how politics, philosophy, religion, art, economics, and environmental realities have shaped our world helps them to actively serve, lead, and be agents of good change in their faith communities and in society.
"Our research shows a growing demand for what are known as soft or foundational skills. We prefer to call them human skills, the ones that tend to separate good from great in every walk of life. Critical thinking and creativity, communication and collaboration—these will be the standout skills in the age of advanced technology. People who work well with technology and work well with people—that can be the Canadian difference."
– David McKay (President and CEO, Royal Bank of Canada)
Supplemental Reading

Print This Page