About CMU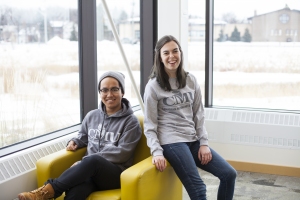 Mission Statement and Commitments
CMU is an innovative Christian university, rooted in the Anabaptist faith tradition, moved and transformed by the life and teachings of Jesus Christ. Through teaching, research, and service CMU inspires and equips women and men for lives of service, leadership, and reconciliation in church and society.
At CMU 'service, leadership and reconciliation' are personal and communal learning outcomes that are encountered within academic, personal and interpersonal, theological, artistic, physical, and environmental contexts. Education involves "building understandings" in ways that are about relationships as much as knowledge, for the sake of enabling us to see, engage, and share in a world that is as wondrous as it is strained, and that ever calls for our best care and innovative capacities.CMU's mission statement takes shape through a vibrant array of programs and projects, conversations, and commitments. The statement names the story of God's creating and transforming work through Jesus Christ as the heartbeat of the service, leadership, and reconciliation through which CMU students, faculty, graduates, and surrounding community participate in church and society.
Convictions regarding integrity in life and faith alongside the integration of knowledge, action and community wisdom, lie at the heart of CMU's educational vision. CMU's self-understanding as a church-related university is grounded in relationships of trust and in commitments to ongoing, open dialogue and inquiry.
Commitments
From the flow of this mission, four commitments colour the university's work across all of its programs and activities:
Educate for Peace – Justice
Learn through Thinking and Doing
Welcome Generous Hospitality... Radical Dialogue
Model Invitational Community


Print This Page