Faculty
Janet Brenneman
Associate Professor of Music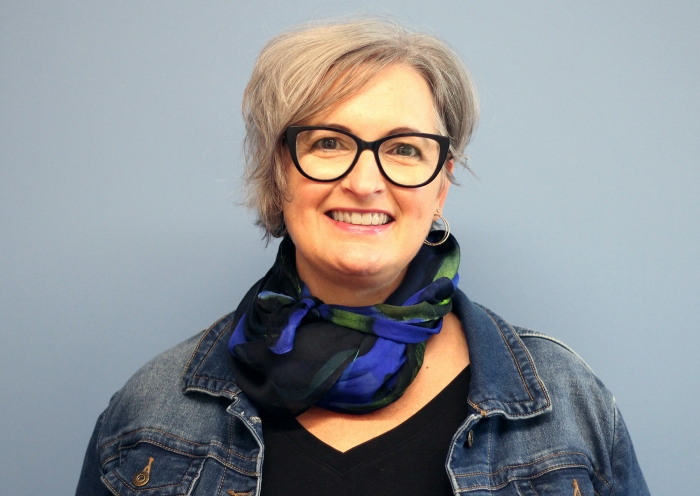 | | |
| --- | --- |
| | Music |
| | |
| | 204.487.3300 x682 |
| | D290 |
Dr. Janet Brenneman is Associate Professor of Music at Canadian Mennonite University, where she teaches music education and conducts the CMU Singers, the CMU Women's Chorus, and the CMU Festival Chorus. These choirs feature regularly in performance locally, across Canada, on Golden West Broadcasting, and as guest artists of the Winnipeg Symphony Orchestra. During her time at CMU, the choirs have produced several recordings.
Originally from Ontario, Janet has conducted children's choirs, community choirs, university choirs and taught elementary music education in Ontario, Michigan, and in Manitoba. Active in the Winnipeg music community, Janet was a conductor for Pembina Trails Voices from 2003-2014, where she conducted the boys and high school men's choirs. Currently, she is the conductor of Renaissance Voices, a chamber choir in Winnipeg that specializes in music of the 16th Century, and she is the conductor of the Faith and Life Women's Chorus, a community chorus of Mennonite Church Manitoba comprised of women from Winnipeg and regions across southern Manitoba.
Dr. Brenneman earned Bachelor and Master degrees in Music Education from the University of Toronto, where she studied conducting with Dr. Doreen Rao and Dr. Elmer Iseler. She completed a Ph.D. in Music Education from Michigan State University, where she had the privilege of studying with conductor Dr. Charles Smith and music education expert Dr. Cynthia Taggart. As a graduate student, she was awarded the prestigious Sir Ernest MacMillan Award in Music Education for her research and scholarship. Her research interests include gender issues in choral music education, rehearsal pedagogy for the boys changing voice, and inclusive language in the choral rehearsal. In addition, Janet has worked extensively with world-renowned Bach expert, Helmuth Rilling, studying Bach cantatas and coordinating the conductor masterclass for the Toronto Bach Festival from 2004-2007. These experiences served her well for CMU's biennial Bach festivals where Janet conducts CMU choirs, alumni, and orchestra in performance of Bach cantatas.
Janet frequently embraces the opportunities in the choral music education community across Canada serving as an adjudicator, guest conductor, and clinician. Recently, Janet worked with choirs from across Manitoba, Saskatchewan, and in Prince Edward Island. In December 2017, she guest conducted the Elmer Iseler Singers and the Amadeus Choir in a performance of Bach's Weihnachts Oratorium. In Winnipeg, she enjoys a busy family life with her husband John Balsillie and their two daughters, Lydia and Naomi. Each year, the family looks forward to spending time on the Severn River in Ontario at the family cottage.
Areas of Teaching
choral performance; music education
Education
PhD, Michigan State University, 2007; MMus, University of Toronto, 1995; BMus, University of Toronto, 1993
Work in Detail
Teaching
CMU Singers
CMU Women's Chorus
CMU Festival Chorus
Vocal and Choral Techniques
Conducting Techniques I
Conducting Techniques II
Choral Repertoire and Interpretation
Advanced Conducting
Early Musical Development
Research
2012 On the Podium: Exploring the Gendered Self-Identity of Women Conductors. In O'Neill, S. A. (Ed.). Personhood and music learning: Connecting disciplines and narratives, Biennial Book Series Research to Practice: Vol. 5. Waterloo, ON: Canadian Music Educators' Association.
2012 MMEA Philosophy Statement. Manitoba Music Educators Association: Winnipeg, MB
2007 Footsteps of My Own: Gender Issues that Influence the Formative Experiences of Exemplary Women Choral Conductors. Unpublished doctoral dissertation, Michigan State University: East Lansing, MI
Performance
April 2018 - Conductor, Faith and Life Choirs Concert - Manitoba
March 2018 - Conductor, Prince Edward Island Junior Honour Choir - Charlottetown, PEI
December 2017 - Conductor, J.S. Bach Weihnachts Oratorium with Elmer Iseler Singers, the Amadeus Choir of Greater Toronto, and Orchestra - Toronto, ON
December 2017 - Conductor, Renaissance Voices concert - Winnipeg, MB
December 2017 - Conductor, Faith and Life Choirs concert - Manitoba
November 2017 - Director, CMU Women's Chorus in preparation of Liszt's Dante Symphony with the Winnipeg Symphony Orchestra - Winnipeg, MB
October 2017 - Conductor, J.S. Bach Reformation Concert: Cantatas BWV 79 and 80 with CMU Alumni Choir and the Mennonite Community Orchestra - Winnipeg, MB
May 2017 - Conductor, Renaissance Voices concert - Winnipeg, MB
April 2017 - Conductor, Faith and Life Choirs concert - Manitoba
Applied
Recordings
2008 Conductor, Twilight Live, Collaborative recording of Pembina Trails Voices, Winnipeg, MB
2007 Conductor and Artistic Director, "hope, faith, life, love...", Collaborative recording of CMU Choral Ensembles, Winnipeg, MB
2004 Conductor, On Earth as in Heaven, Collaborative recording of CMU Choral Ensembles, Winnipeg, MB
2004 Conductor, Passages, Collaborative recording of Pembina Trails Voices, Winnipeg, MB
1998 Assistant Conductor, A Boy Was Born, Collaborative recording of Toronto Children's Chorus, Elmer Iseler Singers, and MacMillan Singers, Toronto, ON
Community
Active Member of Bethel Mennonite Church, Winnipeg
Active member of the following professional organizations:
Association of Music Adminsitrators in Manitoba
Manitoba Music Educators Association
Manitoba Choral Association
Choral Canada
American Choral Directors' Association

Print This Page