Audition Information
Audition Dates (2019)
Saturday, February 23
Friday, March 22
Monday, April 29
Schedule an Audition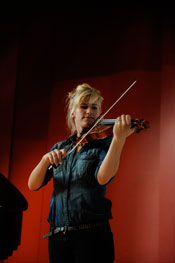 Audition Information for Bachelor of Music Applicants
All applicants hoping to pursue either the Bachelor of Music degree or the Bachelor of Music Therapy degree are required to perform an audition on their primary instrument (voice included) in order to gain entry into the music degree program.
Auditions are held between February and May. Audition dates later in spring or summer may become available as space allows. Out-of-province applicants may submit a recording, due by May 31. However, an audition remains incomplete until the in-person music skills evaluation, interview, and the music theory placement test have been completed. Auditions can be recorded for Merit Award purposes, if requested.
Entrance Auditions consist of:
A performance of two contrasting pieces (or movements of different works) on the instrument or voice you plan to study at CMU. Vocal performances must include at least one piece in the classical music style.
A music theory placement test, including:

melodic and rhythmic dictation
notation of scales (major, minor, whole tone) in various keys, in treble, bass, or alto clefs
identification and notation of intervals in treble and bass clefs
notation of triads and seventh chords in various inversions in treble and bass clefs

Applicants are advised that a working knowledge of gr.2 Rudiments, Royal Conservatory of Music, or the equivalent is a minimum entry standard for Music Theory I. Download/view sample test here.
Aural skills testing, including melody sing back, sight singing and reading, and rhythm recognition.
A short interview with members of the CMU School of Music faculty.
* Upon request, a pianist can be available for the audition (however, not for rehearsal).
Audition Information for Non-Music Students Wanting to Take Individual Applied Music Studies
Individual Applied Music Studies (IAMS) are music lessons for credit, for which students must formally register and audition. IAMS are open to all CMU students who are enrolled for at least one course each semester at CMU.
Non-music students registering for IAMS for the first time must complete a placement audition in order to be placed with an instructor. Placement auditions are held during the September registration week. Students auditioning for 5 or 3 credit hour instruction (60- or 45-minute lesson) are asked to prepare two contrasting pieces, and one piece for 2 credit hour instruction (30-minute lesson).
Further details regarding IAMS arrangements and requirements (including early withdrawal and refunds) are found in the Music Student Handbook.
Ensembles Auditions
CMU offers a wide variety of ensembles which are open to all CMU students taking at least one course each semester. Click here for a list of the ensembles CMU offeres. Ensemble members are not required to be music majors. However, all music students must participate in ensembles.
Students must register and audition for ensembles. Ensemble auditions are held during the September registration week. Acceptance into the music program does not automatically qualify a student for placement in CMU Ensembles. Students are asked to prepare one piece to play or sing, as is appropriate to their intended ensemble. A pianist is provided where needed.
Students who would like to be full participants in ensembles, but do not wish to receive credit, may register according to audit procedures. However, the same course requirements (full participation and attendance at all events) apply. Students who have registered for ensemble credit, but who are not chosen to participate, will be fully reimbursed.