Students: Why CMU?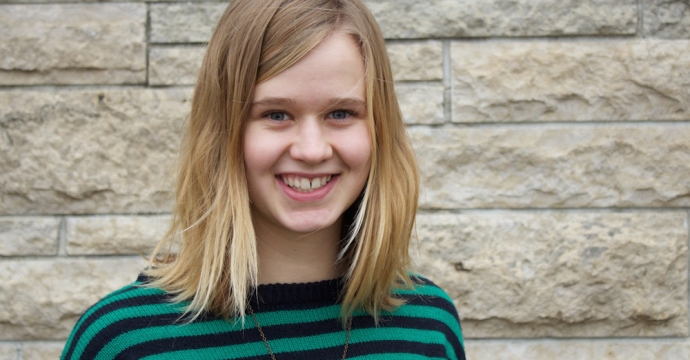 Animal autopsies and an arthritic camel
As part of her practicum, Canadian Mennonite University (CMU) student Esther Derksen has helped give injections for arthritic knees to Perry, a camel at the Assiniboine Park Zoo.
Derksen, in her third year of a Bachelor of Arts & Science degree at CMU, has spent time at the zoo twice a week during the past two semesters. Completing a practicum is a part of each CMU students' degree and provides them with the opportunity to apply their education in an off-campus setting.
With plans to pursue further studies in veterinary medicine, Derksen is completing the prerequisites at CMU. The hands-on nature of her practicum is directly applicable to both her studies and interests. She's assisted with animal surgeries and autopsies, fed and cared for animals in recovery, and spent time observing the patterns of exotic animals.
"My practicum has left me quite reassured that I'm headed in the right direction," says Derksen. "I just love all of it—it's a lot of my favourite things in one place."
As someone who's enjoyed interacting with animals since she was a child, Derksen knew pursuing a career as a veterinarian was the right choice.
She says her studies at CMU have provided her with a well-rounded approach to scientific work. She speaks to the ways scientific material can be connected to other materials and observations through pursuing an interdisciplinary degree:
"We often understand science in an objective, truthful, reductionist way, and depending on the subject matter, it has to be that way. At CMU, a lot of times professors will expand that—what you're learning about atoms can relate to other things that you might be witnessing, for example. The connections are already there—you're just uncovering them."
Derksen's explored connections in terms of how ecosystem health relates to wildlife health—looking at the differences between how animals and humans act and how those actions relate to and impact the environment.
She's also reflected on zoo operations, balancing animal welfare and determining when and how to best intervene as needed. There can sometimes be speculation in terms of how to best provide care for animals that are ill, she says.
"You can't always get involved until you know for sure—it's about balancing how much you can get involved while also maintaining their standard of care."
Derksen says CMU courses in biochemistry, anatomy, and genetics have provided her with "directly applicable science that's used in the field."
For those who are planning their practicum, Derksen offers the following advice:
"Find something that you love and look into what you're interested in. A practicum is very much a process of discovery and exploration, regardless of where you choose to do your practicum or where you find yourself."
She adds: "For me, it so happens it's also my career choice."
Learn more about CMU's Science programs