Students: Why CMU?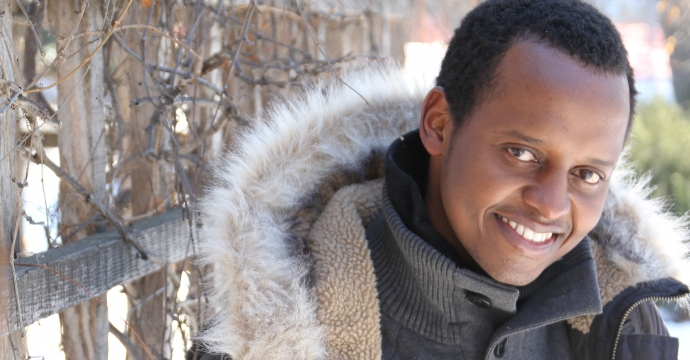 A life-changing visit to Winnipeg
A stopover in Winnipeg changed the course of Will Makau's life.
He was on his way to study in Lethbridge, AB, when he discovered Canadian Mennonite University (CMU) while visiting his cousin in Winnipeg.
Makau came to Canada from Kenya to pursue business studies after completing a business diploma, with a major in logistics, from the Kenyan School of Management. After working with an automobile company for a year, Makau decided to continue further studies in Canada. He was intrigued by the business approach taught at CMU's Redekop School of Business, which he describes as being one of social entrepreneurship.
"I wanted to do something that gives back to the community, that helps the community," he says. "Social entrepreneurship connects the business aspect to the community."
Makau, who graduated this spring with a Bachelor of Arts in Social Sciences, had the opportunity to gain hands on experience in social entrepreneurship through his practicum placement with iDE Canada.
Working with local, subsistence farmers in 11 countries in the Global South, iDE helps to find solutions to challenges the farmers face and works to help improve their financial situation, explains Makau.
"iDE does research with farmers in Canada—crops grown here, soils, and weather and looks at what's best applicable in the countries where they work and what's beneficial to the farmers," he says. "They go and train farmers, provide incentives, and introduce programs and stick around to make sure they're successful before they leave."
Makau's practicum responsibilities included helping with fundraising, organizing events, assisting with social media posting, and helping conduct agricultural research about local seed-saving practices to determine what may be applicable internationally.
To make the most of a practicum experience, Makau offers the following advice:
"Be involved with everything you're asked to do—the organization has entrusted you and given you this task so take it seriously and do it to the best of your abilities."
As an international student, Makau knows what it's like first hand to adjust to life in a new city. As a result, he's also helped two fellow students from Kenya make the transition and volunteers with his church to help immigrants adjust to life in Canada.
"I see them coming as new people and see the transition that they are going through," he says. "I get involved in my spare time to help them. I understand a bit more the kinds of needs they might have—job applications, writing resumes, doing taxes."
Finding a supportive church community was an important part of helping Makau adjust to life in Canada, so much so that he now attends two churches.
"I accepted that I'm going to be here for four years so I have to make friends and have a community that is going to help and support me—church is a very good community to find that kind of fall back."
Studying at CMU also helped Makau in his faith journey, something he's very grateful for.
"Coming to CMU was actually getting me back in contact with my faith and spirituality and I became more strong in my faith and belief," he says.
"I think it was God's plan for this to accidentally work out."