Students: Why CMU?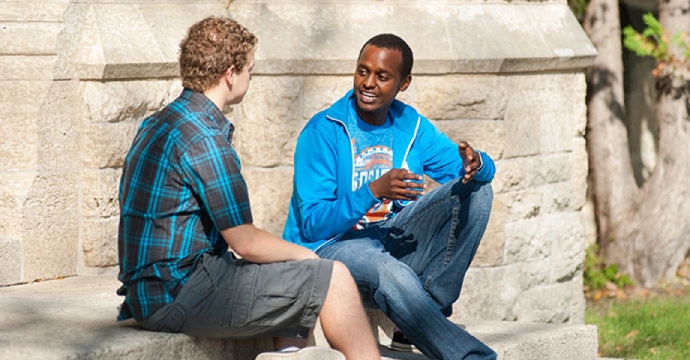 The educational value of on-campus diversity
Canadian Mennonite University is all about fostering community. Small class sizes, social activities, and cozy hang out spots like folio café in Marpeck Commons encourage students to build relationships in and out of the classroom and create a home-away-from-home vibe.
"We want to be a place that invites people in and welcomes them, and we want to be a place that is hospitable to a diverse community," says Charlie Peronto, Residence Director at CMU.
CMU isn't just a haven for young adults of the Mennonite faith tradition. According to Marilyn Peters Kliewer, Dean of Student Life, bringing together students, faculty, and staff from a variety of cultural and theological backgrounds enriches the entire campus.
"I think there's great value in having diversity here at CMU. It really helps our students to learn, and I think it sets them up to succeed in the midst of our current global reality," she says. "Everyone benefits."
Peronto agrees. As Residence Director, he works directly with residence assistants to ensure that everyone feels welcome on campus, especially the students who live in residence (over 180 students in the 2015-2016 school year).
With all aspects of programming at CMU, there is a direct link between what's taught in the classroom and what's acted out every day, especially when it comes to practicing Anabaptist principles. Diversity adds another layer to how staff, faculty, and students live out these beliefs.
"To start acting out the things you're learning in the classroom and having opportunities to put that learning into practice, that's special," says Sandra Loeppky, who coordinates the commuter, international students, and accessibility programs on campus.
"Having a diverse student population really helps students become better, holistic learners," says Peronto. "I think when people come from diverse backgrounds, you have different perspectives on things. When we bring those perspectives together in the classroom or at the lunch table or in the lounge, students begin to learn about different ways of thinking and doing. The more voices we can bring together in a learning environment, the better."
With international students representing each continent on campus, there are plenty of opportunities for students to connect with different cultures and faith backgrounds, and learn from each other.
New in 2015, CMU also partnered with Peguis First Nation's post-secondary transition program for high school students. Lead by Clairissa Kelly, the program helps students navigate city living and post-secondary learning in an innovative way.
"It's been great to partner with Peguis First Nation to work at reconciliation through education. Seeing our students interact with the transition students and seeing a relationship being built really gives us great hope for this program and it's success," says Peronto. "It really is a cool program and I feel very honoured that we get to work with them."
While having such a diverse campus can create challenges, Loeppky says it also brings awareness.
"I love the surprise," Loeppky says, when describing her role at CMU. "I come to work every day with this expectancy because I don't have a clue what I'm going to encounter. We get to celebrate with students and we get to sit in the depths with them. We are privileged to walk with them in their journeys."