Archived Blog: Why CMU?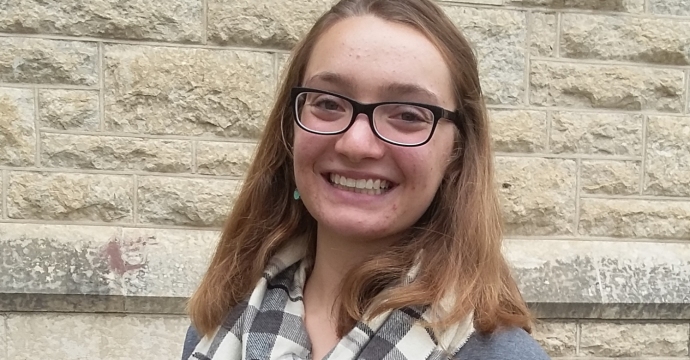 Studying north of the border: from Kansas to Winnipeg
When Lizzie Schrag first left Kansas to volunteer in Alaska with Habitat for Humanity, she had no idea how much she'd love the cold. She loved it so much, in fact, that she moved to Winnipeg a couple of years later to study at CMU. Recently accredited by the World Winter Cities Association, Winnipeg has become a major destination for winter tourism.
Another surprise was waiting for her north of the border: Schrag didn't expect to get so much enjoyment out of her Bible and theology courses. Digging deeper into Scripture has enabled her to put words to the things she has long believed but struggled to explain, that the Christian faith is as much about community as it is about the individual. She's appreciating the opportunity to grow roots in the biblical peace tradition.
Schrag enjoys the slower pace of Manitoba life and the team atmosphere of CMU.
"It's not competitive," she says of life on campus, "You don't have to be the best at everything." Comparing CMU to her studies elsewhere, Schrag describes CMU as "mature," with a "practical, hands-on" approach to education.
But she's not so sure about poutine. "It's a little weird!" she laughs.
Schrag reassures her fellow Americans that Canada is "pretty similar" and the adjustment isn't as difficult as they might think. Still in her first semester, the introverted newcomer is already involved in campus life. She sits on the student Peace and Sustainability Committee and writes for Doxa, the student magazine.
Volunteering in her community is in Schrag's blood. Only a couple of years out of high school, she's already spent a year with Habitat for Humanity in Alaska and three months with Mennonite Disaster Service in Detroit. She believes that her degree at CMU will prepare her to move more permanently into the world of nonprofit work.
An avid trail hiker, Schrag has taken advantage of her new surroundings to pursue the Manitoba outdoors. Once winter arrives, she'll have the opportunity to skate down the river trail, cross country ski, and take in the Metis Festival du Voyageur.
America's Vogue magazine recently named Winnipeg as a "must-visit destination" for its architecture, festivals, and other tourist attractions. Schrag has found it to be more than a place to visit. Getting to know the culture of the place—complete with plastic money and strange "a" pronunciations—has become a welcome addition to her studies.