Students: Why CMU?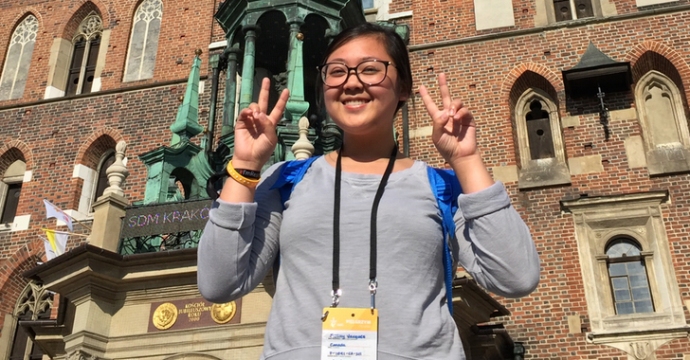 Rooted in faith or academia: this young woman refused to choose
When Justony Vasquez decided to be part of World Youth Day in Poland last summer, she had no idea that the venture would land her at CMU. In the spring of her final year of high school, she'd already received acceptance and a scholarship to another university. She can only explain the last-minute change as something "Spirit-led."
A young leader at her home church, St. Patrick's Roman Catholic Parish, Vasquez's faith commitment has always played a central role in her life. Shortly before graduating high school, she attended a retreat to make plans with Winnipeg-area youth making the pilgrimage to World Youth Day. At the retreat, she met an alumna who encouraged her to think about CMU.
Vasquez has always placed a priority on her education. For high school, she travelled across the city every day to be part of an International Baccalaureate program not available in her area. It's important to her that education be about personal growth and doing her best, not just a passing grade.
She had never considered how her education might be enriched in a faith-based environment. The possibility was compelling, and it wasn't long before she sent in her application.
The next several months were transformative for Vasquez, as she gathered with thousands of youth in Poland to worship, pray, and learn how to be the hands and feet of Jesus in the world. Although she grew up in a Christian home, she says the experience, "made her faith real," a sort of coming-of-age event.
That period of growth continued the following month when she arrived at CMU. Much of her life has been spent explaining her faith to others in the classroom, she says, and now she is able to dig into it more deeply in an academic context. She makes the distinction between inter-religious dialogue and intra-religious dialogue, where she is able to learn from others within her own faith tradition.
It is a new experience for Vasquez to be surrounded by such a variety of Christian expressions. She admits that there are sometimes challenges, but overall she has felt respected and welcomed, using difficulties to build bridges. "I didn't expect I would be so a part of [the community]," she says. "I didn't expect it to be so much a part of me."
One day, Vasquez hopes to use her education at CMU to help others, sharing Jesus through music. Contemplating a future in music therapy, she draws on the monastic teaching of "the practice of presence," which teaches that we can experience God through the quiet care of another human. She hopes that combining her faith with her passion for music will enable her to pursue a career which matches her vocation.