Students: Why CMU?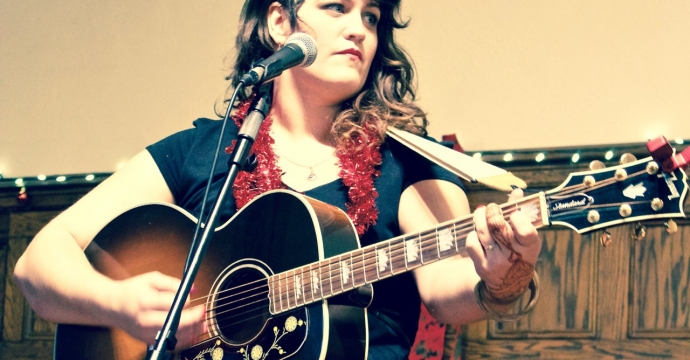 Chasing the dream: where the love of music and love of people meet
Heitha Forsyth is not what you might imagine of a "typical" CMU student (if such a type exists). Having gone back to school at 33, there's a significant slice of life experience between herself and her young classmates. The gap doesn't bother her, though; she describes her music therapy colleagues as "remarkably mature and dedicated."
Forsyth studied Jazz Performance at another institution after high school before going on to a successful career as a local soul singer. To supplement her artist's income, she did all kinds of jobs, but her favourite was doing respite for children with intellectual disabilities.
Once she hit her 30s and had a young family to support, Forsyth began to tire of doing things she didn't enjoy – such as working in warehouses – to allow room for the thing she loved, music. She decided to try combining her two passions of caring for people and singing by pursuing an after degree in music therapy.
To her excitement, Forsyth found that the program she was looking for was right here in Winnipeg – the only Bachelor of Musical Therapy in the Prairie provinces. Last summer, she surprised herself by coming to take a look and applying right away. She was accepted to the competitive program the day before she started.
Sol James, as Forsyth is known in the Winnipeg music scene, isn't sure what she'll pursue once the two year program is complete. She's looking forward to her next three practica (with children, with youth, and in a personal care home) and her internship following the completion of classes. She may end up working for an institution or school board or, like many music therapists, doing freelance work.
It's a good time for her to enter music therapy because the practice is increasingly recognized as an important discipline across the fields of medicine and education. The accreditation process is the same for both Canada and the US, so the possibility to work over the border is also a potential for Forsyth.
Until she decided to go back to school last year, Forsyth knew very little about CMU. She's been pleasantly surprised at the way music is valued in the community and enjoys engaging with students from a variety of disciplines in her classes. It had been eight years since she was last in academia, so the small class sizes and community atmosphere have helped her get back into the rhythm of school life.
Studying in a faith-based environment is new for Forsyth, who has never attended church in her life. She says she's been welcomed by her Christian colleagues and somehow always manages to find another "unreligious" person to help her sort through the culture and the language.
Although she doesn't use the language of providence, Forsyth describes a sense of always being provided for. She tells the story of being offered a nannying job by a stranger while performing one day, just as she wondered where her rent money would come from.
Studying at CMU is another one of those provisions that have fallen into place for Forsyth. She exudes a sense of hopefulness as she considers all that she is being equipped to do in this place. The ability to combine her passions of music and assisting others while looking forward to a steady pay cheque to support her family almost feels too good to be true.