Students: Why CMU?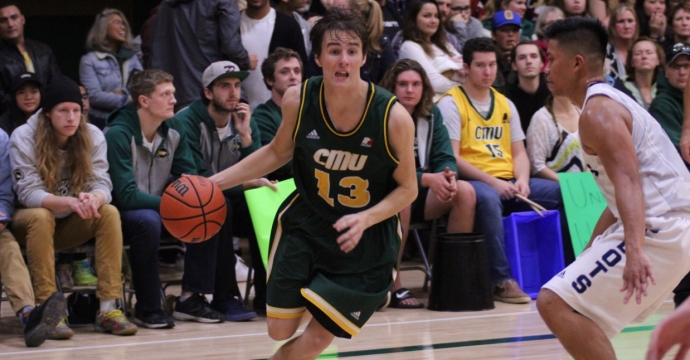 Catching community on and off the courts
The Blazers volleyball and basketball teams are just finishing their seasons and busy recruiting players for the 2017-2018 year.
Men's basketball has taken the 2017 championship title in their league, the Manitoba Colleges Athletics Coalition (MCAC), while the women came in second place. The men's volleyball team, which doesn't enter finals until the end of February, is leading the league. Women's volleyball is in second place.
Andrew Letkeman, a soccer and futsal player, explains that although winning is fun, his coach has taught him that it can't be the main focus.
"When I was in high school, winning was the most important thing" he explains. "I still enjoy winning. [But now] it's about having fun and becoming better friends."
Athletes often talk about the sense of camaraderie they experience on CMU's teams. Cassie Wiebe, a basketball player, says that the family-like support she has received has been irreplaceable. In her experience, players "have each others' back" both on and off the courts.
"I have almost automatically a friend group," says Wiebe. "I have people that I can trust and that I can go to when I'm struggling."
CMU's Blazers are founding members of MCAC, which includes seven colleges and universities in Manitoba. The basketball teams also play in North Dakota and Minnesota as part of the Northern Intercollegiate Athletics Conference (NIAC) because there aren't as many teams for them to play against in Manitoba. This has increased travel opportunities for the teams.
Athletics Program Assistant Joshua Ewert explains that athletes enjoy playing for CMU in part because of these increased travel opportunities. The Blazers travel to Ontario and Alberta for games and championships which most Manitoba teams do not take part in.
MCAC is not currently a member of the Canadian Colleges Athletics Association, which is why they wouldn't normally have competition out of province. Russell Willms, the Director of Athletics, hopes that will soon change. If MCAC joins the national league, opportunities will open up for the Blazers to travel as far as the Maritimes and British Columbia.
This semester, the teams will also play futsal, an adaptation of indoor soccer. MCAC added futsal to the league five years ago because the outdoor soccer season finishes at the end of October.
MCAC futsal began at CMU with three other schools. Both the men and women are undefeated in this year's season.
With midterms looming, Letkeman says that athletics are what keep him focused.
"Practices are really fun for de-stressing before exams. It becomes like a motivation, working hard so I can then go have fun with my friends or go to a game."
Academics always come first for CMU's athletes, which means that if they want to play hard they'll be studying hard too. Graduated basketball and soccer player Janelle Hume agrees.
"CMU was probably the best place you can go to play post-secondary ball, as well as take your degree, as well as make good friends."
The Blazers enjoy a great home environment, says Ewert. You can find their game schedule and recruitment information at athletics.cmu.ca. Follow @CMUblazers on Facebook, Twitter, and Instagram.