Students: Why CMU?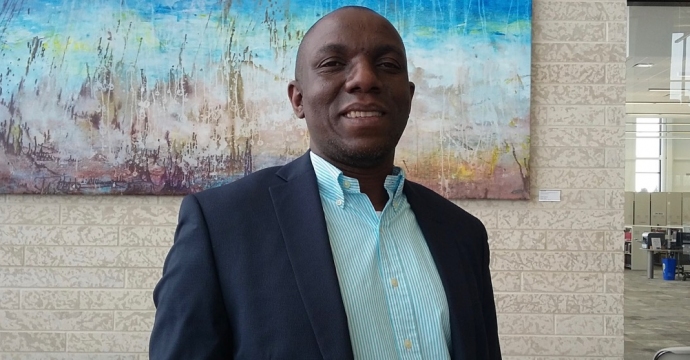 Business minds driving social change: the Collaborative MBA
Wezi Ngwenya (Wesley) didn't set out to write a book about sex workers. But when he returned to his native Zambia after a decade in the United States, he encountered a night life on the streets that wasn't there before.
Women who find themselves in abject poverty and with children to feed often have no choice but to enter the world of sex work, fuelled in part by the HIV/AIDS epidemic, says Ngwenya.
Ngwenya met his first sex worker at a gas station one evening. He and a friend, struck by the desperation in her eyes, bought her dinner and spent the evening listening to her story.
Struggling to find work in a decimated economy, Ngwenya found himself relating to the women as he listened to their stories. He realized that if he was in their position, he likely would have made the same choices they did.
Ngwenya was not only concerned about the women themselves; he was bothered by the stories of their male managers and a society which considered his concern taboo. This is where his journey of storytelling began.
After returning to Zambia and unable to find work, Ngwenya spent his time documenting the stories he heard on the streets. Those narratives have now been released as an Amazon e-book, part of his final project for an MBA at CMU.
CMU's Collaborative MBA is unique in its emphasis on using business as a tool for creating positive change. The degree focuses on sustainability, ethics, and social impact.
Ngwenya was himself orphaned at 14, but he says that things were different for orphans in those days. He grew up quickly, but was always cared for by relatives and able to attend school. The HIV/AIDS academic had not yet created a crisis number of orphans to care for, he explains.
As a child, Ngwenya belonged to a tribal minority in Zambia. He credits the circumstances surrounding his upbringing for an early lesson in respect for differences.
"I was raised by a single mother," he explains. "My siblings and I come from different tribes. We had to learn to be tolerant [and] respectful at home."
Ngwenya moved to Winkler after marrying a Manitoban and has worked for several years at a credit union there. He doesn't see his proficiency in business and his passion for creating social change as mutually exclusive.
"The people who take [this] MBA are drivers of social change," says Ngwenya. "We need those people in business."
The Collaborative MBA is a joint program with Eastern Mennonite University, Goshen College, and Bluffton College.
As graduation approaches, Ngwenya hopes to go into full time development work one day. In the meantime, he develops connections between North American and African communities. He ensures that missions & development projects undertaken by North Americans in African communities are sustainable for the long term.
In essence, Ngwenya has a vocation to helping people understand one another. Just as he sought to give voice to sex workers in his book, he now seeks to increase understanding across cultures. Ngwenya encourages those he works with to ask difficult questions and embrace their curiosity about other cultures and ways of life.
Ngwenya's book, Nightlife: Real Life Stories about Women Working the Streets of Lusaka, is available here.