Students: Why CMU?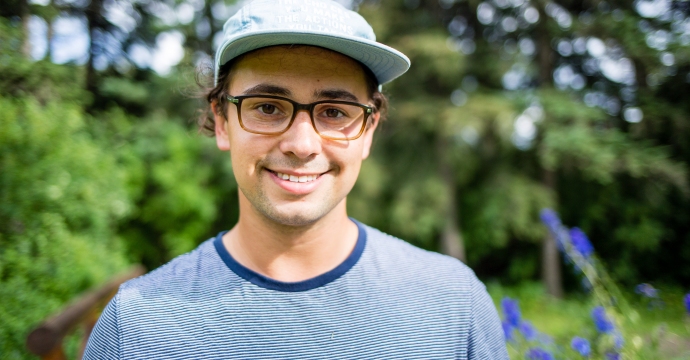 Chris Klassen: From IDS student to aspiring lawyer
Earning an undergraduate degree at CMU prepared Chris Klassen well for the academic rigours he faces in law school at the University of Manitoba.
"The ability to think critically, and the ability to develop ideas in an academic context...are valuable skills that the program (at CMU) as a whole offered," Klassen says.
Klassen graduated in 2015 with a Bachelor of Arts, majoring in International Development Studies.
He also earned minors in Communications and Media as well as Biblical and Theological Studies.
Born and raised in Winnipeg, Klassen planned to study engineering after graduating from high school.
Travelling through Central America and living in the Philippines for a few months changed that.
"Through those experiences, I came to see there are people in the world who live differently than we do here," Klassen says. "The IDS program at CMU seemed to me to be a good place to satisfy those curiosities, to learn about how and why it is that societies grow differently than others, and what people's role in that ought to be."
Klassen appreciates how cohesive his program at CMU was.
"All of the courses and content just fit so well together," he says. "In my IDS courses, we were encouraged to think critically about how to live well in the world and how to live amongst neighbours. Biblical and theological studies courses gave us a lens through which to think about those issues, and communications courses provided a framework for being intentional or careful about how we relate to each other."
"All the courses were complementary to one another and fit well into not just a degree program with a major and a minor, but (made for) a more holistic experience," Klassen adds.
Outside of the classroom, Klassen found it hard to resist getting involved in community life on campus.
"In my first year... I went to class, went home, and didn't engage beyond that," he says.
That changed during Klassen's second year.
"I got sucked into being more involved in goings-on on campus, and by the end of my time there, I had a lot of friends," he says. "The size and comfort and familiarity of the campus environment was something that I appreciated."
Klassen's experience studying IDS piqued his interest in a wide range of social issues, including food security, climate change and environmental stewardship, Indigenous-settler relationships and reconciliation, and global poverty.
This led him to law school at the U of M.
"Studying IDS brought to light for me the fact that a lot of social problems are, to some degree, rooted in policy," he says. "I figured that getting a law degree would give me the opportunity to help shape some of that policy."
Klassen has two more years of law school left.
Reflecting on his first year at the U of M, Klassen says he's learned that there's only so much that policy can achieve.
He takes that realization as encouragement to work in other ways for social change.
"My time and experiences at CMU introduced me to the fact that informal efforts at change are just as valuable and important as working through formal avenues," Klassen says, citing nonviolent direct action and community-based grassroots efforts as examples.
"CMU introduced me to the fact, which I'm appreciating now, that change comes from a lot of different places, in a lot of different ways."