Community & Alumni Blog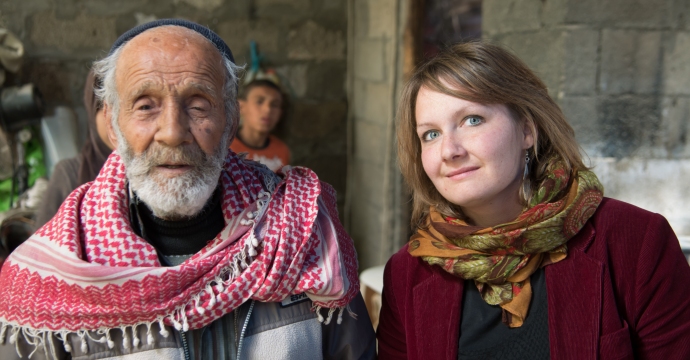 Alumna reflects on working for justice in Israel-Palestine
How can Israeli officials deem a 30-year-old pacifist from Swift Current, Saskatchewan who studied at CMU a security risk?
That's the question Rachelle Friesen found herself asking in May 2014 when she was deported from Israel, where she had been living in the occupied Palestinian territories for four years and working as a service worker for Mennonite Central Committee (MCC).
Friesen, who graduated from CMU in 2007 with a BA Honours in Political Studies, was returning home to Palestine after attending a conference in Spain. When Israeli officials learned of her contact with Palestinians, she was detained for further questioning for 40 hours.
Ultimately, Friesen was banned from entering Israel for 10 years. She has not been given a reason why, other than that she is a security risk.
Friesen recounted the ordeal during a presentation she gave at CMU last September.
"This is ridiculous," she said, adding that as a development worker, she is required to go to Gaza and received a permit from Israel to go there.
"What I went through during those 40 hours is scary, maddening, and horrifying," Friesen added. "But it's nothing like the persecution Palestinians face."
Friesen is intimately familiar with that persecution after living in the Gaza Strip, a flash-point in Middle East politics.
During her presentation, she told CMU faculty, students, and staff about some of her Palestinian friends.
One friend was arrested nine times for his nonviolent resistance against Israel's occupation. The last time he was arrested, Israeli officials placed handcuffs on him so tightly that a year-and-a-half later, he still has nerve damage.
Another friend, who can trace his family lineage back 400 years in Jerusalem, has been granted residency in the city by Israeli officials but not full citizenship. He must carry a residency card with him everywhere he goes to prove to the Israeli government that he has the right to live there. If he did not have the card, he would face detention.
These stories are examples of the process of colonization Friesen witnessed during her four years in Palestine. Israeli officials are committing acts of racial profiling and violence that have resulted in an atmosphere of fear, she said.
Still, Friesen is hopeful that if people committed to nonviolent action look at the situation as colonization, they can start talking about a liberation movement that will free all Palestinians and Israelis.
Friesen shared the words spoken by an Israeli woman working for the demilitarization of Israel: "The occupation does not just hurt Palestinians," she said. "It hurts Israelis too, as it creates a militarized nation."
North Americans can help by working for justice, Friesen said—a goal that requires suffering, sacrifice, and struggle. People can support the boycott, divestment, and sanctions movement to put pressure on Israel to end the occupation of Palestinian land.
By definition, a liberation movement would not draw lines between "us" and "them." Rather, it would require love and accountability.
"We need to be held accountable for our actions, not only because we're harming others, but because we're harming ourselves," Friesen said.
She now lives in Toronto, where she is working on a Master's degree in Social and Political Thought at York University.
She hopes to return to Palestine some day.
"In Palestine, there is a liberation movement that we have been invited to join," Friesen said. "The discernment of how to love and hold Israeli officials accountable is difficult, but the liberation movement in Palestine has made it easy for us by asking us to participate in boycott, divestment, and sanctions."
"The pursuit of peace and justice is hard, but not necessarily complicated."