Community & Alumni Blog
Dinner with Ted returns for a third year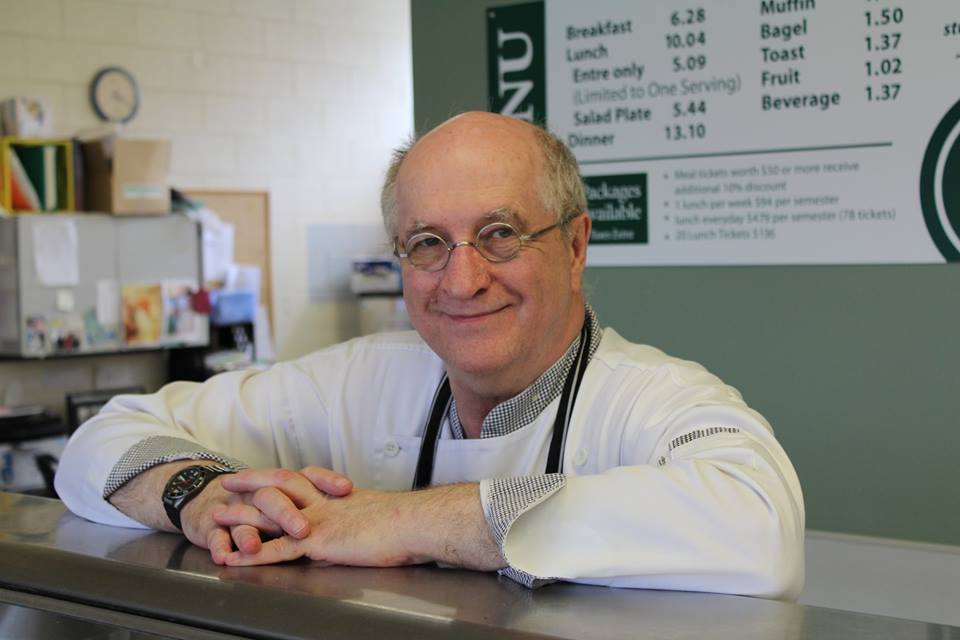 The third annual Dinner with Ted happens at the beginning of June, and no one's looking forward to it more than the event's namesake.
"I'm excited," says Ted Dyck, Director of Food Services at CMU. "I'm looking forward to seeing everybody again, as well as alumni who couldn't make it last year."
Ted says the event started as "a goofy idea" he had in early 2014. After running it by a few people, it soon became apparent the idea had legs and the first-ever Dinner with Ted was held that May.
The second Dinner with Ted took place last year. More than 180 alumni, spouses, and children showed up, ranging in age from five weeks old to 85 years old.
"It's a lot of fun," Ted says. "We get to see people we haven't seen for a long time. It's great to see people connecting with each other."
This year, Dinner with Ted happens Friday, June 3. The relaxed, low-key event takes place in CMU's Dining Hall.
Ted will serve chicken fingers and fries, as well as his famous conference cookies, between 5 PM and 7 PM. Gluten-free chicken fingers and a vegetarian option will also be available. Alumni are invited to come and go as they please.
Dinner with Ted is a free event. If you feel like bringing a donation, CMU will gratefully accept it and put it toward the Annie Janzen Bursary.
This bursary was established in 2003 with the help of Annie Janzen, who worked for 27 years in the kitchen at Canadian Mennonite Bible College (CMBC), one of CMU's predecessor colleges. The bursary helps international students study at CMU.
You do not need a ticket for Dinner with Ted, but please RSVP by 5 PM on Friday, May 27 if possible so Ted knows how much food to prepare.
To RSVP, click "Going" on the Facebook event page, or send an email to Aaron at aepp@cmu.ca.
If you have a significant other and/or kids, they are more than welcome to come! Just be sure to mention how many people you are bringing when you RSVP.
"Things out of the deep fryer taste good," Ted says when asked about the enduring appeal of chicken fingers and fries. "It's the alchemy of the deep fryer: Hot oil and stuff makes for something tasty. It just does."
See you June 3, and don't forget to bring your appetite!