Community & Alumni Blog
Brock Peters: Serving coffee and building community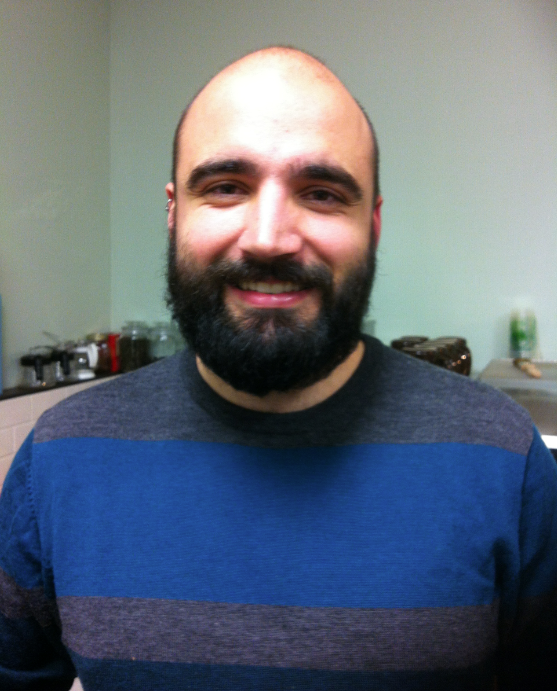 Walk into the Strong Badger Coffeehouse and you'll immediately feel at home. The cosy space, located on the corner of Sargent Avenue and Victor Street in Winnipeg's West End, feels like someone's living room.
"My hope for the place is (that) people will walk in and feel welcome, and feel it's a place (where) they might belong," says Brock Peters (CMU '12).
Peters opened the coffeehouse this past August.
"I never thought that I would be an entrepreneur or a business owner, and that's still really not really my goal I guess, but here we are," says Peters, an avid writer and musician who focused on English and Math while studying at CMU.
Peters first began drinking coffee during a band and choir tour when he was in high school.
"I started drinking coffee in Husky (gas) stations – which shows you where my baseline was," he says with a smile. "After that, for a long time I was the kind of guy who would just dump Starbucks French Roast into a French Press and just leave it for 10 minutes."
Eventually, Peters's best friend turned him on to pour over brewing methods.
"I've always, for all of my adult life, been utterly addicted to coffee, but it's the tastes I guess that have changed."
At the same time, Peters has never been one to search for "the perfect cup of coffee." The surroundings he's in can elevate a middle-of-the-road cup to something special.
"I've had a mediocre cup of coffee in a good environment, or with good company, or (while) seeing a good show, and that makes it a good cup of coffee," he says.
To that end, the coffee at Strong Badger isn't the focal point the way it is at other shops in the city.
Rather, it's one element. In addition to serving coffee, tea and pastries, the coffeehouse aims to contribute to Winnipeg's vibrant arts and culture scene by hosting events like open mic nights, zine launches and more.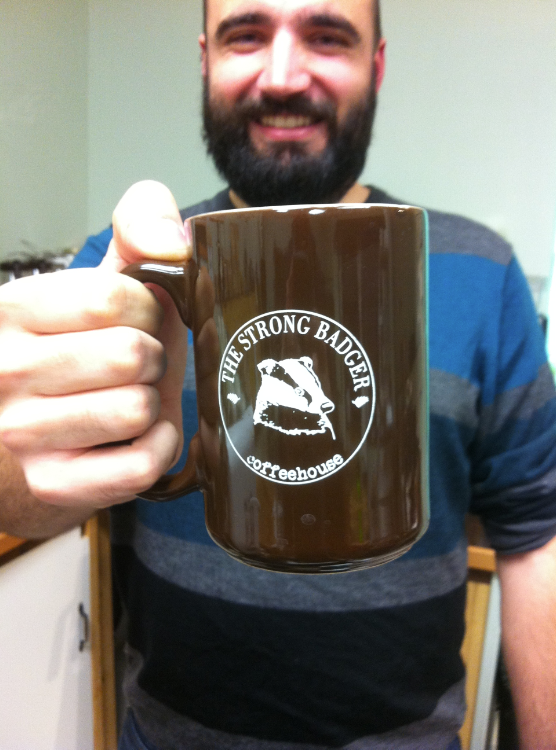 Peters also wants the Strong Badger to be a neighbourhood shop. He chose the location partially because it's in a neighbourhood that's developing in a positive way, and that is filled with a diverse population that cares about what's going on in the area.
"As a white, Protestant guy, this is kind of presumptuous to say, but I did want to be in an area that would lend itself to diversity in terms of people," Peters says. "I did want to be in a place that kind of already had this sort of mix of all sorts of different people who in theory would come together."
While the first few months have been exhausting – the coffeehouse is open six days a week, and Peters is currently the only employee – he is enjoying his work.
Asked to connect his time on Outtatown to what he's doing today, Peters says the experience made him a little more fearless.
"We spent three months going to the craziest places in South Africa, and so it's definitely made me more willing to put myself in positions where I would be dealing with unfamiliar, uncomfortable situations."
Peters' experience at CMU, meanwhile, underpinned the value he places on community.
"(It's) tough for me, particularly as an introvert, to sometimes seek community and to seek to build relationships," he says. "(My) experience at CMU made me more willing to do that, and now I'm in this position where I'm constantly dealing with people and seeing people and trying to engage with them. That's a big part of the exhaustion, but it's something that before I probably wouldn't have even been willing to attempt."

Print This Blog Post