Community & Alumni Blog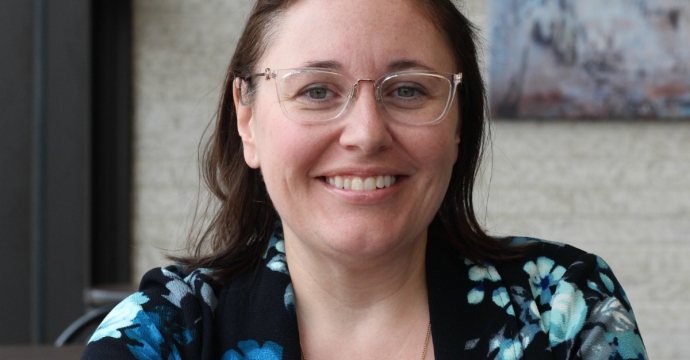 CMU alumna problem solves path to Legislature
When she was in grade nine, Cordella Friesen was told she wouldn't make it in university. Fast forward 25 years, and she holds a master's degree and a prominent role in the Government of Manitoba.
Friesen, who graduated from CMU with a Bachelor of Arts in Political Studies in 2009, recently became the Assistant Deputy Minister of Environmental Stewardship with Manitoba Sustainable Development, a department of the provincial government.
In her new role, she is responsible for developing policy to sustainably manage Manitoba's environment. Friesen and her team issue environmental approvals, provide decision makers with information and advice, and ensure the government complies with environmental legislation. Monitoring the safety of drinking water, flood preparations, and permits for pesticides are just a few of the many issues Friesen and her team oversee.
"I love policy development because it always goes back to [the question], what is the problem we're trying to solve, and is there a better, more inventive way to solve that problem?" says Friesen, who grew up in Niverville, MB. "There are so many tools available to us once we decide to solve a problem, and that's super interesting to me."
She says it's CMU that sparked this love of problem solving, by challenging her assumptions of what she believed to be true and compelling her to question how we define problems and how we organize ourselves in society.
It was her practicum that gave her the experience and connections to launch her career. She did her placement in the Winnipeg mayor's office, conducting research that informed the creation of policies and coordinating programming to engage youth in politics.
Friesen says that as a practicum student, you get opportunities you could never access otherwise because of the label of student stamped on your forehead. "CMU was pivotal to me being able to get into the right doors, because of the practicum component." The mayor's office hired her when her practicum ended, and she continued working there for two years.
Friesen went on to complete a Master of Arts in Public Administration from the University of Manitoba. She did policy analysis for six years at Apprenticeship Manitoba, of which she was made Executive Director, and then became Director of Post-Secondary Education Programs for the Government of Manitoba.
But at one point in her life, she would never have imagined having those experiences. She entered CMU with her guidance counselor's doubts ringing in her mind and not knowing where her place was in the world.
Things quickly changed when she walked into her first political studies course. Her classmates and professors immediately welcomed her into their circles and offered her guidance. "It was like I'd found my calling... I arrived and I thought, wow, I've found my people."
Friesen went from shaky self-doubt to having a vision for her future. "It really was transformational, that first year at CMU," she says. "The people here invested in me and saw me in ways that no one else had ever seen me. Those people were incredibly key to my experience at CM