Programs
Music Therapy
Music Therapy through CSMA is an extension of CMU's Bachelor of Music Therapy program.
Does the Community School of Music & the Arts offer music lessons for persons with special needs or disabilities?
Yes, we provide adapted music lessons (piano, guitar and voice).
Adapted Music Lessons
"Music expresses that which cannot remain silent and that which cannot be put into words" - Victor Hugo
What is music therapy?
Music therapy is the use of music within the context of a therapeutic relationship, to support and achieve therapeutic goals (mental, physical, emotional, spiritual health). Music is both verbal and non-verbal, and has creative, physical, cognitive, and emotional qualities. In the session these musical characteristics are used to facilitate receptive and expressive experiences, contributing to growth and personal development.
Music therapy is client focused, using both the relationship formed between therapist and client, and the music itself to bring about positive change.
What do music therapists do?
Music therapists are trained to assess each individual's emotional, cognitive, mental, physical, social, and communication abilities through music. Music therapy sessions are therefore designed to meet the needs of each individual in individual or group settings.
What happens in a music therapy session?
The music therapist will assess each individual's abilities and needs through music. Based on the assessment the therapist and client(s) will set goals for personal growth and development. Music therapy sessions will use music to support the unique individual's strengths and goals. Sessions can include singing, playing musical instruments, active and passive music listening, improvising, movement to music, music and imagery, and composing.
Who benefits from Music Therapy?
Music therapy is used with individuals of various ages, abilities, and musical backgrounds in institutional, community and private practice settings. This includes but is not limited to: (Canadian Association for Music Therapy)
Acquired Brain Injury
AIDS
Autism and other Pervasive Development Disabilities
Critical Care
Developmental Disabilities
Emotional Traumas
Geriatric Care
Hearing Impairments
Mental Health
Neonatal Care
Obstetrics
Oncology
Pain Control
Palliative Care
Personal Growth
Physical Disabilities
Speech and Language Impairments
Substance Abuse
Teens at Risk
Victims of Abuse
Visual Impairments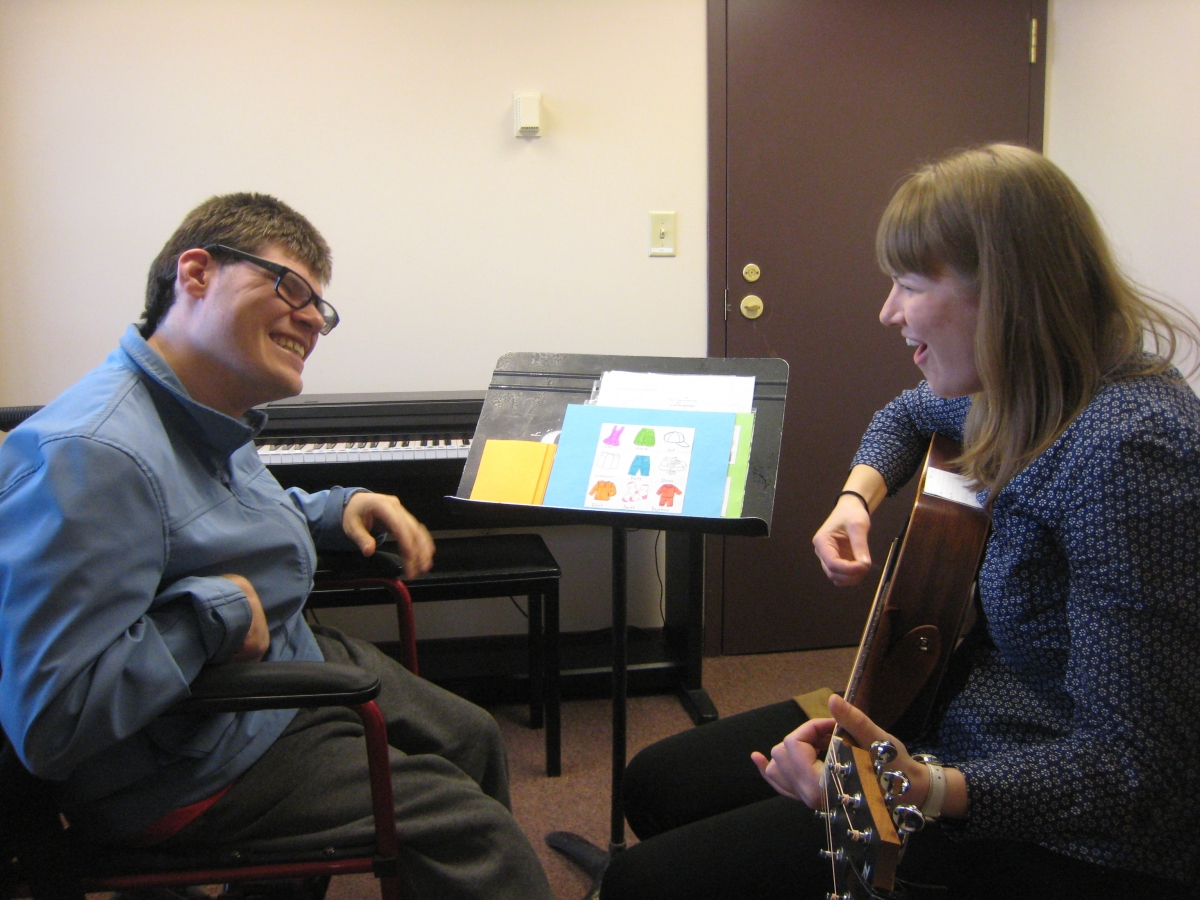 MUSIC THERAPIST:
FEES: See charts below for Program Fee + Registration Fee
A choir for persons living with Alzheimer's Disease or Dementia and their caregivers.
Come and join in making music together! Singing in a choir is a challenging and joyful experience. Learn to sing new and familiar music while making connections with those around you.
No prior choral experience is required. Care partners must attend with person living with Alzheimer's.
Mondays 6:30–7:30 PM
Fall 10 week session: TBD
Winter 10 week session: TBD
Location: 600 Shaftesbury Blvd
COST: $145.00/pair per session.
Music Therapy Groups led by McKenna Ogg
CONNECT Music Therapy Group
A virtual group for youth with disabilities looking to connect with friends and jam out to some of their favourite songs. Explore rocking out on instruments made of household items, group songwriting, and movement to music all from safely at home. Minimum two and maximum five group members.
Time: Wednesdays at 5:30 - 6:15 PM Dates: October 14- December 2, 2020
Location: Virtual Classes Music Therapsit: McKenna Ogg
Cost: $224/ 8-week session $28/session
CREATE Music Therapy Group
A virtual group for youth seeking a space to express their individuality and deepen their connection with music. Share music that has been inspiring you with others through activities such as lyric discussion and artist bios. This group will connect music with other creative mediums such as writing and drawing. No prior experience with music or art is needed and no additional materials are necessary. Minimum two and maximum six group members.
Time: Tuesdays, 7:00 - 8:00 PM Date: October 14- December 2, 2020
Location: Virtual Classes Music Therapist: McKenna Ogg
Cost: $280/ 8-week session $35/session
If you are interested in group music therapy but do not see a group that meets your needs, we want to hear from you! Please email any group suggestions to oggmckenna@gmail.com
Music Therapy Session Fees
ON-SITE
30 min
45 min
60 min
Individual
$32.50
$48.75
$65.00
Group Rate
6 / group max
---
$56.25
$75.00
OFF-SITE
30 min
45 min
60 min
Individual
$35.00
$52.50
$70.00
Group Rate
6 / group max
---
$60.00
$80.00
NOTE: Group sizes may be negotiable depending on the needs of the clients.
ON-SITE: On-site refers to the CSMA at CMU, 500 Shaftesbury Blvd., Winnipeg Manitoba.
OFF-SITE: Off-site can be at a location of the client's choice, such as home, community centre, hospital, school, etc. All fees are inclusive (ie, no extra charge for documentation and mileage within Winnipeg).
Still curious? Check out:
The Canadian Association of Music Therapists
Ted Talk about Music Therapy
Music Heals

Print This Page