Face2Face: On Campus – Community in Conversation
CMU's Face2Face events are a series of conversations with CMU faculty and special guests designed to engage the community on a wide variety of current events and issues at the intersection of faith and life. Come out to listen, question, and discuss.
All Face2Face discussion take place from 7:00 to 8:30 PM in Marpeck Commons (2299 Grant Ave.) unless otherwise stated.
Upcoming Face2Face Discussions
⇒ Monday, February 10, 2020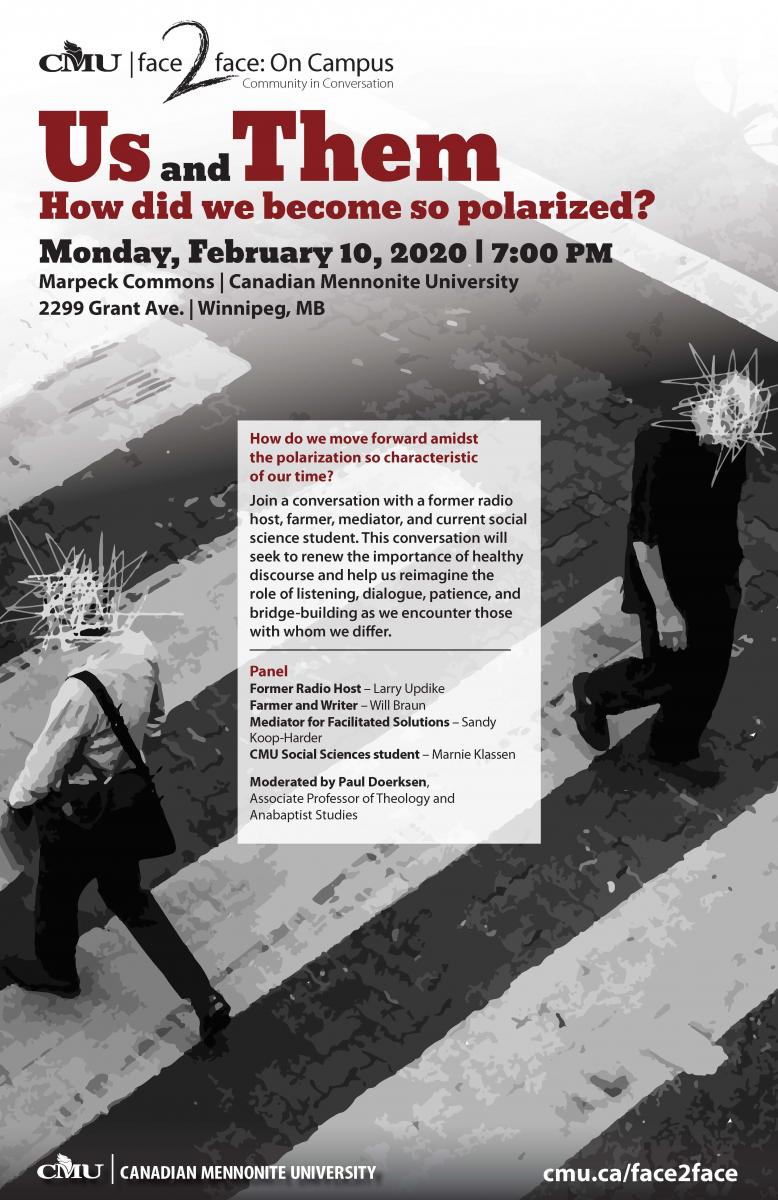 Us and Them: How did we become so polarized?
Increasingly, public discourse is characterized by divisions between people and groups who see and understand the world differently. It is common for us to witness polarized speech played out in political spheres, in cultural 'us and them' assumptions, in urban-rural divides, and in the life of the church. This dynamic exerts a powerful effect on many of us, whatever our political or theological stripe. Building relationships of meaning and trust amongst people who see our world through vastly different lenses feels increasingly rare. This Face2Face conversation will seek to renew the importance of healthy public and churchly discourse and help us reimagine the role of listening, dialogue, patience, and bridge-building with those with whom we differ.
Key Questions
What is your experience with 'polarized discourse' and how has it impacted you, or persons, groups or communities with which you connect?
How did we get here? What perspectives do you bring about why polarization so frequently characterizes our discourse? What has led our communities, our broader society and our churches to this place?
Do you see particular factors at play in our cultural, political, religious or personal lives – ie. leaders, technology / social media, isolation from people and communities other than ourselves? Is this a 'pendulum problem' which will correct itself over time, or are we facing a challenge of another sort? What in your mind has led us to where we are?
What do you hope for? Is it possible to hold and be true to particular 'positions' and be expansive in our engagement with those who hold other positions? Where might we go and how might we walk in a different trajectory? What picture might we imagine that points us to a better way?
Panel
Larry Updike

A former radio host (CJOB Morning Show; as well as God Talk; CBC afternoon host) with years of advocacy on behalf of various social service agencies, Larry has worked hard to bring disparate voices to a common table. Larry served as a sessional instructor in the CMU Communications and Media program a number of years ago.

Will Braun

Will is a farmer living near Morden who has worked with MCC, Geez magazine, and with northern Indigenous peoples living with hydropower projects. He writes for Canadian Mennonite magazine and is the creator of Once Around the Barn. Will's op-ed in the Winnipeg Free Press 'Firing Cherry a missed opportunity' injected a unique perspective into the conversation into which Canadians were drawn.

Sandy Koop-Harder

Sandy is a professionaly mediator and a partner and business manager for Facilitated Solutions. Sandy holds an MBA and CMed and has decades of experience in mediation training and Alternative Dispute Resolution. She will speak out of her personal / professional experience. Sandy also presently serves as Vice-Chair of the CMU Board of Governors.

Marnie Klassen

A fourth year Social Theology Student at CMU, hailing from Abbotsford, BC, Marine has danced along denominational edges and divides throughout her life, and is interested in empathy, dialogue, and collaboration between so-called "liberals" and "conservatives." She is currently working on a qualitative research project addressing those labels and the call to love one's neighbour.
Moderator
Paul Doerksen

Associate Professor with strong interest in this issue
Past 2018/19 Face2Face Conversations
⇒ Wednesday, October 10, 2018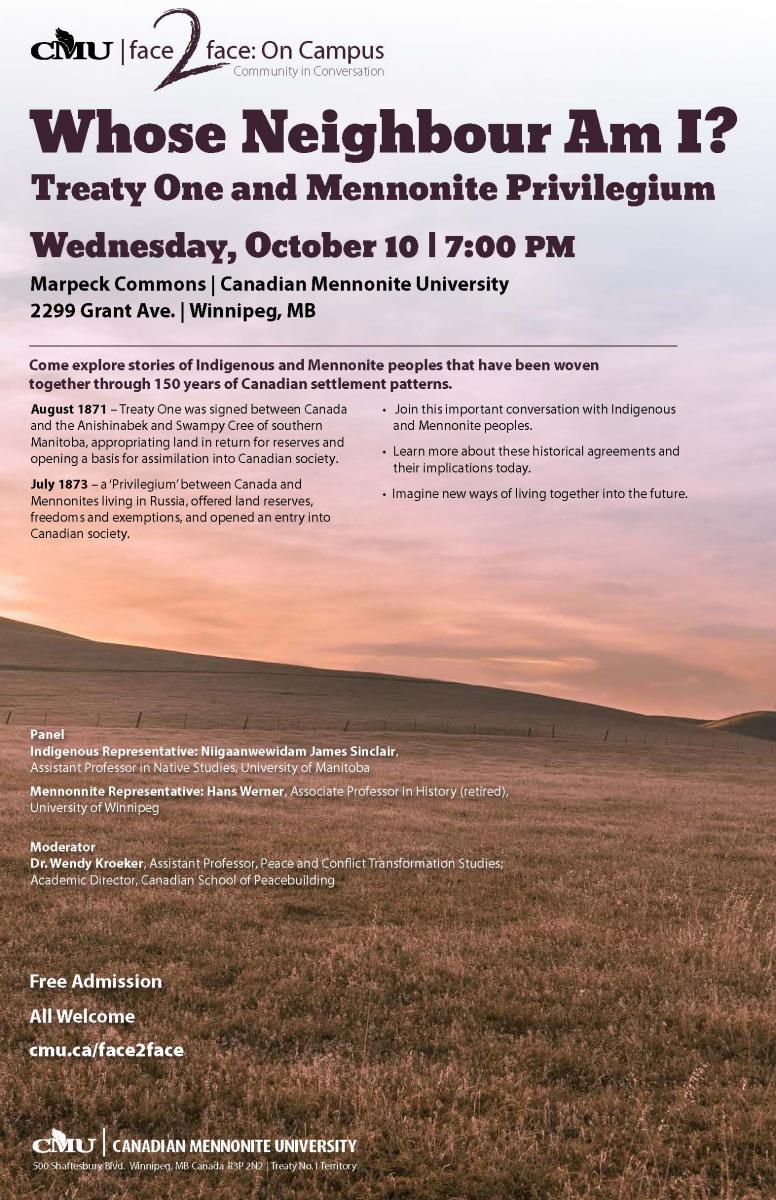 Whose Neighbour Am I? Treaty One and Mennonite Privilegium
[ news release ]
The stories of Indigenous and Mennonite peoples are woven into larger Canadian settlement movements, even as our experiences have been vastly different.
The early 1870's witnessed agreements with the government of Canada for both people groups. In August, 1871, Treaty 1—the first of seven signed Treaties—was signed between Canada and the Anishinabek and Swampy Cree of southern Manitoba, appropriating land from Indigenous peoples in return for reserved land and opening a basis for assimilation into Canadian society.
In July, 1873 a 'Privilegium' was signed between the government of Canada and Mennonites living in Russia with the offer of significant land reserves, freedom of religion, exemption from military service and an opening for entry into Canadian society.
How might a conversation to better understand these agreements with Indigenous and Mennonite peoples in Manitoba open us to live better together?
Key Questions
What do we need to better understand about our Indigenous and Mennonite stories?
What were the Indigenous, Mennonite, and government understandings of what the Treaty and the Privilegium imagined?
What understandings do each of these people groups bring to these agreements and to the stories that have unfolded since then?
What context, narratives and myths regarding each of these agreements would be helpful to broaden our understanding?
How might we have a conversation about what our mutual understandings of land were in the early 1870's?
Where does this leave us now?
What are the questions opened by these historical realities?
Given all that we now know, if we could turn the clock back to 1871 or 1873, what—if anything—might we do differently?
How might Mennonites reimagine the story of 1873 in order to live better together now with their Indigenous neighbours?
How have we honoured—and failed to honour—these early covenants? Where are we now?
What does it mean to 'share the land,' a central concept of Treaty 1—especially in light of all that has occurred since 1871? How do rural and urban perspectives uniquely shape responses to this question? Where does hope lie?
Panelists
Indigenous Representative: Niigaanwewidam James Sinclair, Assistant Professor in Native Studies, University of Manitoba, and a columnist for the Winnipeg Free Press; and
Mennonite Representative: Hans Werner, Associate Professor in History (retired), University of Winnipeg
Moderator
Dr. Wendy Kroeker, Assistant Professor, Peace and Conflict Transformation Studies; Academic Director, Canadian School of Peacebuilding
⇒ Wednesday, November 7, 2018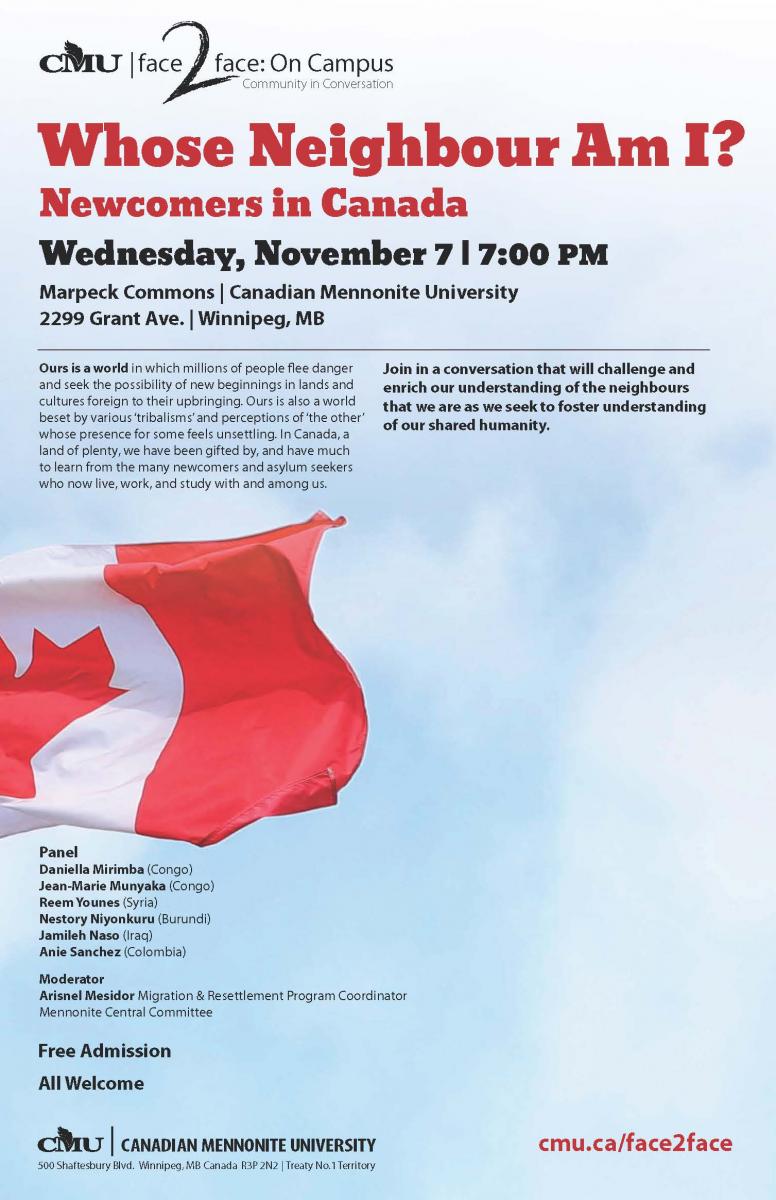 Whose Neighbour Am I? Newcomers in Canada
Ours is a world in which millions of people flee danger and seek the possibility of new beginnings in lands and cultures foreign to their upbringing. Ours is also a world beset by various 'tribalisms' and perceptions of 'the other' whose presence for some feels unsettling. In Canada, a land of plenty, we have been gifted by, and have much to learn from the many newcomers and asylum seekers who now live, work, and study with and among us. Join in a conversation that will challenge and enrich our understanding of the neighbours that we are as we seek to foster understanding of our shared humanity.
Key Questions
What has been the migration experience of individuals from many places around the world who have settled in Canada?
What does it mean to call this new land 'home'?
What urban/rural, economic, social, political, and cultural realities, and challenges have beeen encountered?
How and where has support been found?
How have these realities shaped and reshaped them?
How might a fuller understanding of the experience of newcomers from many places around the world shape understandings and actions?
How do newcomers' experiences redefine how generational Canadians see themselves—and how together do we understand who we are together as new and generational Canadians? How has this enriched or changed the sense of the word 'welcome'?
What is the reality that 'they may not be who we think they are'?
Where is there hope?
Panel Members
Daniella Mirimba (Congo)
Jean-Marie Munyaka (Congo)
Reem Younes (Syria)
Nestory Niyonkuru (Burundi)
Jamileh Naso (Iraq)
Anie Sanchez (Colombia)
Moderator
Arisnel Mesidor (Migration & Resettlement Program Coordinator, Mennonite Central Committee )
⇒ Monday, February 11, 2019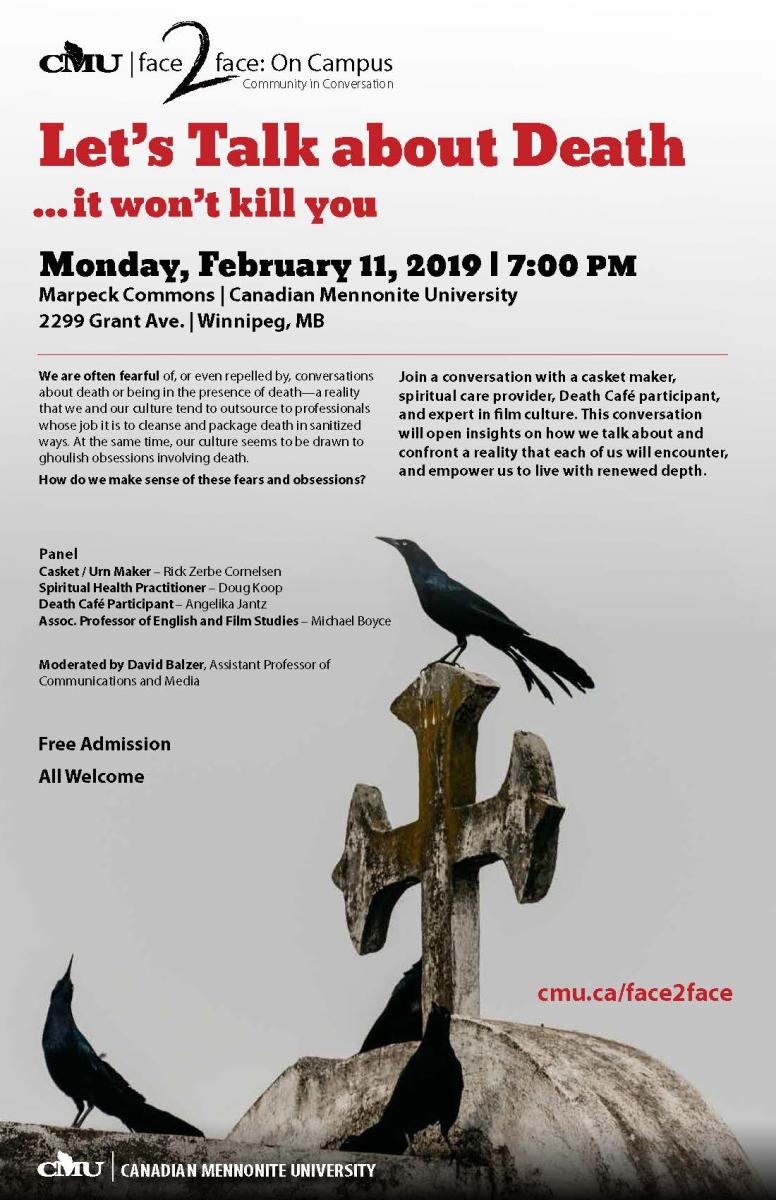 Let's Talk about Death...it won't kill you
We are often fearful of, or even repelled by, conversations about death or being in the presence of death—a reality that we and our culture tend to outsource to professionals whose job it is to cleanse and package death in sanitized ways. At the same time, our culture seems to be drawn to ghoulish obsessions involving death.
How do we make sense of these fears and obsessions?
Join a conversation with a casket maker, spiritual care provider, Death Café participant, and expert in film culture. This conversation will open insights on how we talk about and confront a reality that each of us will encounter, and empower us to live with renewed depth.
Panelists
Casket and Urn Maker – Rick Zerbe Cornelsen
Spiritual Health Practitioner – Doug Koop
Death Café Participant – Angelika Jantz
Assoc. Professor of English and Film Studies – Michael Boyce
The conversation will be moderated by David Balzer, Assistant Professor of Communications and Media.
[ News Release ] [ Winnipeg Free Press story ] [ CHVN STORY ]

Print This Page