Schedule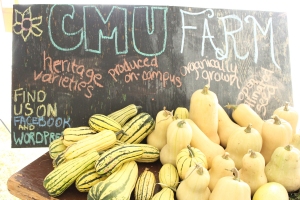 Farmers Market
Saturday, September 28
10:00 AM – 3:00 PM | 500 Shaftesbury Blvd.
CMU's 7th annual Farmers Market Festival is a one-day event that takes place at 500 Shaftesbury Blvd. as part of Fall@CMU.
Come see what local gardeners, farmers, and artisans have for sale and enjoy a cup of coffee with friends! The market will feature Manitoba-grown produce and meat as well as wares from local artisans, with a special focus on CMU alumni, students, faculty, and staff.
Those interested in being a vendor for the 2019 market, please email Julie Derksen (coordinator) at j.derksen:@:cmu.ca. Those accepted will be forwarded an application form. Tables are $25.