Student Life
For Parents: Frequently Asked Questions
How can I find out what's happening at CMU?
A complete list of public events is maintained on the Public Events page, along with news about life at CMU.
Can I get information about my son's or daughter's financial account?
Due to privacy legislation, information regarding financial matters cannot be released to parents unless a student explicitly gives CMU permission to do so. If you, as a parent, wish to receive information from CMU about financial matters, your son or daughter will need to provide written consent to the Business Office asking for such material to be sent to you.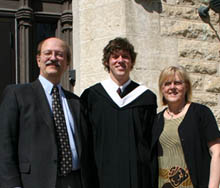 My son or daughter is involved in sports at CMU. How do I find out when the games take place or what the results were?
Team rosters, schedules, game reports and news can be found on the Athletics section of the website.
What do I do if my son or daughter is having
academic problems?
If your son or daughter is having difficulty with classes and course work, they should be encouraged to contact the Coordinator of Student Advising
What should I do if my son or daughter has concerns related to living on campus?
Students should be encouraged to talk to their Residence Assistant or contact Charlie Peronto (Residence Director), who will work at addressing the concerns.
Why is CMU a scent free campus?
Every year some students are allergic to perfumes and other scented products. For some people these fragrances can cause very severe reactions. Out of concern for their well being, we ask all students, staff and visitors to refrain from wearing fragrances and scented personal care products in CMU buildings.
More information about our scent free policy, along with a list of alternative unscented products, can be found here.
My son or daughter is struggling with their faith. Why is this happening at a Christian university?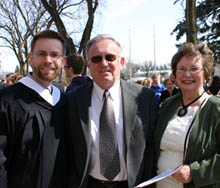 University is a time of transition, change and challenge for students. This includes challenges in their faith. The first year at CMU is a time when students may be surprised as they discover things about the Bible and God they have never heard before, or encounter ideas that are new to them. They also meet Christians from many different denominations—people whose faith journeys and beliefs may be different from their own. For some, this can be a very difficult and stressful experience, and can make them question their faith.
CMU tries to provide an environment where students can deal with new information and ideas, yet know that they can still trust and believe in God. Programs such as fellowship groups, Bible study groups, prayer times, retreats and chapel, as well as informal discussions and prayer times help to facilitate a safe environment for nurturing faith.
CMU staff and faculty are always ready and willing to talk to students, to guide and encourage as students learn, explore and debate. CMU Spiritual Directors are also a valuable resource for students struggling with faith issues.
Who should a student contact if they need to see a counsellor?
CMU provides free counselling services for students on campus. A male and female counsellor are available to help students with various mental, spiritual and emotional issues. For more information about this service, encourage your son or daughter to contact someone from Student Life.
What are CMU's community guidelines?
CMU's community guidelines cover things such as the philosophy of discipline, alcohol, smoking and illegal drug use, sexuality and other forms of conduct.
You can learn more on the Community Guidelines section of the website.
Information about other Student Life-related issues can be found on the Student Life section of the CMU website. You can also call Marilyn Peters Kliewer (Dean of Student Life), at 1.877.231.4570 or 204.487.3300 (Winnipeg), or email her at mkliewer:@:cmu.ca.
Printed from: www.cmu.ca/students.php?s=studentlife&p=parentsfaq