Student Life
Residence Policies
CMU's Residence Policies are intended to create a healthy Christian community.
Residence students are responsible for their own activities and for those of their visitors. Students need to ensure that all activities are in keeping with the CMU Community Guidelines.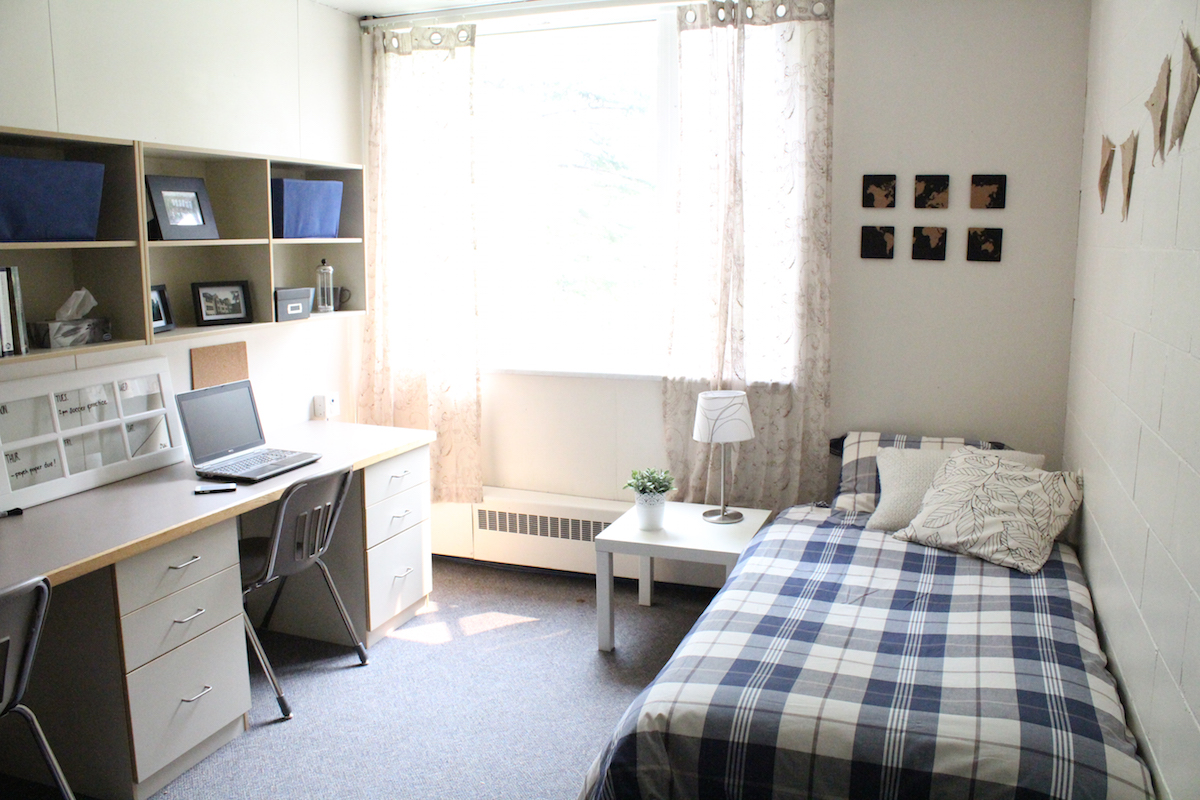 Residence Addresses
(For service only, not mail)
Katherine Friesen Apartments, 2320 Grant Ave.
Poettcker Hall, 2316 Grant Ave.
Concord Hall, 2318 Grant Ave.
On-Campus Housing Lease
Students will be required to sign a lease for on-campus housing which includes billing information as well as serving as an agreement to CMU's Guidelines and Rules for Community Life. The lease may be for fall term, winter term or both.
Residence Room Keys
The Residence Director is responsible for the issuing of, control of, and recording of keys for residence rooms when they are assigned to students. A $20 fee will be charged for every lost key.
Open and Closed Residence Hours
Closed residence hours, during which no persons of opposite genders are allowed in the dormitory, are designed to help create some privacy. The goal is to create a safe space that fosters respect for others. Residences and apartments are expected to be quiet between the hours of 11:30pm-7:30am. The volume of conversation, music, video games, etc. should be reasonable and respectful at all times.
Open Residence Hours
Monday–Thursday: 5:00–9:30pm
Friday & Saturday: 12:30–11:30pm
Sunday: 12:30–9:30pm
Room Changes
A residence student who wishes to move into a different room during the school year must apply to the Residence Director for permission. The student initiating a move from a double occupancy room to a single occupancy room will need to pay the higher room rate; the remaining roommate will continue to pay the double occupancy rate assuming that he/she is open to receiving a new roommate.
Withdrawal from Lease Mid-Semester
Refunds for withdrawals in mid-semester will only be permitted in exceptional circumstances, such as medical or other emergency situations. A withdrawal application form, to be reviewed by the Student Life Department will be the basis for determination of whether any refund will be allowed. If the withdrawal application is approved, the student will be granted a refund of 65% of the prorated amount of the housing fee for the remainder of that semester.
Withdrawal from Lease Between Semesters
If a student has been accepted to live on campus for both semesters but wishes to move off campus at the end of first semester they must submit a withdrawal application form and inform the Residence Director by November 15.
Guests
All residents and visitors are expected to adhere to the regulations regarding the use of facilities, which are posted on the back of each room and apartment door. Residence students are responsible for the actions of their guests. This includes damage incurred while a guest stays on campus.
Residence Life staff must approve overnight guests hosted by students. Forms can be obtained from the Residence Director. Students may be subject to a $10/night charge for guests staying on campus at the discretion of the Residence Life staff.
Students wishing to use CMU mattresses for guests are to contact CMU hosting 204-228-3962. Mattresses are to be signed out and returned immediately after guests leave. Late returns of mattresses will incur a $5/day late fee.
Candles
Open flames are not allowed in the residence buildings. This includes but is not limited to candles, incense, smoking paraphernalia, etc.
Furniture
CMU's dormitory and apartment spaces are fully furnished. If students move other CMU furniture into their room or apartment, they will be asked to return the furniture and will be charged $20 per item.
If students wish to bring additional furniture into their living space (e.g., love seat, couch, chair, etc.), they must first register the furniture with the Residence Director, who will make note of the room and item being brought onto campus. Items that are found in rooms or apartments that have not been registered with the Residence Director will be subject to a fee of $30 per item. Any furniture that is brought onto campus must also be removed by the student. If students fail to properly remove and dispose of this furniture, they will be charged $50 per item. Students will be billed for any CMU furniture that is missing from their room or apartment.
Repair and Maintenance
Students are responsible to report any maintenance concerns or damages to the proper authorities in a timely manner. Non-urgent repairs and maintenance requests are to be written on the maintenance clipboard located in the Student Life Centre on south side. Urgent matters should be reported to the Residence Director immediately.
The Maintenance department strives to address all matters reported on the clipboard within a 24-hour period. Questions and/or concerns are to be directed to the Residence Director.
Pet Policy
CMU has a 'no pet' policy. The exception to this policy is fish. The maximum size that an aquarium may be is 10 gallons.
Fire Procedures
In the event of a fire:
Leave the area.
Close all doors behind you. If possible, also close any windows.
Activate the fire alarm using a pull station.
Telephone the Fire Department by dialling 911 (never assume this has been done).
Know and give the correct address and location of the fire in the building:

Katherine Friesen Apartments, 2320 Grant Ave.
Poettcker Hall, 2316 Grant Ave.
Concord Hall, 2318 Grant Ave.

Use exit stairwells to leave the building immediately.
Do NOT use elevators.
Evacuate to the south side lawn.
Do not return until it is declared safe to do so by the Fire Department.
If you are in a suite and a fire alarm is heard:
Before opening the door, feel the doorknob for heat and check under the door for draft or air pressure. If it's not hot, brace yourself against the door and open it slightly. If you feel air pressure or a hot draft, close the door quickly. If you find no fire or smoke in the corridor, take the room key, close the door behind you and leave by the nearest exit stairwell.
If you encounter smoke in the corridor or stairwell, consider taking the corridor to the other side of the building where another stairwell may be clear, or return to your suite.
If you cannot leave your suite or have returned to it because of fire or heavy smoke, remain in your suite and:
Close the door.
Unlock the door for possible entry by fire fighters.
Dial 911 and tell the Fire Department where you are; then signal to fire fighters by waving a sheet out the window.
Seal all cracks where smoke can get in by using wet towels or sheets.
Crouch low to the floor if smoke enters the room.
Move to the most protected room and partially open the window for air (close the window if smoke comes in).
Wait to be rescued. Remain calm. Do not panic or jump.
Listen for instructions or information that may be given by authorized personnel over loudspeakers.
Residence Services
Internet Service
All residence rooms in Poettcker Hall and Concord Hall have wired and wireless access. The majority of Katherine Friesen Apartments have coverage. Students are discouraged from setting up their own private wireless routers without first checking with CMU's IT department. Without proper configuration, student-owned devices can interfere with the CMU-provided wireless. Please do not touch any CMU wireless access point.
Phones
Two telephones in Poettcker Hall Men's Residence (2316 Grant Ave.)

1st floor: (204) 888-3348
2nd floor: (204) 888-7496

Two telephones in Poettcker Hall Women's Residence (2316 Grant Ave.)

1st floor: (204) 888-9152
2nd floor: (204) 888-3237

One telephone in Concord Hall 1st Floor Foyer (2318 Grant Ave.)
One telephone in Katherine Friesen Apt 1st Floor Entrance (2320 Grant Ave.)
Laundry
Laundry facilities are provided in the residence buildings. The washing machines and dryers are coin-operated (loonies and quarters are required). Irons and ironing boards are provided.
Poettcker Hall (2316 Grant Ave.): laundry room located in the basement
Katherine Friesen Apartments (2320 Grant Ave.): laundry room on each of the three floors
Concord Hall (2318 Grant Ave.): laundry room on each floor
Storage
CMU, while taking reasonable security precautions with respect to student storage areas, assumes no liability for any stored items; students leave items at their own risk.
Storage rooms for student belongings are located in each residence building. There is limited space available for storage during the school year. All items need to be boxed and labelled and put into shelving spaces.
A separate storage room for hockey equipment is located in the basement of Poettcker Hall.
Students may rent storage cubicles from CMU for the summer for $20/cubicle. All items stored in cubicles must be boxed and labelled and fit within the confines of the assigned cubicle. No furniture or larger appliances are to be stored in CMU storage space. Any items not properly stored may be removed.
Any personal belongings left in a room past the posted move out date will be considered an extension of your lease and the student will be charged accordingly. Any questions about storage should be discussed with the Residence Director prior to leaving campus.
Food Services
CMU's Dining Hall on campus provides high-quality, nutritious food service to students, staff and visitors.
The Dining Hall is open Monday – Sudnay 7:45am – 5:45pm. Snack is served every night of the week from 9:00 – 10:30pm.
On Saturdays & Statutory Holidays brunch is served from 10:30am – 12:30pm.
Dress Code
The Dining Hall is a public space. Appropriate dress is required. Proper footwear must be worn in the Dining Hall at all times.
Meal Plans
All dormitory students are required to participate in the Full Board Meal Plan, which covers all food served in the Dining Hall.
All single students living in apartment units are required to participate in the Apartment Meal Plan. This meal plan provides one lunch and one supper per week in the Dining Hall. It does not include beverages, fruits, or snacks from the Dining Hall during the day and between meals.
If CMU events conflict with meal times (i.e. athletic games or choral performances), arrangements can be made ahead of time for bag lunches to be supplied by the Food Services staff.
Special Diets
CMU Food Services will provide nutritionally balanced meals for medically prescribed and personal lifestyle diets whenever possible. A student with special dietary needs should make an appointment with the Director to set up an individualized plan. In cases when Food Services is not confident that it will be able to provide the required diet the student may be encouraged to be housed in a CMU apartment.

Print This Page