Registrar's Office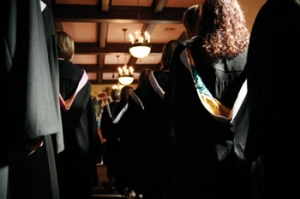 Graduation & Convocation
Conferral of Degrees
CMU confers degrees twice a year:
In November. There are no public celebrations.
In April at the end of the winter semester. This includes public celebrations such as the Baccalaureate Service and the Convocation Ceremony.
Criteria for Graduating in November
You participated in an earlier graduation ceremony and have completed all remaining requirements for the degree.
You have met all requirements of your degree by October 1.
To graduate in November, you must do one of the following:
If you participated in a previous graduation ceremony, send written notice to Stephanie Penner, Registrar, before September 30.
If you have not participated in a previous ceremony, complete and submit the application for Graduation form by September 30. You will need to pay the graduation fee.
Criteria for Graduating or Participating in Graduation Exercises in April
To Graduate with All Requirements Met:
Your fall/winter registration must cover all remaining requirements of your degree program.
To Participate in Graduation:
Your fall/winter registration must cover all but up to 6 credit hours of your degree program, including the academic writing requirement and the integrative studies requirements (min GPA of 2.0). CMU will only confer the degree on you when, at some later time, you have met ALL requirements of your degree program.
If you meet one of these criteria, you must:
Complete and submit the Application for Graduation form by September 30.
Pay the Graduation fee by September 30.
Graduation is an important event. It marks the official culmination of your studies at CMU. It is also a community event since academic work is more than an individualistic endeavour - the CMU community is an important part of the learning that takes place. Through the graduation events the CMU community formally acknowledges the graduating class. All graduating students are expected to participate in the events. If you are unable to attend, please send a written notice to the Registrar by February 1st.
Graduation Fees
A graduation fee is required. This fee covers a variety of expenses related to graduation, including the expenses for the grad composite and the sitting fees. However, it does not cover expenses for activities organized by the graduating class.

Print This Page