International Students
USA Students
Apply before November 30 and we will waive the application fee.
Apply before February 28 to be eligible for scholarships.
Why is CMU an excellent choice for those of you from the USA? Read on to find out!
There are so many reasons that American students find CMU an appealing and advantageous place to study, grow and prepare for their careers:
Elisa LeDesky and Katrina Nafziger-Meiser tell us in their own words why they loved studying at CMU.
Why Canada? Why CMU?
Rigorous Academics, Faith-filled Community
At CMU you are not just a number. You will experience strong academic rigour of a top university within a faith-filled, friendly and supportive community. You are a name and a face that will have opportunities to actively explore who you are in conversation with friends and faculty that care. Who knows, you may even discover your life's calling.
As a small University, CMU is proud to offer students an outstanding education, which is proven to better equip them for graduate studies than many of the surrounding, larger universities. We offer a variety of dynamic majors and degree programs, emphasizing interdisciplinary discourse and excellent written and oral communication skills. This combination puts our grads far ahead of their peers for graduate studies.
In addition to offering Bachelor of Arts Degrees (18 different majors), we also offer a Bachelor of Music, Bachelor of Music Therapy—not available anywhere else in the prairie provinces—and Bachelor of Business Administration including a co-op option. Unique only to a few schools, at CMU Peace and Conflict Transformation Studies and International Development Studies are both accepted majors within the BA.
Admission Requirements:
Considering CMU? American applicants may be considered for admission to the university when they meet the following criteria:
5 Grade 12 courses,
C (70% or 2.0) average in English and 2 grade 12 academic subjects
At minimum of C (70% or 2.0) in an English or Literature Class
C (70% or 2.0) average over all

OR
They have an acceptable score on the SAT I or ACT plus Writing
Note: All of our degrees require students to take some Biblical and Theological Studies courses—courses that can challenge you, help you grow in your faith and ensure that your faith remains an integral part of your studies and plans for a career.
All CMU courses are taught by outstanding, dedicated faculty, about 90% of whom hold doctoral degrees from well-known universities. Our professors also care deeply, not only about the subjects they teach, but also the people they teach—they are a significant part of why CMU is such a great place to learn.
Instructors like these and smaller class sizes, mean students write more, receive better feedback on assignments, and have more opportunity to participate in class discussion, making the most of their education. CMU is proud to offer these academic advantages, and proud of the strong professor/student relationships that result from this unique class-room chemistry.
Furthermore, as CMU is a Christian community dedicated to discipleship, service, and learning together, professors expect to learn from you just as you will learn from them. Like you, they are still on the way to greater wholeness; this knowledge makes them compassionate and approachable despite being academically tough.
Outstanding Value
Studying in Canada costs less than half of what it does to study at comparable colleges and universities in the U.S.A. CMU receives financial support from the Government, also from Mennonite Church Canada and the Mennonite Brethren Churches of Manitoba, plus hundreds of individual donors.
In 2016-17, it will cost about the equivalent of $14,000 (USD) to take a full course-load, buy your books, pay all fees, participate in sports, stay in residence and be part of the all-you-can-eat dining hall meal plan. And that's without any grants, scholarships, or bursaries subtracted from the cost!
Why not see what students thought about the value of their CMU experience.
The Globe & Mail noted the great affordability of Canadian education for American students. Please read the article outlining the wonderful potential alternative for study in Canada: U.S. Students eye universities 'at a reduced price' in Canada.
Basic costs of one academic year (September to April) of full-time study while living in on-campus housing as a single student are:
| | | |
| --- | --- | --- |
| Tuition | $10,580 | (including student services fees) |
| Books & Fees | $1,500 | (approximate) |
| Room & Board | $6,320 | (or more depending on your option) |
| Personal Effects | $500 | |
| TOTAL: | $18,900 | |
More about Scholarships:
Academic Entrance Scholarships are available only to first-year students entering CMU Shaftesbury Campus who have completed high school within the previous five years but have completed no more than nine credit hours at another post-secondary institution. No application for these scholarships is necessary.
American Students whose application material (application form, relevant official transcript, and application fee) has been received by February 28 will receive scholarships as follows:
$3000 for 95–100%; GPA 3.75-4.0; A+
$2000 for 90–94.9%; GPA 3.5-3.749; A/A-
$1000 for 85–89.9%; GPA 3.25-3.49; B+
$750 for 80–84.9%; GPA 3.0-3.249; B/B-
Make sure you read further about more Scholarships and Awards!
Note: If you are from Minnesota, CMU participates with the Government of Manitoba in a reciprocity agreement meaning Minnesota residents pay Canadian tuition rates at CMU.
While CMU does not participate in FAFSA, we do offer American students equal opportunity to apply for CMU student aid, i.e. scholarships, bursaries, grants, etc. Church matching grants offer a special advantage to American students, as CMU will match an American church contribution for you up $1,000 (Canadians can have $500 matched) in recognition of the higher international student tuition rates.
Furthermore, American students have the ability to apply for on-campus and/or off-campus employment.
For student loans, American students are advised to consult their personal bank; American students with dual citizenship (American-Canadian) can apply for Canadian student loans to the province in which their parents last resided.
Accreditation
CMU is a member of Universities Canada (formerly AUCC), the body that represents 97 of Canada's public and private universities. Through membership in Universities Canada, CMU students applying for graduate school or other professional programs can be assured that their bachelor's degrees will be fully recognized.
What other opportunities does CMU offer?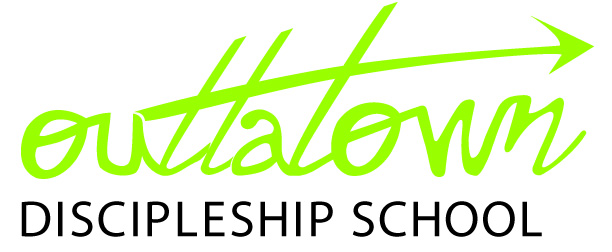 The Outtatown Discipleship School is a unique, one or two-semester certificate program of Canadian Mennonite University. Outtatown offers recent high school grads (ages 17-22) a once-in-a-lifetime opportunity to travel the world, gain new exposure and experiences, build lifelong relationships, grow, and learn more about God, their world, and themselves. To read recent blogs relating to current Outtatown groups and their experiences, click here!
Come visit us!
Choosing a university is a big decision, and coming to a different country to study makes it seem even more complex. If you want to learn more, call us toll-free at 1.877.231.4570 or get in touch with an Admissions Counsellor! Or if you want an in-person look at what studying at CMU could be like, you can also visit us during Campus Visit Days to sit-in on classes, meet professors, and visit with current students! We'll even help with the travel costs.
Before November 30 and we will waive the application fee. Apply before February 28 to be eligible for scholarships.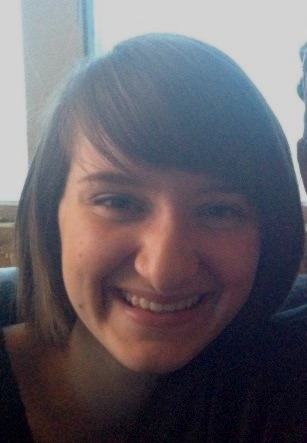 Here is what Katrina Nafziger-Meiser an Arts & Sciences major from Boise, Idaho had to say about her campus visit, and what was a contributing factor in her choice to study at CMU.
"When I was a junior in high school, my dad and I planned a road trip to visit CMU during the Christmas at CMU weekend. He had some friends in the area that he wanted to visit, and I basically just thought it would be a fun trip to make with my dad.
It was arranged for me to stay in a dorm room for the weekend while my dad stayed with one of his local friends. Having always been a very shy and socially withdrawn person, this arrangement could very easily have been uncomfortable and lonely. But before I had even settled into my room, one of the girls who lived on that floor adopted me into her group of friends, and I spent the whole weekend enjoying CMU's wonderful sense of community and openness!
It was this strong sense of community that drove my decision to attend CMU, and during my first year, I really experienced that community. With so many opportunities to build friendships and connections, I felt very much at home."
Elisa LeDesky, who graduated with a BA in Social Sciences, was thrilled to share her reflections with us on the results of her choice to come to CMU: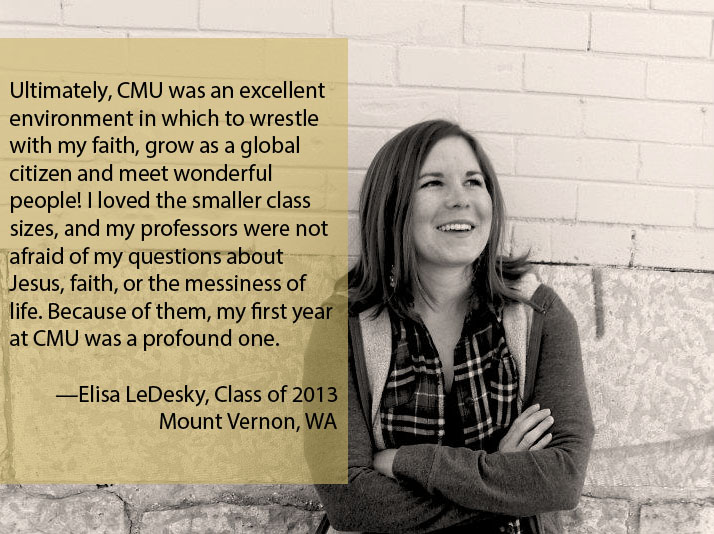 "I picked CMU because, while attending a secular all-women's university in the States, I realized I deeply desired Christian education. I was excited to hear about a school that offered classes in peace and conflict transformation, social justice, and Bible & Theology—and was impressed!
I also chose CMU at first (and by extension, Winnipeg) simply as a place where I could get away from the polarized American politics and culture. In the end, I fell in love with Winnipeg! What a beautiful city—full of vibrant festivals, music, art and incredible people! I loved ice-skating and cross-country skiing on the Assiniboine River trail. There is no place like Winnipeg!"

Print This Page