How to Register
AS A GROUP:
AS AN INDIVIDUAL:
Please register early to ensure you or your group have a spot for this exciting first-time event!
Deadline to register for sixpointeight is TUESDAY, APRIL 24, 2018.
Don't miss out - sign up today!
You're invited to sixpointeight, an inspirational day of worship, fun, learning, and community! Equip yourself to be a peacebuilder in the way of Jesus with youth from across Manitoba and beyond.
Be inspired by Kathy Giesbrecht and Paul Winter, and through a series of creative TED Talk-style presentations offered on topics of peace and reconciliation.
Who: Youth grades 9–12
When: Sunday, April 29, 2018 | 10:00 AM – 4:00 PM
Where: Canadian Mennonite University
Cost: $15 – includes lunch and snacks; payable on arrival OR ahead of time by cheque to CMU
For more information or if you have any questions, email Cori at info:@:cmu.ca.
Bring your own water bottle—water in your own container is the only drink being provided.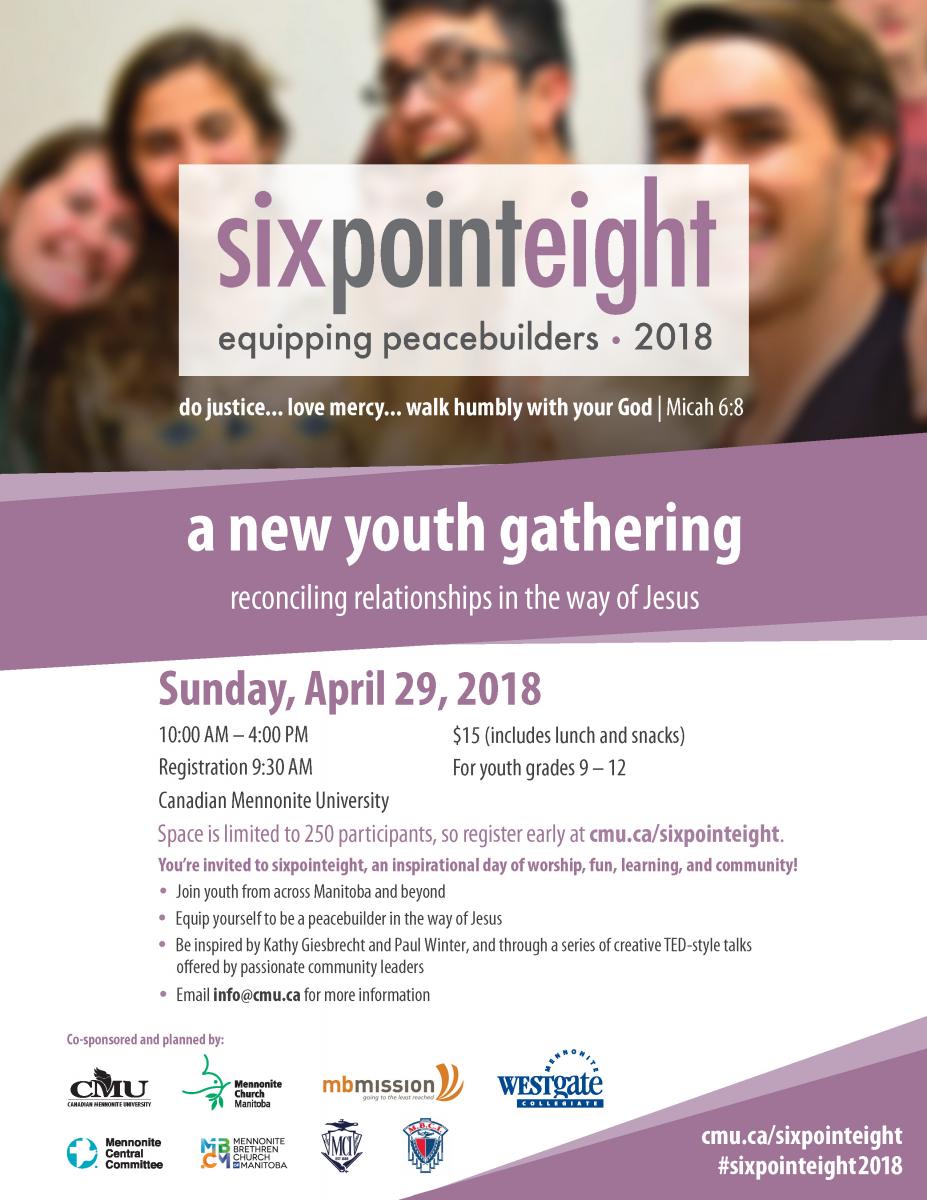 Schedule
9:30–10:00 AM – On-site Registration and Check-in (Marpeck Commons)
10:00–10:55 AM – Gathering and Opening with Kathy Giesbrecht and Janelle Braun (Marpeck Commons)
11:05–12:05 PM – TED Talk-style presentations, slots 1 and 2 (North Side classrooms)
12:05–12:30 PM – 'Contemplating what we have heard' / mid-day encouragement / announcements with Kathy Giesbrecht (Laudamus Auditorium)
12:30–1:45 PM – Lunch and breakout options (Loewen Athletic Centre)
Breakout Options
Visit a Booth: Where can I get involved?
Circles of Conversation: what and how have I heard, learned, been challenged?
Debrief with a Youth Pastor: connect through one-on-one conversation
Express Yourself: respond artistically to my experience
Prayer Labyrinth
1:45–2:50 PM – TED Talk-style presentations, slots 3 and 4 (North Side classrooms)
3:00–4:00 PM – Closing gathering, worship, and sending with Paul Winter and Janelle Braun (Marpeck Commons)
Speakers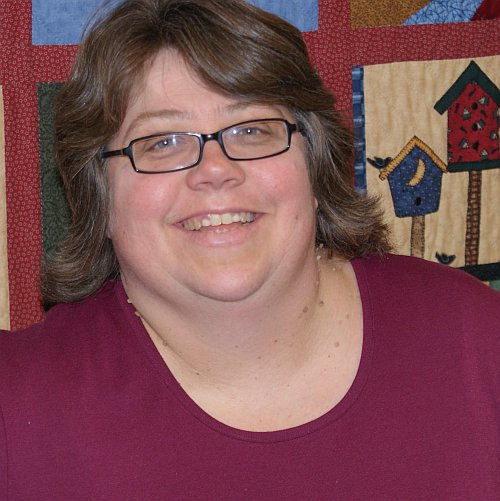 Kathy Giesbrecht
Presently, Kathy serves as the Associate Director of Leadership Ministries for Mennonite Church Manitoba, but before that she gave herself to youth ministry for over 3 decades. Serving in high schools, youth institutions, drop-ins, community centers, and congregations... she loved it all. Claiming to have consumed more pizza than anyone on the planet, the perks and thrills of her calling continue to fuel her passion.
"I just can't stop talking about how committed God is to us and how life giving the ways of Jesus are and what a super duper companion the Holy Spirit is."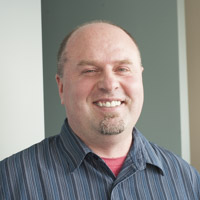 Paul Winter
Paul Winter wears many hats and is currently the Indigenous Ambassador for MBCM as well as pastor at Living Word Temple and Turtle Island Community Church (both located in Winnipeg's North End and both largely First Nations). His heart is to learn alongside others about the love of Jesus and to meet people where they are at in their journey with the Creator. The unique relationships he has have welcomed him into many Northern communities and he has been blessed by a posture of forgiveness and a desire to join together and be reconcilers in the name of Jesus. Paul is a firm believer on partnerships and believes together we have been called to be ambassadors of peace, reconciliation and restoration.
Co-sponsored and planned by:


Print This Page