Shi'a Muslim – Mennonite Christian Dialogue 7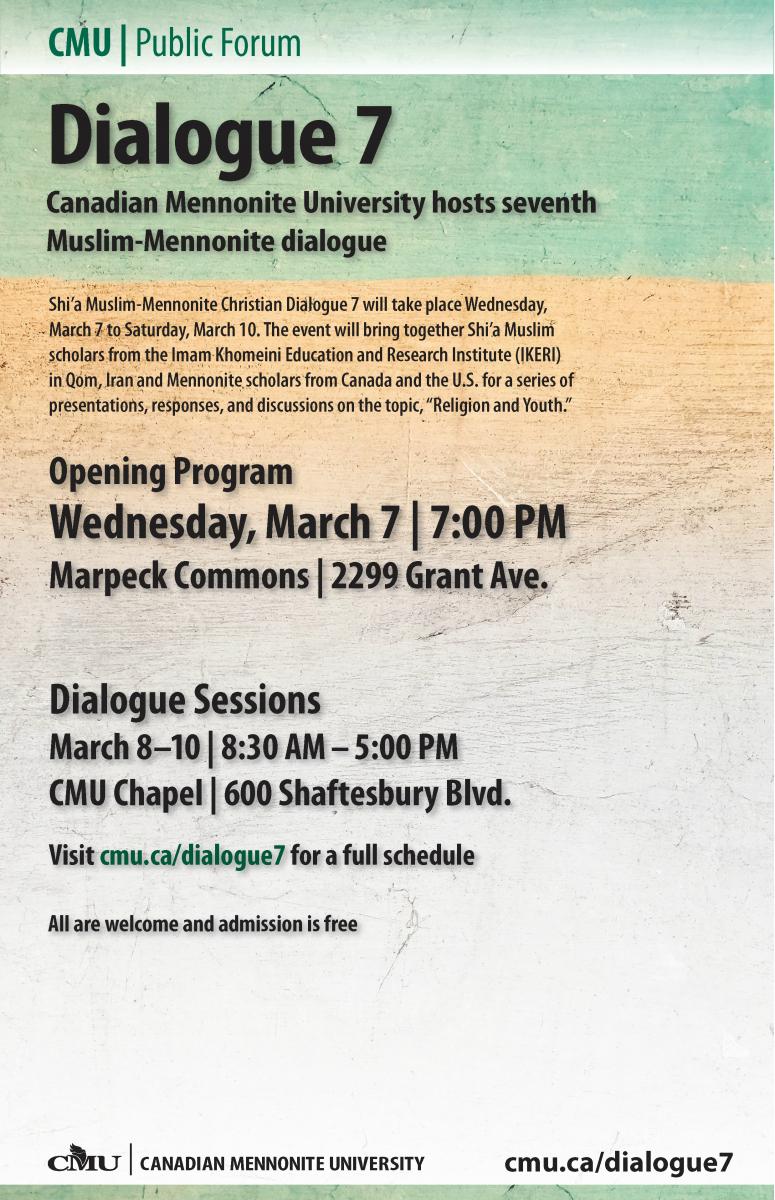 March 7–11, 2018
Brief History
The Shi'a-Mennonite exchange had its origins in tragedy. In June 1990 there was a massive earthquake in Manjil–Rudbar, Iran with a reported death toll of 40–50,000. A four-person MCC delegation visited the site and a material aid and reconstruction response ensued in cooperation with the Iranian Red Crescent Society and The Housing Foundation. It soon became clear that both sides were interested in relating at another level, one where differences and similarities of faith and culture could be discussed. Hence, by the mid-1990s student exchanges were set up where Iranian students from the Imam Khomeini Education and Research Institute (IKERI) in Qom came to Toronto to study and several North America Mennonite students went to Qom.
Topics
This year's dialogue will focus on the theme of religion and youth.
Specific topics:
Antipathy toward religion
The moral crisis
The meaning of life
Friendship
Identity crisis
Social networks
Youth and spirituality
Sponsors
This event is sponsored by:
Imam Khomeini Education and Research Institute, Qom, Iran
Conrad Grebel University College
Canadian Mennonite University
John Fairfield
and Kathryn Stolzfus Fairfield
Mennonite Central Committee
Center for Interfaith Engagement at Eastern Mennonite University
Government of Canada's Ministry of Canadian Heritage
John Kiser
Process
The sessions are open to the public. Presenters will have 30 minutes to present their paper which will be followed by a brief discussion dealing with questions of clarification. Presenters will have the first opportunity for interaction and then it will be opened to observers. In addition there will be two one hour sessions devoted entirely to response/discussion with presenters and youth participants. These sessions will take place after three or four papers have been presented and they will involve both the Iranian and local youth. We hope that creating this space for discussion will deepen the interaction and foster opportunity for empathetic understanding.
Opening Event
The opening event on March 7 will introduce our presenters and welcome all our guests. We will hear briefly from CMU President Dr. Cheryl Pauls, event sponsors, and the leader of the Iranian delegation. In addition to the welcome, this event will also introduce the theme for the dialogue.
March 7 | 7:00 PM
Marpeck Commons (2299 Grant Ave.)
Meals and Lodging
Limited lodging for the event is available at CMU. If you require meals and/or lodging for this event please contact the CMU Hosting Department directly (Andrew Giesbrecht – a.giesbrecht@cmu.ca) to make arrangements. Additional lodging is available at the Hilton Garden Inn Winnipeg South (495 Sterling Lyon Parkway, Ph: 204.594.7436). Please be in touch with the hotel directly and indicate that you will be attending Dialogue 7 at CMU.

Print This Page