Community & Alumni Events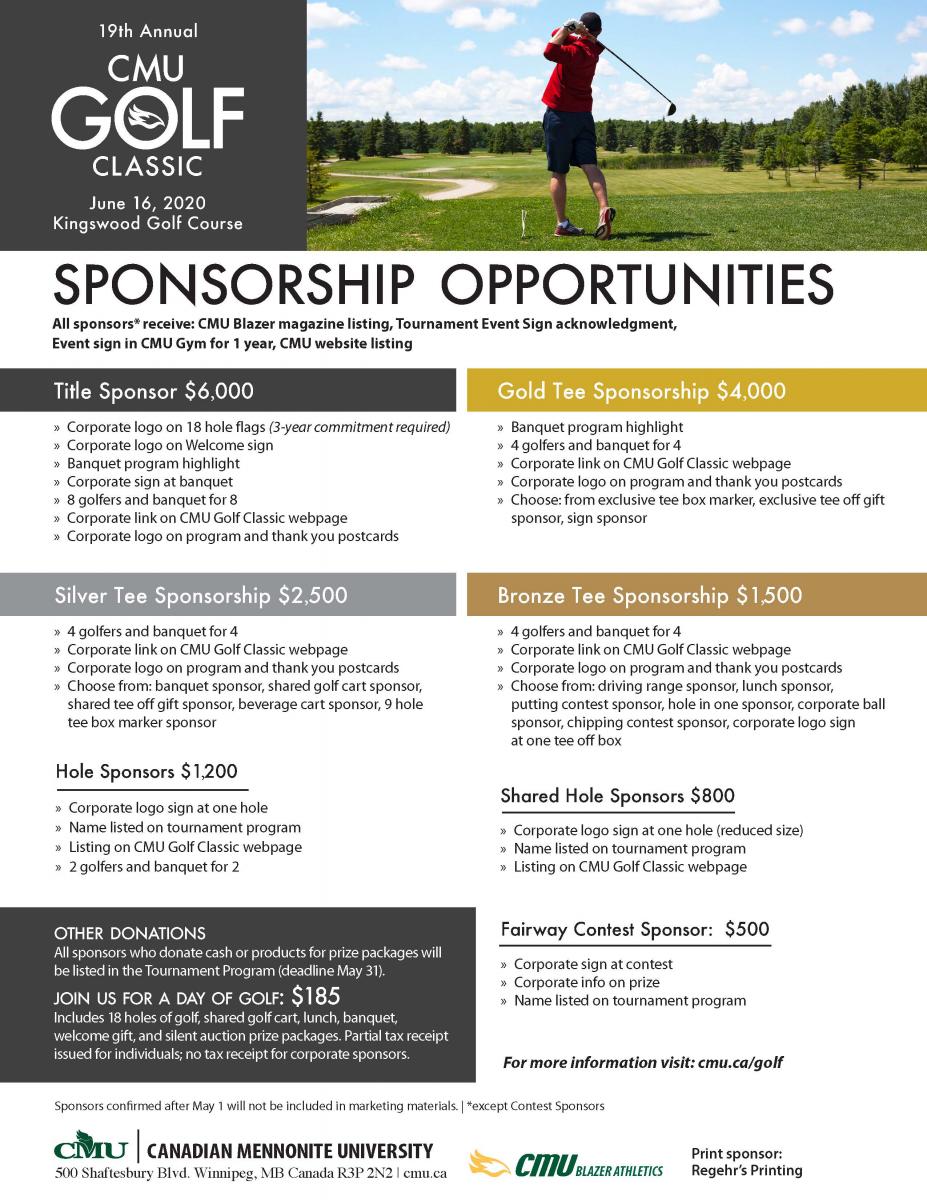 Tuesday, June 16
Kingswood Golf and Country Club | La Salle, MB
NOTE: It is unclear at this time whether the 2020 CMU Golf Classic will go ahead as planned because of the disruption caused by the Covid-19 virus. The CMU Golf Committee, in consultation with CMU's leadership team, will be making a more clear statement about this by the end of April. Thank you for your interest and support during this extraordinary time!
CMU invites you to join us for the 19th Annual CMU Golf Classic on Tuesday, June 16 at Kingswood Golf and Country Club in La Salle, MB.
The Golf Classic is a fun tournament, usually with around 130 golfers that come to enjoy the day. All golfers enjoy a lunch, a warm up on the driving range, 18 holes of Texas Scramble golf, prizes and a banquet. Every year this tournament has taken place, we've had great weather with most being days of sunshine and fair skies—we're hoping for that again this year!
CMU draws students from across Manitoba, Canada, and over 31 international countries. By supporting this event, you will help to shape students for careers of service, leadership, and reconciliation. Last year, sponsors and the golfers that participated raised more than $52,000!
Registration begins at on June 16 at 11:00 AM. which gives you time to enjoy a warm up on the driving range, lunch, and some visit time before you make your way to your starting hole at 12:30 PM. A banquet and prizes for all to follow.
2020 CMU Golf Classic Committee | Tom Ewert, Remco Realty | Wes Dueck, Alumnus | Steve Ens, Alumnus | Craig Martin, CMU Assistant Professor of Business; MBA Program Coordinator | Russell Willms and Josh Ewert, CMU Athletic Department | Dori Zerbe Cornelsen, CMU Director of Development | Tami Duff, CMU Golf Classic Coordinator
Photos from the CMU Golf Classic

Print This Page