Support CMU

You're invited to a spring evening fundraiser in support of Canadian Mennonite University. This year's spring event will be held again at the University's Shaftesbury campus.
Date: Thursday, April 4, 2019
Time: 7:00–9:00 PM
RSVP your interest in attending by contacting Julie Derksen j.derksen:@:cmu.ca or phone 204.594.0517.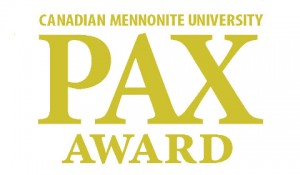 Rudy Wiebe, is best known for his novels set in the Canadian prairies and his representations of First Nations people. He was awarded the Governor General's Award for Fiction twice, for The Temptations of Big Bear (1973) and A Discovery of Strangers (1994) and won the Charles Taylor Prize for Of This Earth: a Mennonite Boyhood in the Boreal Forest (2006).
CMU invites you to join in honouring Rudy Wiebe for his dedication to service, leadership, and reconciliation with the CMU PAX Award on April 4, 2019.
[ NEWS RELEASE ]
Part 1 | 7:00 PM
Marpeck Commons (2299 Grant Ave.) and
Laudamus Auditorium (500 Shaftesbury Blvd.)
Reflections – CMU students, staff/faculty share
Choral Performance – CMU Singers
Note: Both features will be concurrently performed in both venues
Part 2 | 7:45 PM
Loewen Athletic Centre (500 Shaftesbury Blvd.)
Choral Performance – CMU Singers
CMU PAX Award – Presentation of the 5th annual CMU PAX Award to Rudy Wiebe
Note: Parking outside of Marpeck Commons is very limited. Please park north of Founders Hall (500 Shaftesbury Blvd.) or on CMU's south parking lot (600 Shaftesbury Blvd.).
[ campus map ]
Donate
Hors d'oeuvres and dessert, along with an offering in support of CMU, will be included in Part 2 of the evening.
If you are unable to attend on April 4, but would like to make a gift to the university prior to CMU's April 30 fiscal year end, please send a cheque to CMU or donate online at cmu.ca/donate.

Print This Page