Visit Our Campus
Is CMU the right university for you?
Find out for yourself by coming to visit our campus!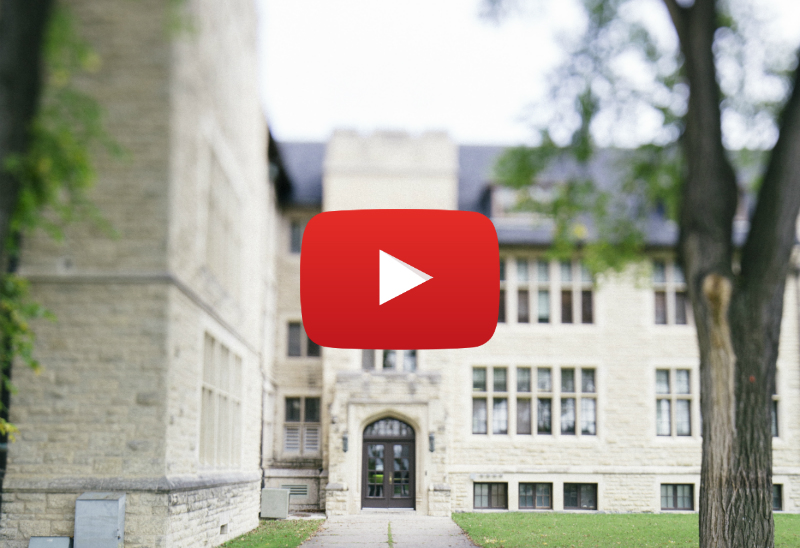 For the time being, CMU will not be hosting any guests on campus. All meetings will happen virtually!
Upcoming 2020 virtual events are as follows:
Wednesday Webinars
Study science at CMU
June 3, 3:00–4:00 PM CDT
Why study science at CMU? What are my degree options when studying science? What are labs like? What can I do with a science degree? In this webinar, we will address these questions as well as provide information about pre-requisites, opportunities for research and fieldwork, and what you can expect from a science degree. You will also have the chance to meet some of your new professors!
Virtual Open House
June 10, 3:00–4:00 PM CDT
We've had so much fun hosting our Virtual Open Houses that we're going to run it again!Expect a virtual tour of CMU's campus, live questions and answers with our Admissions team, and a chance to hear from faculty and current students. After registering, you will receive a link via email to access the webinar. This is open to anyone: parents, students, siblings, teachers, and school counsellors. If unable to make it at the scheduled time, a recording will be made available. Please sign up as an attendee to receive the recording.
Stay tuned! More information and webinars to be posted shortly!


Individual Visits
Personal visits will happen virtually using our webinar technology for the foreseeable future, due to COVID-19. Our Virtual Visit program designed to meet the needs of students who are unable to visit our beautiful campus in person at this time. Virtual Visits offer a one-on-one conversation with an Admissions Counsellor, as well as the opportunity to ask questions and have them answered real time.
Click through the calendar (link above) for available dates and times, and schedule your Virtual Visit today!
Campus Visit Days will give you a 'student-for-a-day' experience at CMU. These days are intended for grade 11 and 12 students and their parents. Expect:
a tour of campus and residence
sitting in on a class
attending chapel
lunch in CMU's cafeteria
financial aid presentation
conversation with staff and faculty over gelato
This is an opportunity for you to learn more about CMU and to ask as many questions as you might have! We also waive the $80 application fee at all of our campus visit events! It pays to visit!
Open House is a come-and-go event for prospective students and families wanting to tour campus, gather more information, or visit a class. Expect information booths featuring Blazers Athletics, Outtatown, academic programs, student council, and CMU faculty. Tours of the campus, as well as residence will happen throughout the day.
CMU Maps
Download a map of the entire Shaftesbury Campus (PDF)
Download a map of the North Side of the Shaftesbury Campus (PDF)
Financial Assistance
To make it easier for your visit to CMU, we offer financial assistance to prospective students traveling from a distance—whether you are coming for a Campus Visit Day or for an individual visit.
We pay up to $400 of your total travel cost to Winnipeg if you travel by plane, bus or train ($500 CDN if from the USA). Half of the total cost is paid at the time of your visit (up to $200) and up to $200 of your remainder fare is put into your student account here at CMU to be applied against tuition costs. Although we welcome and encourage your parent(s) to join you in coming to visit, we do not reimburse any costs for a parent's travel.
If you use AirMiles or other loyalty programs to pay for flights, the "up to $400" is only calculated using the amount of cash you actually paid. We do not reimburse according to the value of the ticket in these cases.
If you live more than 150 km outside of Winnipeg and drive here, we'll reimburse you for gas at 20 cents/km up to the same limit of $400 (up to $200 when you visit and up to $200 when you become a student).
While you're on campus, meals and on campus accommodation will be covered. You can also stay in residence the evening before your Campus Visit Day. Please speak to an admissions counsellor regarding the maximum number of meals and nights you may stay at no cost. Parents are included in this the accommodation and meals coverage!To qualify for a travel subsidy, your visit must be pre-arranged with the CMU Admissions Department. Contact the Admissions Department at admissions:@:cmu.ca or by completing the online registration form above. You can also call us toll-free at 1.877.231.4570.

Print This Page