Exhibits
Along the Road to Freedom
Along the Road to Freedom tells the stories of mothers, daughters, grandmothers and sisters who led their families out of persecution and suffering to lives of freedom and peace.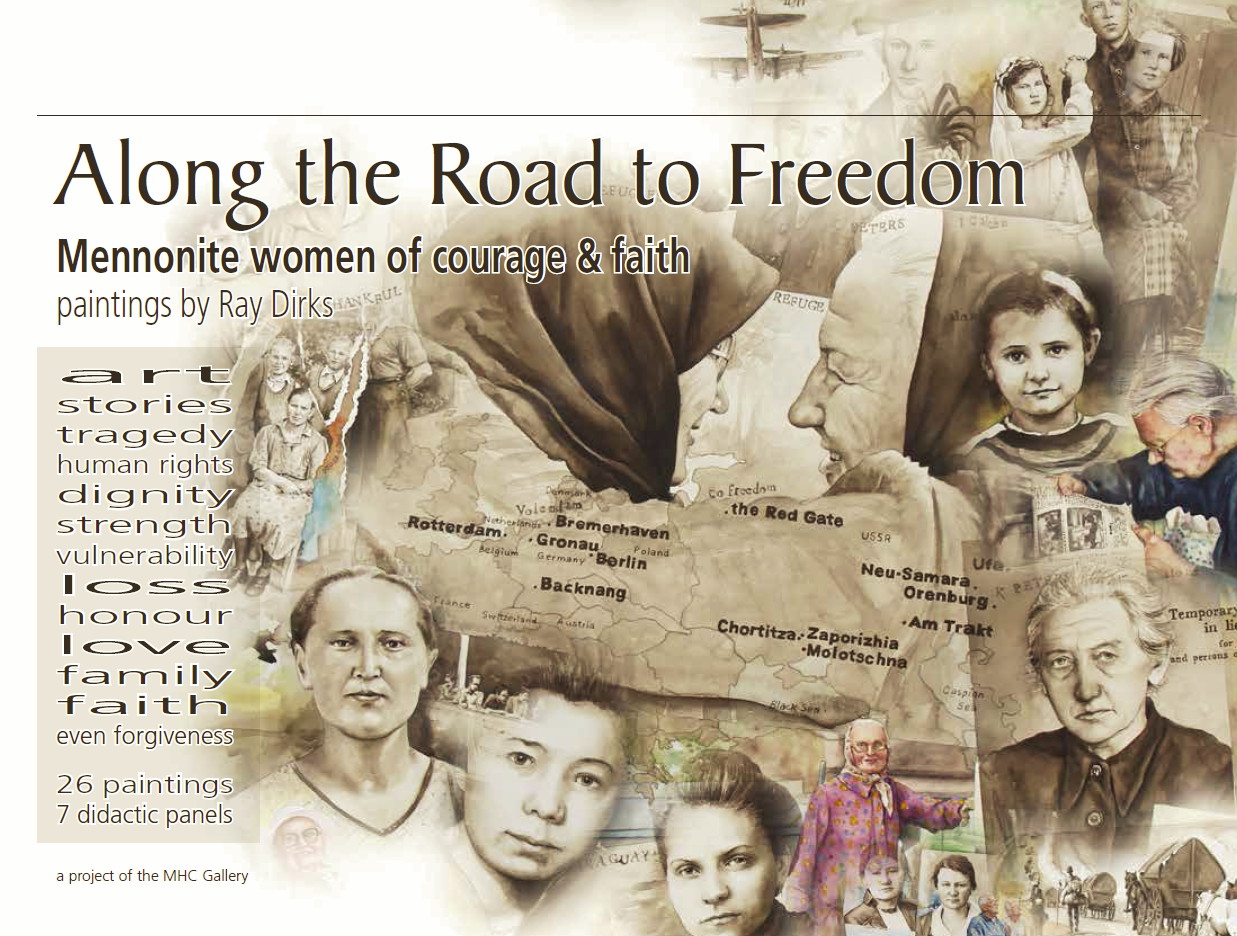 Many Mennonites living in Russia left, fled, attempted to flee, led by women, even girls, often without men, the chaos in the aftermath of the Russian Revolution and the horrors of Stalin's persecution that followed. Many were part of the Great Trek in 1943 which, in the midst of war, wove its way from Mennonite colonies in south Russia (Ukraine) towards the west and hoped for eventual freedom and peace.
Along the Road to Freedom reveals the stories of women, mostly who escaped, and some who did not. All are quiet heroes whose stories should not be lost to history. Along the Road to Freedom creates a memory mosaic of the specific women featured in the paintings and asks us all — not just Mennonites of European heritage, recently arrived or long in this land, to remember and honour our/their own stories, especially those of the women, strong or frail, certain or unsure, forging ahead or struggling to survive, who are responsible for our living good lives at peace, far from lands and times of uncertainty and fear.
For more information or to book the exhibition into your venue, contact Ray Dirks, artist and curator, at rdirks@cmu.ca
TVCOGECO in Ontario did a profile of the "Along the Road to Freedom" Exhibit while it was on display in St. Catherines:
Global News in Saskatoon covered the Exhibit at the University of Saskatchewan.
John Gormley, CKOM, Saskatoon, interviews Ray Dirks:

Print This Page