Exhibits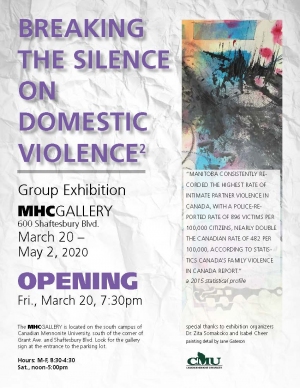 Breaking the Silence on Domestic Violence2
ONLINE
Friday, March 20, 2020 — Saturday, May 2, 2020
Why Breaking the Silence on Domestic Violence in Manitoba?
Domestic violence is a pervasive reality in Manitoba that know no boundaries. Last year 13 women were murdered by intimate partners in Manitoba — 2018 Canada Femicide's Report. According to the report, Manitoba is still among the provinces that recorded the highest number of violent crimes in the nation. The report also identifies "Home" as the most dangerous place for women and their children.
Intimate partners violence ranges from verbal and emotional abuse, to physical or sexual assault including homicide. This type of violence accounts for one in every four violent crimes reported to police in our province. Battering is the single largest cause of injury to women and girls, more than auto accidents, muggings and rapes combined. As a society and a community, we must create an environment where survivors, victims and their children feel supported as they bravely rebuild their lives free from abuse and terror.
As survivors, we believe that a collaborative response will help eradicate any form of violence against women and girls in our city, province particularly in our schools and communities of faith.
We hope that artists will join us in this fight.
Dr. Zita Somakoko, IPMA-SCPHR
More information, you have questions, contact: Isabel at isabelcheer@gmail.com
For more information: CANVASs Newsletter March/April
Opening: Friday, March 20, 2020 from 7:30—9:30 PM CANCELLED
with Dr. Catherine Holtmann, University of New Brunswick
Forum Conversation: Monday, March 30, 2020 from 1:00—3:00 PM CANCELLED
Descriptions of art can be found in the Breaking the Silence on Domestic Violence2 Image Gallery.
Click on images in the gallery below for availability and prices. If interested in making a purchase, contact Selenna Wolfe at swolfe@cmu.ca. Please note that list prices do not include taxes which will be added to final sale price.
Click thumbnails to view full images

Print This Page