For release June 18, 2010
Canadian Mennonite University in April celebrated the graduation of 95 students at its Shaftesbury campus and, last week, recognized 60 graduates in Conflict Resolution Studies and International Development Studies at its Menno Simons College, located in downtown Winnipeg at The University of Winnipeg. In April, CMU also celebrated the safe arrival back in Canada and program completion of 64 Outtatown students returning from South Africa and Guatemala. In total, CMU celebrated the accomplishments of 219 students in recent ceremonies.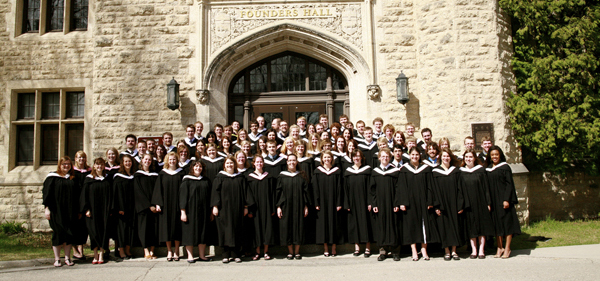 "We applaud our graduates for their achievements," says CMU President Gerald Gerbrandt. "As CMU students enter into their careers or continue with further studies, we take deep satisfaction from the fact that their achievements have been earned not only by their own efforts, but through the support of parents, faculty, staff, and friends and donors. It is gratifying to consider how our community helps and encourages our students to shape their faith and their futures through their studies and experiences, while also helping our university to attain its overall vision and mission."
At the April 25 graduation services, the Canadian Mennonite University Shaftesbury campus saw a weekend of special activities as the community celebrated CMU's largest graduating class to date, with 95 graduates awarded Bachelor and Master degrees: four with four-year Bachelor of Arts degrees with honours; 39 with four year Bachelor of Arts degrees; 35 with three year Bachelor of Arts degrees; three with Bachelor of Arts in Church Ministries degrees; 11 with Bachelor of Music degrees; two with Bachelor of Music Therapy degrees; and one with a Master of Arts degree in Theological Studies. Speaking at the Graduation Service this year was Dr. David T. Barnard, President and Vice Chancellor of the University of Manitoba. Offering a context for the graduates in decision-making after leaving university, Barnard invited graduates to "read responsibly, and then live responsibly."
Valedictorian Michael Bueckert, a four year Bachelor of Arts graduate majoring in International Development Studies (IDS), encouraged his peers to take a broad view of their education, acknowledging that education is a gift from many people. Bueckert told the graduates that, while they have had a hand in this process; education is not a product that they created, or even earned, but rather a gift bestowed in many ways, including through experiences inside and outside of the classroom. Bueckert drew on examples from his own practicum in Olepolos, Kenya working in a Maasai community.

The Menno Simons College (MSC) graduation services took place June 10 in beautiful Convocation Hall, following The University of Winnipeg's morning convocation services. MSC graduates and families were then welcomed to a luncheon and a special graduation program. Of special note, among this year's 60 graduates was the winner of three UWinnipeg gold medals, MSC graduate Caitlin Eliasson. Program participants included (outgoing) Dean Dr. Paul Redekop, CMU President Dr. Gerald Gerbrandt, and UWinnipeg's Global College Principal Dr. Marilou McPhedran, with reflections shared by new Menno Simons College Dean Dr. Richard McCutcheon and CRS and IDS major, student Candace Préjet.
In her address, Préjet expressed appreciation on behalf of the graduating class to faculty and staff who are "the heart and soul" of MSC and "whose time, effort, and dedication make it such a great place to be." Préjet spoke in particular about what she sees as a significant challenge to today's society – that of indifference. "We have lost touch with our sense of community and with it, our responsibility to that larger community." Yet, she reminded her audience, "One person can be incredibly powerful and transformative." She encouraged her fellow graduates to "choose the route that requires courage, sacrifice, compassion, caring, responsibility, and engagement" rather than the route of indifference – and silence – on inequalities and social ills that plague today's communities. "You can make a difference," she said. "We all have something of value to contribute to those around us."
Menno Simons provides education flowing from Anabaptist Mennonite understandings of faith, peace, and justice while engaging other religious traditions and intellectual perspectives. The College fosters a learning community that prepares students from diverse backgrounds for participation and leadership in local and global communities. Considered a pioneer in International Development Studies and Conflict Resolution Studies, MSC offers a wide range of courses and experienced faculty in these areas, along with practicum opportunities and supporting scholarships.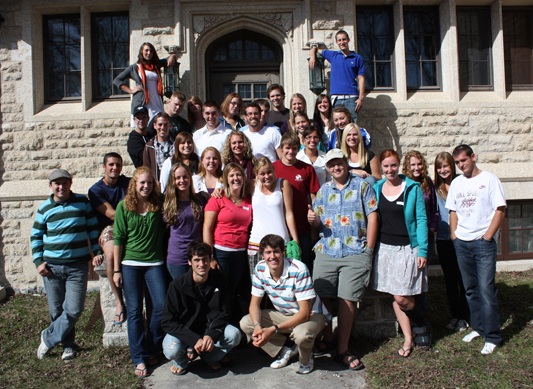 On April 17 and 18, the week prior to the general CMU graduation services, Outtatown celebrated the homecoming of its site leaders and 64 student participants just returned from their memorable year in the Outtatown discipleship program, having recently experienced the patterns of daily life, faith journeys, and hospitality of their host communities in South Africa and Guatemala.
"The opportunity for students to leave their comfort zones, entering into a cross-cultural learning environment that examines world issues from a Christian faith perspective will give shape to their faith, their self-understandings, and their direction in life," says Outtatown Director Paul Kroeker.  During this eight-month program, which is eligible for university credit,  students travel together in what many refer to as a "spiritual pilgrimage," as students learn to know God, to know their own gifts and abilities, and to open themselves to personal growth and transformation.
A Christian university in the Anabaptist tradition, CMU offers undergraduate degrees as well as two graduate degree programs. CMU has over 1,800 students, including MSC and Outtatown students, and is a member of the Association of Universities and Colleges of Canada (AUCC). CMU operates a number of schools and institutes, including The School of Writing at CMU and the Canadian School of Peacebuilding, currently underway at the CMU Shaftesbury campus.
For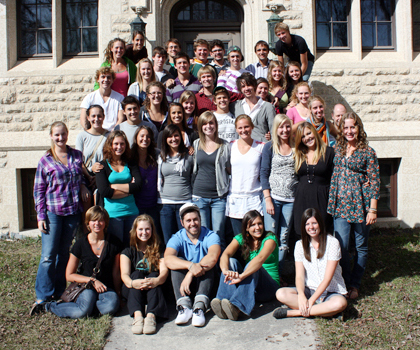 MSC information, contact:
Ruth Taronno:  r.taronno@uwinnipeg.ca; tel. 204.953.3846
http://mscollege.ca
For Outtatown information, contact:
Paul Kroeker, Director of Outtatown: pkroeker@cmu.ca; tel. 204.487.3300 ext. 649
For CMU enrolment information, contact:
Abe Bergen, Director of Enrolment: abergen@cmu.ca; tel. 204.487.3300 ext. 652
For CMU general information, contact:
Nadine Kampen CMU Communications & Marketing Director
nkampen@cmu.ca; 204.487.3300 Ext. 621
Canadian Mennonite University
500 Shaftesbury Blvd., Winnipeg, MB  R3P 2N2