Jillian Beever, Tess Longley, and Nonsie Sibanda won the MEDAnext Talks competition at MEDA's 2015 convention, "Growing Business, Building Community".
Styled after TED Talks, the MEDAnext Talks provided an opportunity for students to present on a topic that fell into one of the following categories of how to be, do, or care "in the next."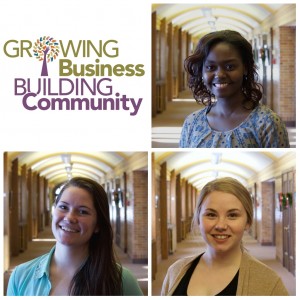 The topic chosen by the students was "Empowering Millennials for the Future," in response to the 'Do' category questions: What can we do to utilize the power of change for good? What can we do to empower others in the future?
The students' presentation included an introduction to the millennial generation and offered suggestions for how businesses and the field of academics can empower millennials by drawing on the generation's strengths and characteristics.
The students express appreciation for the opportunity, which provided "a platform to talk about something interesting that we wanted to share, meet new people and network, and practice skills that we learned in class," said Longley.
"Attending the MEDA convention provided an opportunity for the students to draw on the leadership studies that we've incorporated into the business program," says Craig Martin, Assistant Professor of Business at CMU. "They did really well on their presentation."
All three are taking the course Leadership Development, taught by Dr. Vonda Plett, which they credit with helping them develop skills such as active listening, team building, and presentation techniques, all of which they utilized while preparing their presentation.
"When I began [the Leadership Development] course, I had leadership goals. Taking up public speaking was one of my goals and this was an opportunity to practice that," says Sibanda.
The convention included opportunities for networking with MEDA supporters, staff, and convention attendees, including those from other universities and colleges.
This is the fourth year CMU has attended the MEDA convention and the students hope that more students will be able to participate in the future. They've already begun planning for next year.
"You're there to connect, to meet people, to learn about new things, and to come back next year and hear what you've done since," says Beever. "It took our degree and shaped it in a whole new light."