When Dr. Carol Penner was asked to teach a course at Canadian Mennonite University (CMU) examining gender, violence, and peacebuilding, she was happy to oblige.
"I think it's a course that's really needed by the church," says Penner, Assistant Professor of Practical Theology at Conrad Grebel University College in Waterloo, ON. "People need to think more about gender and the difference it makes in the church, especially in terms of peacebuilding."
CMU's 2017 Canadian School of Peacebuilding (CSOP) is offering the course, titled Gender and Violence: Theology and Peacebuilding, June 19-23.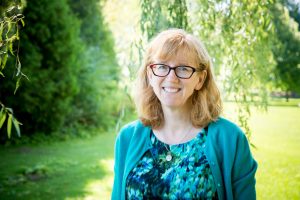 The course will examine the task of peacebuilding from the perspective of feminist theology. It will seek to hear from a variety of voices and explore a range of experiences and thought.
Among the topics the course will explore is that of the role Christianity has played in perpetuating gendered violence.
"In a society that's ordered in a patriarchal way, where men are at the top of the ladder, women are at the bottom… how does power get distributed?" Penner asks. "Violence is something that happens when there's unequal power, so for women who have traditionally been at the bottom… violence comes their way.
The church, Penner notes, is part of this ordering of society that puts men in charge and tasks women with doing whatever men say—even the Mennonite church.
"As Mennonites, we're often brought up to think that we're all brothers and sisters, (and) you're not supposed to look at power dynamics—who's on top and who's on the bottom," Penner says.
"Why do men have the power? Why is it this way?" she asks, pointing out that in all Mennonite denominations, men still far outnumber women when it comes to leadership roles.
Penner's course asks how to construct theologies of peace that are good news for both women and men.
To do that, Penner says, people must listen to the voices of people in both church and society who are in pain.
She points to missing and murdered indigenous women, as well as people who have been victims of physical, sexual and other forms of abuse within many church communities, as two examples.
For Penner, a key question is: How can people in the church use scripture to build mutually supportive relationships, where people can be everything God wants them to be, rather than reducing them to gender stereotypes?
Penner, an alumna of Canadian Mennonite Bible College, one of CMU's predecessor institutions, has worked for more than two decades as a pastor, a chaplain, a university lecturer, and a freelance writer.
Her experience in the field of peacebuilding, as well as her academic background, made her an obvious choice to teach at the CSOP, says Val Smith, co-director of the school.
"This idea of how gender intersects with violence and peacebuilding felt like an extremely important topic to keep working at," Smith says. "The subject matter is extremely relevant to our world today, and Dr. Penner comes highly recommended as an excellent teacher."
Penner will have a full classroom of 30 students when she teaches the course. Her hope for the week is that the students will form a community where they can learn not only from her, but from one another.
"I hope people leave the course perhaps thinking in a new or refreshed way about gender, and feeling positive," Penner say.
"God calls all of us—women and men—to a deeper life. I'm hoping students leave feeling they have encountered something deeper in their faith in God."