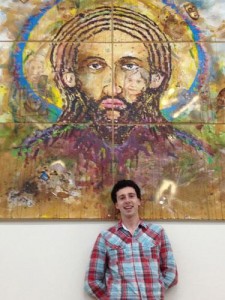 By Michael Wiebe
Conversation within the walls of the Great Hall once fell on deaf ears, as what is now Canadian Mennonite University was originally built as a school for the hearing-impaired. Today, students from a variety of disciplines sit in what is now called the Blaurock Café talking academics and theology over fresh, fair-trade coffee.
CMU's mission statement is unapologetically Christian. But as a liberal arts university, the institution does not require a Christian commitment of its students. This seemingly contradictory philosophical stance stimulates debate among students with diverse convictions who enter the school community.
Some students find their faith at CMU. Others, such as 21-year-old Matt Mayers, lose it as well. He argues, however, that CMU provides a comfortable home for an atheist such as him.
His comfort level at CMU may have something to do with his Mennonite upbringing.
"I grew up Mennonite and my mom is Mennonite," Mayers says. "My dad is kind of Jewish, but he doesn't really care, and he went to church with us all the time. Because I was raised Mennonite, I kind of know the Christian language, you know? If someone says, 'the love of God,' I can translate that in my head to 'people's love' or something; you know, just humanize it."
Seated in a plush armchair in a corner of the café, the history major recounts his questions about faith in middle school, and describes his religious status in his first year at CMU as "agnostic, but wanting to be Christian."
"After taking the classes, talking to people, praying, and talking to professors, and the essays and what not . . . during the summer I thought, well, this doesn't make sense to me," he says.
Mayers's journey towards a compassionate atheism had begun.
In a first-year Exploring Christian Spirituality class, Mayers's final essay challenged him to grapple with the question, "What is Christian spirituality?" He was able to describe what he wanted Christianity to be, but discovered that his views did not fit with what Christianity is.
"What I wanted my life to be wasn't Christian," he acknowledges.
At the same time, Mayers embraced values of social justice and pacifism similar to those found in Christianity. He describes the similarities and differences between atheism and Christianity in an inspiring manner.
"The goal is to love people," he says. "Social justice, pacifism: those are identical, I feel. But then the sort of underlying beliefs that inform that are completely different. There is no God in any of that, and, from a Mennonite perspective, God is in all of that."
Mayers explains that many students at CMU are convinced that there is neither social justice nor pacifism without the presence of God. These students tell him that he is spiritual but doesn't recognize it.
"They take their faith and put it over me," he says. "It's like, 'You're loving and you're this and that, you have the love of Jesus in you, but you don't realize it.' . . . It's a little condescending, but I'm OK with it, and I'm good friends with people who think that way."
Mayers clearly values relationships, another benefit, perhaps, of a Mennonite upbringing steeped in community.
Despite the occasional condescension of his peers, Mayers gracefully accepts that the community is Christian, and reflects that it need not go out of its way to accommodate him.
"It's called Canadian Mennonite University for a reason," he says. "It's not that big of a deal. They're not deliberately inclusive, like, there isn't an atheist club or something, but they aren't exclusive with anything either. I can go to chapel and get something out of it, or I can go to Wednesday night worship and get something different out of it than everyone else there."
This is not to say that any atheist would be content studying theology at CMU. After making the choice to be an atheist, theology courses did less to define Mayers's beliefs and did more to test his patience.
"Coming to CMU last year, which was my second year, the religious courses just frustrated me so much," he says. "They were amazing in the first year, but second-year I just didn't get anything out of them."
These sentiments explain why Mayers, currently in his third academic year, lives on the CMU campus but is a student at the University of Winnipeg. He plans to live on campus again next year.
There is no mystery as to what is keeping him coming back. Currently dating a Christian woman, Mayers says the CMU population is home, a place to strengthen his beliefs and the beliefs of others through engagement.
"I love it here because of the community, and because of the people, and I think that you can get that no matter what faith you are."
Michael Wiebe is a second-year communications student at CMU. This article was written as part of his coursework.