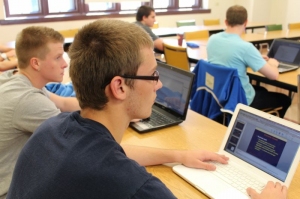 Introduction
On October 19, 2011, CMU launched its new Redekop School of Business, made possible through the generosity of the Redekop family of the Fraser Valley in British Columbia. The Redekop family had a vision "to educate the next generation in commerce, marketing, and finance, and to do this in a university that inspires and prepares future leaders with skills complimented by Christian ethics, integrity, and service."
CMU's business programming uses an inter-disciplinary approach in preparation for a global business environment. The goal is to prepare students to become engaged in business and not-for-profit organizations, with a worldview and character shaped within a Christian university community.
Students will benefit from a generous awards program, excellent professors, a supportive student-to-faculty ratio, opportunities for a term of study in an international setting, and interaction with business and not-for-profit leaders. CMU also provides the option of extending learning through a business co-op experience.
Distinctive Features
Business learning rooted in Christian values and social entrepreneurship in a community context
A co-op program that lets you gain professional experience to inform academic pathway and career choices
Courses that count for professional designations and memberships in various organizations
Scholarships for students who meet entrance criteria and bursaries available to address financial need
Interactive classrooms with advanced technology to bring the world to the classroom
Network opportunities with established business and not-for-profit leaders
In-Residence program that encourages creative business practices for social good
Active RSB Student Association with membership available to all business students
How to Apply
For application and admission information, contact Mattea Nickel at mnickel:@:cmu.ca or call 204.487.3300 (toll free 1.877.231.4570).

Print This Page