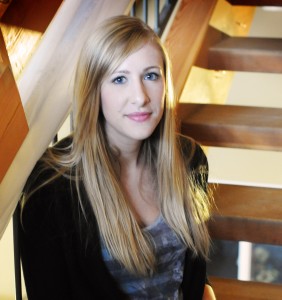 Katie Daman had the opportunity to apply business skills in a non-profit setting during her practicum with Canadian Mennonite University (CMU).
Daman, who graduated from CMU's Redekop School of Business with a Bachelor of Business Administration in April 2015, completed her practicum at WestEnd Commons (WEC), a social enterprise in Winnipeg's West End community.
Social enterprises are "not-for-profits that use business means to fulfill their mission," explains Daman. WEC is home to the Neighbourhood Resource Centre, a social enterprise that "provides safe and affordable programming as well as meeting and office space for neighbourhood families and organizations in West Central Winnipeg."
The social enterprise model adopted by WEC includes renting out spaces in the building including a commercial kitchen, assembly hall, and meeting and office space. The income generated from the rentals is invested in community programming.
Daman utilized her business education to help WEC further their transition into a social enterprise. Her main role was social media coordinator. She maintained WEC's social media presence by posting articles that featured WEC, sharing content relevant to WEC's mission, and connecting with organizations that support WEC.
"Social media is really important to not only create awareness of your organization's existence, but also to help people remain aware about what your organization does on a day-to-day basis," says Daman.
Additionally, Daman provided input into marketing plans and strategies, which she says is one way her practicum connected directly with her studies. The courses she's taken have equipped her with the skills to develop a comprehensive marketing strategy, which centres on an organization's mission and vision.
"Mission and vision are crucial to an organization internally and externally," says Daman. "Internally you want to rally around a common purpose and goal. You need a common understanding so you can achieve it. Externally, you want people to buy into your purpose as well."
Daman believes a social enterprise model can benefit non-profits and sees potential for non-profits to apply business principles in a way that helps them achieve their goals.
"A lot of non-profits are moving toward a social enterprise model," she says. "It's important to have people working in non-profits who understand core business principles and can apply them to the greater good—understanding how the two can work together, instead of as opposites."
After graduating, Daman would like to pursue work in the social enterprise or community economic development sector. She feels the BBA degree has equipped her well for work in those areas.
"For me, CMU played an important part in allowing me to explore some of my alternative passions and desires, while also giving me the necessary business acumen to go out and work in the real world. If business is something that you're interested in, whether it be traditional business or an alternative form, CMU should definitely be on your radar."
Ellen Paulley is a Writer and Social Media Coordinator at Canadian Mennonite University
Click here to learn more about the Redekop School of Business