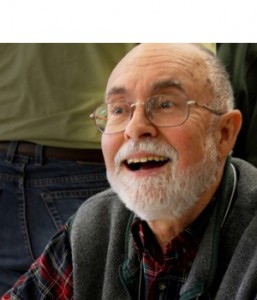 Author and Professor of Theological Studies Speaks on "Fierce Landscapes and Counter-Cultural Spirituality"
For release October 19, 2010

CMU welcomes Belden C. Lane, Professor of Theological Studies at Missouri's Saint Louis University, as lecturer for the 33rd annual J.J. Thiessen Lecture Series October 19 and 20.
Lane presents three lectures on the theme "From Desert Christians to Mountain Refugees:  Fierce Landscapes and Counter-Cultural Spirituality " – a theme that resonates in a province with vast stretches of rugged Canadian Shield country, an inland desert, powerful rivers, and harsh winters that render any landscape 'fierce".
CMU's JJ. Thiessen Lecture Series is open to the public and includes the following:
October 19, 11:00 AM Places on the Edge: The Power of Desert/Mountain Terrain in Christian Thought
October 19, 7:30 PM The Counter-Cultural Spirituality of the Desert Fathers for Today
October 20, 11:00 AM Fire in the Desert: Learning from the Desert Mothers
Admission is free as a community service offered by CMU.  Lectures are held in the CMU Chapel at 600 Shaftesbury Boulevard (south campus).
"Belden Lane is a story-teller, lover of language, and academic," notes CMU Vice President (External) Terry Schellenberg. "A Presbyterian theologian teaching at a Catholic, Jesuit school at Saint Louis University in Missouri, Lane is writer and thinker who integrates spiritual practice within deeply rooted historical and theological roots. As evidenced in his writings, he is one who imaginatively explores spirituality in its many forms within landscapes of geography, place, and nature."
Recipient of many awards and honours, including the Faculty Excellence Award for 2008 by Saint Louis University's Student Government Association, Lane teaches in the areas of American religion, the history of spirituality, and the connections between geography and faith.
"The relationship of Christian spirituality to the wonder and beauty of the natural world is close to my heart," Lane writes, "whether seen in the earth-sensitive practices of Celtic spirituality or Calvin and Edwards' perception of the world as a theater of God's glory in the Reformed tradition."
Author of a large body of published works, Lane's books include Landscapes of the Sacred (Johns Hopkins, 2001), The Solace of Fierce Landscapes (Oxford University Press, 1998), and Ravished by Beauty: The Surprising Legacy of Reformed Spirituality (Oxford, 2011).
In addition to writing and teaching, Lane is a revered storyteller and an avid wilderness backpacker who is supremely interested in the area of Desert Spirituality.
In the J.J. Thiessen Lectures Series, Lane draws from his own work on the symbolic significance of wilderness in Christian spirituality. "In the history of Christian spirituality, desert and mountain terrain has often been the source (and refuge) of counter-cultural movements," says Lane.  "The Desert Christians in the fourth century went into the desert beyond the Nile, reacting after Constantine to the church's support of a prosperity theology, gospel of success, and militarism." Relating to aspects of Anabaptist history, he notes that, "in sixteenth-century Switzerland, Anabaptists hid in barns and fled to caves in the Jura Mountains, questioning the magisterial Reformation in similar ways."
"The appeal of fierce landscapes in the Christian life is closely related to its prophetic witness to the dynamism of faith on the margins," says Lane.
For J.J. Thiessen Lecture Series information, visit www.cmu.ca
Canadian Mennonite University (CMU) is a Christian university in the Anabaptist tradition, offering undergraduate degrees in arts and science, and such disciplines as business and organizational administration, communications and media, peace and conflict resolution studies, music and music therapy, theology, and church ministries, as well as graduate degrees in Theological Studies and Christian ministry. CMU is a Member of the Association of Universities and Colleges of Canada (AUCC).
For further information, contact:
Nadine Kampen
Communications and Marketing Director
nkampen@cmu.ca