[audio:http://www.cmu.ca/media_archive/wp-content/uploads/2011/02/010131-IrmaFastDueck2.mp3|titles=Irma Fast Dueck2]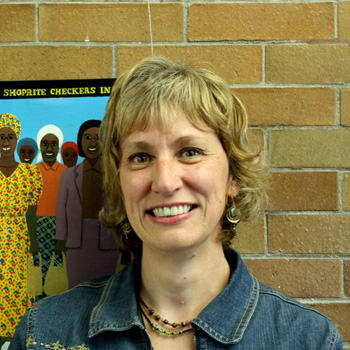 "An H1N1 teaching moment…"
Irma is Associate Professor of Practical Theology at CMU and was born and grew up in Winnipeg, Manitoba. She has been a university chaplain and a pastor before beginning her teaching career at CMBC (a predecessor college of CMU) in 1991. She received her Doctorate of Theology from Victoria University at the University of Toronto, a Masters of Divinity from the University of Winnipeg, and a Bachelor of Arts from the University of Waterloo.
When not hanging around CMU or travelling, Irma hangs out with her two favourite guys, husband Ken and son Zachary—who, among other things, love canoeing and wilderness camping. In addition, she enjoys cycling, is an avid novel reader, quilts with her sisters and unabashedly loves all food and social functions (preferably together). She and her family are actively involved with the saints at Bethel Mennonite Church.
Contact:  ifdueck@cmu.ca