Performer Ted Swartz among key presenters at March 2011 event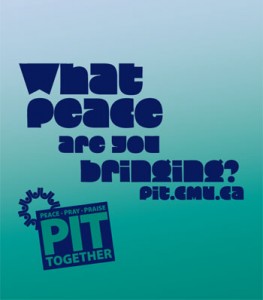 For release November 25, 2010
Youth and their leaders from across Canada will gather at CMU in March 11 – 13, 2011 to discuss how each can bring their own "pieces of peace" to a world in need of healing, peace, and justice.
Peace it Together (PIT) was held for 31 consecutive years until last year. "It was time to step back and assess its future," says Abe Bergen, director of Enrolment Services at CMU, who was centrally involved in the planning of PIT for the past 10 years. "After talking to stakeholders across Canada, the message was clear – CMU needs to continue to nurture a vision for peacemaking among the youth in Canada. This conference will invite high school students into a faith commitment to Jesus Christ and challenge them to grow a faith that embodies understanding, reconciliation, and service."
"We are excited about the return of PIT and the increased opportunities for our own CMU students to be involved in this event." says PIT Steering Committee Co-chair Lisa Kelly. "PIT offers a great opportunity for our youth to benefit from sessions with some really dynamic and creative presenters, both from within the CMU community and without, and we will all learn and grow from contributions from our youth as they reflect on the theme, 'Pieces of Peace.'"
PIT takes place at CMU's campus in south Winnipeg. The program will feature drama from Ted Swartz (www.tedandcompany.com ) and presentations by CMU speakers Adelia Neufeld Wiens, Dan Epp-Tiessen, and Jarem Sawatsky.
Actor, playwright, and storyteller, Ted Swartz has been enacting faith stories to audiences across the U.S. and Canada for over two decades. Swartz and the late Lee Eshleman, through their company Ted & Lee TheaterWorks, developed such plays as Armadillo Shorts, Fish-Eyes, Creation Chronicles, Live at Jacob's Ladder and DoveTale . Swartz continues to write and perform plays with a number of artists. He brings humour and imagination to the re-telling of familiar faith stories. His presentations at PIT will include a drama called, "I'd Like to Buy an Enemy."
Neufeld Wiens is the coordinator for student advising at CMU. Before coming to work at CMU, she served as a guidance counsellor in Nairobi, Kenya at Rosslyn Academy, a Christian International School run by three denominations.
In her time in Kenya, Neufeld Wiens learned that conflict is "interpersonal, cross-cultural, and interreligious." Her presentation at PIT 2011 will draw on her interest in building bridges, both physical and metaphorical.
"I will speak about how relationships with each other help us to build peace," says Neufeld Wiens.
PIT presenter Dan Epp-Tiessen also served overseas, serving in the Philippines with his family from 1982 to1986 through Mennonite Central Committee.
Epp-Tiessen, associate professor of Bible at CMU, will talk about how we can open ourselves personally to God's healing and peace so that we can become part of God's agenda for healing and peace in the larger world. He will draw on his experiences of being father to Tim, who lived with multiple disabilities and who died of cancer at the age of eight.
For Jarem Sawatsky, some of his earliest memories were at peace rallies, fasts, and protests, so he was "born into the peace movement," he says.
Along with being a professor of Peace and Conflict Transformation Studies at CMU, Sawatsky is co-director of the Canadian School of Peacebuilding, a school of CMU. Sawatsky has extensive experience lecturing on restorative justice and on peacebuilding locally and overseas.
"I plan to discuss loving our enemies and the various contexts in which we're called to do that," says Sawatzky, who will speak on this in relation to his own personal journey and in relation to foreign policies.
The cost to participate* in PIT is $100 if registered by Jan. 31, 2011 and $125 if registered after Feb. 1, 2011. (* includes registration, food and lodging at CMU)
Canadian Mennonite University (CMU) is a Christian university offering undergraduate degrees in the arts and sciences, business, communications and media, peace and conflict resolution studies, music, music therapy, theology, and church ministries, as well as graduate degrees in Theological Studies and Christian ministry. Located in Winnipeg, Manitoba, CMU has over 1,700 students at its Shaftesbury Campus in Southwest Winnipeg, at Menno Simons College in downtown Winnipeg, and enrolled through its Outtatown discipleship program. CMU is a member of the Association of Universities and Colleges of Canada (AUCC) .
For PIT information, contact:
Lisa Kelly, PIT Steering Committee Co-chair, CMU Assistant Director of Enrolment
lkelly@cmu.ca; info@cmu.ca
For CMU information, contact:
Nadine Kampen, Communications & Marketing Director
nkampen@cmu.ca ; Tel. 204.487.3300 Ext. 621