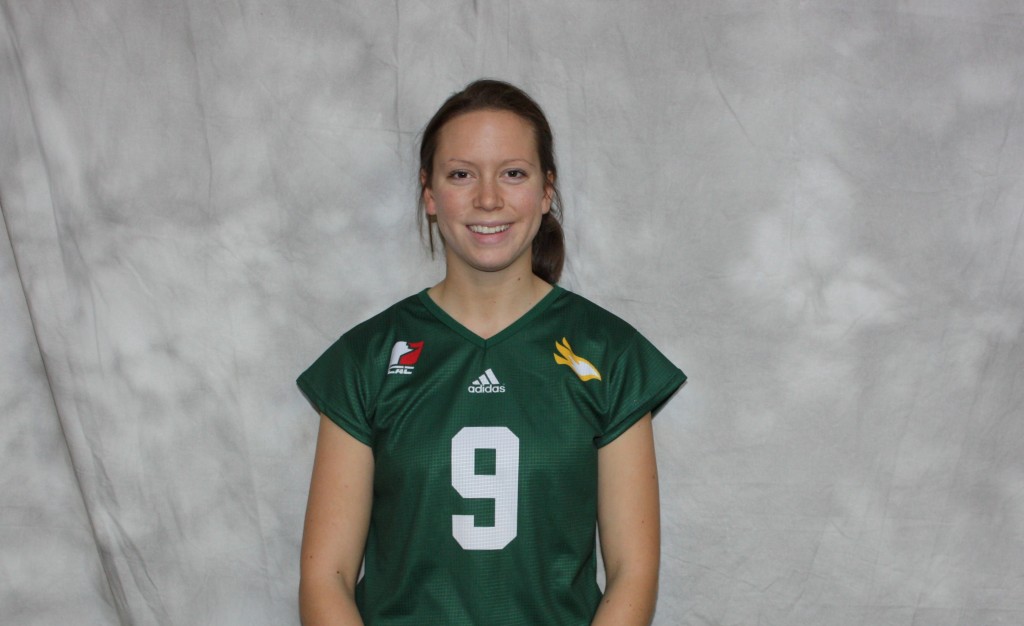 CMU Women's Volleyball Team Captain Evelyn Kampen has been named two-time MCAC League Most Valuable Player in volleyball regular season play.
A forth-year player with two years' experience playing with CMU in the Manitoba Colleges Athletic Conference and two years in the CIS league with BC's Trinity Western University, at age 21 Kampen is a skilled and seasoned player who brings leadership to her team.
"We're proud of Evelyn's accomplishments and appreciate the consistent high quality of play that Evelyn brings to the game and to our league," says CMU Women's Volleyball Coach Andrea Charbonneau.
Kampen has earned a number of honours in her sport.  Career highlights include gold in 2010 and now silver in 2011 in MCAC league play with CMU; MVP Final 4 title in 2010 and, among pre-CMU highlights, gold with Team Manitoba at Canada's national championships for women 17&under.  A resident of North Kildonan in Winnipeg, Evelyn played for River East Kodiaks during her high school years.
A Communications & Media major at CMU, Kampen enjoys coaching young athletes. She presently coaches a 14&under girls' club team and in summer 2010 instructed at CMU's summer Sports Camp along with CMU setter Kathleen Vitt.  With the CMU volleyball season now over, Kampen looks forward to playing summer beach volleyball.
Competing in the Manitoba Colleges Athletic Conference, CMU plays in a league comprised of nine universities and colleges in Manitoba and Minnesota.  CMU is also a member of the Association of Christian College Athletics (ACCA). CMU Blazer teams compete in soccer, volleyball, and basketball from September to March, playing MCAC league games as well as a number of tournaments with universities and colleges in Canada and the US.