On June 9, 2011, Menno Simons College celebrated the achievements of 66 Class of 2011winter and spring graduates in Conflict Resolution Studies (CRS) and International Development Studies (IDS). The Menno Simons College (MSC) celebration was held in UWinnipeg's Convocation Hall, following the morning convocation services.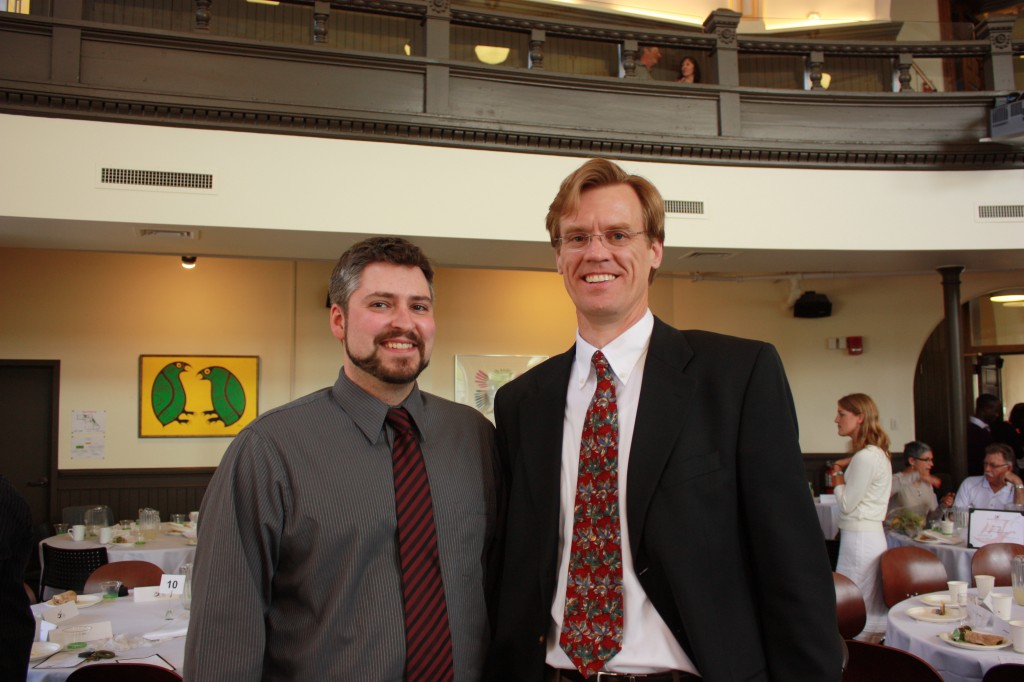 Menno Simons College is the downtown campus of Canadian Mennonite University (CMU) and is located at and affiliated with The University of Winnipeg.
"We gather to acknowledge years of hard work, laughter, and friendship at this celebration of light and hope," says Dean of Menno Simons College Dr. Richard McCutcheon. "We are proud of our graduates and we want to welcome them into our Menno Simons College alumni group. We look forward to following their careers in peace and justice work, international development, and conflict resolution."
In the tradition of MSC past graduations, students and families shared a luncheon meal followed by a graduation program. Among the year's graduates were seven MSC students with majors in CRS or IDS who in total earned nine medals at UWinnipeg's morning convocation.
The MSC program opened with a heartfelt invocation by Dr. John Derksen, Associate Professor, Conflict Resolution Studies, and opening remarks by CMU President Gerald Gerbrandt, who expressed his confidence in the Class of 2011 having "a passion for issues of justice and mercy, and skills to make a difference in the world."
Guest speaker Lois Coleman Neufeld, Executive Director, Mediation Services, remarked, "I believe you have learned the basics of leadership through your courses, and have the skills of leaders." She highlighted having a profound respect "for the other" as being of great importance, along with the qualities of passion and compassion. "Take the best of what you have learned and use it for others," she advised the graduates.
Sharing student reflections were graduates (Roberta) Bobbie Whiteman, 4-yr. IDS and Human Rights graduate, and medal winner Zoë Gross, 4-yr. CRS graduate, majoring in Women's Studies.
Whiteman expressed her appreciation for MSC tuition and travel awards that helped the single mom complete her education. Gross commented, "What is special about MSC is that even if you don't enter with a concern for conflict resolution and justice, you leave with passion and hope for a (better) world."
Academic Advisor Gina Loewen, Associate VP Ruth Taronno, and Dean McCutcheon. presented the 2011 Graduating Class.
Graduate Jared Wheeler (3-Yr., CRS/IDS Double Major) originally expected to take one course at MSC as an option. Says Wheeler: "I was hooked on the program right from the introductory course. MSC offered such a welcoming environment. And happily, that first course led me on to International Development Studies. It opened to me the thinking that we could change the world. It is possible."
In addition to MSC's graduation class of 66 students, CMU earlier this spring graduated 78 students at its southwest Winnipeg Shaftesbury campus, for a total of 114 graduates. An additional 64 Outtatown students completed international programs, returning from sites in South Africa and Guatemala.
Menno Simons College is one of the world's largest centres for peace and justice studies. The College provides education flowing from Anabaptist Mennonite understandings of faith, peace, and justice while engaging other religious traditions and intellectual perspectives. MSC fosters a learning community that prepares students from diverse backgrounds for participation and leadership in local and global communities. Considered a pioneer in International Development Studies and Conflict Resolution Studies, MSC offers a wide range of courses and experienced faculty in these areas, along with practicum opportunities and supporting scholarships.
Canadian Mennonite University offers undergraduate degree programs and two graduate degree programs. CMU has over 1,700 students at its Shaftesbury campus, downtown MSC campus, and in its Outtatown international program. A member of the Association of Universities and Colleges of Canada (AUCC) , CMU operates a number of schools and institutes, including the Canadian School of Peacebuilding.
For MSC information, contact:
Ruth Taronno: r.taronno@uwinnipeg.ca ; tel. 204.953.3846
http://mscollege.ca
For information on MSC award-winning students, contact:
Gina Loewen, Academic Advisor: g.loewen@uwnninipeg.ca
Menno Simons College Tel. 204.953.3848
For CMU information, contact:
Nadine Kampen, CMU Communications & Marketing Director
nkampen@cmu.ca ; 204.487.3300 Ext. 621